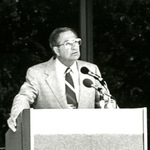 Title
Chapter 03: Approval and Funding for MDACC Research Science Park
Identifier
PickleJJ_01_20150315_C03
Publication Date
3-15-2005
Publisher
The Making Cancer History® Voices Oral History Collection, The University of Texas MD Anderson Cancer Center
Topics Covered
The University of Texas MD Anderson Cancer Center - The Finances and Business of MD Anderson; The Finances and Business of MD Anderson; MD Anderson History; MD Anderson Snapshot; The Business of MD Anderson; The Institution and Finances; Portraits; On Texas and Texans; Research; MD Anderson and Government
Creative Commons License


This work is licensed under a Creative Commons Attribution-Noncommercial-No Derivative Works 3.0 License.
Disciplines
History of Science, Technology, and Medicine | Oncology | Oral History
Transcript
James Jarell "Jake" Pickle
And not least of all was Jake Pickle, the congressman. So the question: how could we work something down there? And I'd go to Frank and Frank would admit to me, he'd say, "Lee Clark is running me crazy. He wants that laboratory and I want to help him, but I'm not willing to help him. I don't know how in the world we're going to do that." And he said, "can you do it?" I said, "I don't know but I'll look into it. I'll help if I can." So over a period of months, I made an acquaintance with a man by the name of Joe B. Swanner. S-W-A-N-N-E-R. Swanner.
He was -- had been put under the Johnson Administration as a new administrator of the Economic Development Administration. It was a national organization and we put the headquarters in Austin, central Texas.
Lesley Williams Brunet
Smart.
James Jarell "Jake" Pickle
Little brotherhood of cooperation. And so we had that much up on us 'cause the headquarters were there, and the question: they were supposed to be in the development of a new agency to help train people in different fields of work and not just construct a physical plan or a big ditch or another lake, but to build a facility for training purposes, for jobs. But that was what it was it was a job-training program. So they got interested, and I got Duke Swanner interested in participating in the building of a laboratory out at the Buescher Science Park. And he entertained it and thought it'd work. But Joe was brand-new and he was strong in the E.D.A -- the Economic Development Program -- he was a good friend of Jim Rice and the group we called the Brownwood mafia. Earl, what was his name?
Clifford Drummond
Groner Pitts.
James Jarell "Jake" Pickle
Groner Pitts. Groner Pitts. And Joe and Bill got halfway interested in maybe they could build a facility out there and use it as a base to train young people to know how to do carpentry work, geometry, algebra, a little bit of the scientific knowledge. And he kind of got the idea that it would be a good training program. I didn't discourage him on the idea. I said he ought to get interested in it. And finally, he got interested enough a little bit, I decided I'd make a proposition with Frank Irwin. Irwin had not been able to get anything put out there because that was the Bastrop's parks and development program, the big program. And they weren't interested in trying to build just a visitor center. That really didn't appeal to them that much. But when they got interested in the idea that maybe we could put out a facility that was directly related to cancer and cancer research, or cancer research eradication, and that appealed to them. So on that basis, I began to work with the Smithville people to see if they could help us get some land out there. That wasn't an easy thing because the Texas parks, wildlife and development program -- they think that's their land and God almighty gave it to them, and whoever's on that board had to protect it; you couldn't get it from them. And they were about that tough to deal with. Pierce Johnson was a member of that board... was he on the board of regents... or?
Clifford Drummond
No, he was on the state parks and wildlife board, and he's from Del Valle.
James Jarell "Jake" Pickle
So he got kind of interested in the program, and the more we thought about it, the more we would level in to see what we could do about it as a science/government park. At that point, it was -- I think they called it the Buescher Science Park, since it was the Buescher area. And they decided well, they could maybe make part of that for cancer eradication. It was on that basis that we posted to sell it and we finally got Joe Swanner interested enough in building a big training down there at Smithville, and we could then develop something connected with cancer research. So that kind of appealed to Frank but he didn't think we could do anything about it, 'cause Frank at that time -- you've got to remember -- Frank Irwin, he was a doer, a go-getter. And he had the regents on him side, and they built buildings and expanded our property at the university going to east and northeast, or on the east side of town where the baseball diamonds are now. And they really enlarged the campus, and he did that working with Johnson, because we did it through the... urban development. Urban Development program. That was the justification for it. But we got interested in more of it. And finally I went to say, "I'm cutting through a lot of the... short-cuts here, and I'll quit talking." Finally we went to Irwin and we said, "Now, Irwin, we've got a chance now to take this Texas parks wildlife program and dedicate a part of it if we can do that into a building for a laboratory down there. And you get your laboratory would leave park and we could start a good training program, too." And it sounded pretty good, and Frank Irwin said he'd try to do it. But Frank was involved in another expansion program at the university, and he couldn't get the regents to agree to build a big laboratory down there. But it wasn't their business. They weren't in that business at all 'cause it was just parks and wildlife. But finally we got appealing to the state parks board: could we get a snip of that land down there set aside for the MD Anderson -- I don't know whether we called it MD Anderson at that time -- but Anderson laboratory. And they'd say it was entertaining and they'd think about it. And the more they thought about it, the more I got Joe Swanner and the E.D.A. committee to do it. Now I'm happy round figures -- of course I can't remember exactly -- but they came to me and said, "Can you put up as much as $250,000 to build a facility down at the Buescher Science Park?" And I said, "I'll have to see." I talked to Irwin and Irwin said he wasn't in a position to get the university to deliver right then, 'cause he was head of the MD Anderson board. And that chugged along for two or three months. Finally, I got to the initiative with Pierce Johnson. I keep saying Pierce Johnson. He was automobile dealer in south Austin.
Clifford Drummond
Yeah, in Del Valle.
James Jarell "Jake" Pickle
A good friend of mine and Connelly's. And he decided he would look into that. I finally got E.D.A. to officially agree to me that they'd put up 400 -- $250,000 dollars if the university would put up $250,000. And of that $500,000 with what land they had down there they could build a facility. Well, that sounded pretty good. Irwin couldn't push it through because he had his plate full with a lot of other things at the time. So finally, I poked Irwin. I said, "Now Irwin, you have a chance to get the University of Texas to build a facility down there that would go directly into this research for the eradication for cancer, and you've got a chance to really put that land not only to save the pines and for viewing, but to actually use it for laboratory purposes." I said, "if you could do that, we'll proceed." "Well, I can't do it right now." I went back to the secretary of mine, I said, "Irwin, if you can't deliver for the university regents to build a facility down there, we'll just try to proceed ourselves." And he said, "Pickle, you so-and-so, so-and-so," used four-letter words on me -- we were that good of friends -- "he said I don't want you fooling in my business down there!" So I said, "All right. See what you can do." He said, "I'll check back with you in six weeks." So I kind of gave Irwin time to think about what should he do, 'cause Price had been riding his back pretty hard. He wanted to get that laboratory down there. So we went to Pierce Johnson, and the people at Smithville did, too -- Bastrop County -- who were on that board. And we told them we wanted to get part of that land set aside for laboratory work for cancer research, and that we had a chance to get some money to get it going if the university would cooperate. And finally the university did something, too. Irwin came through with his money. So really, I'm talking big now but I got the E.D.A. when I was a congressman and Johnson was president, and I got him to agree to put up $250,000 each for a building of a facility in a laboratory down at Smithville. And that's how we got that started. I held a meeting one time down in Smithville at the Smithville Library. We had some people who were on the library board who were also part of the parks and wildlife division of Smithville, and they were very interested in trying to help. And they put their name on the line that they wanted that done. So they wanted and they approved -- the members of the board -- that they would set aside so much land for a laboratory. I don't think how much -- it wasn't a big tract of land. It was only about 15 or 10 acres as I remember. But was it bigger land than that? Do you remember?
Earl Walborg
Well, actually, that was determined a little bit later. They indicated that they wanted land out of Buescher State Park--
James Jarell "Jake" Pickle
But they didn't have much.
Earl Walborg
But it ended up 717 acres of land.
James Jarell "Jake" Pickle
It was -- whatever it was, it was a small tract of land, really -- but the purpose was for a good thing. And we had a meeting in the Smithville Library, and we got all the town -- the city council, the mayor, Slade, Eddie something-body, I forget what Eddie's last name was--
Lesley Williams Brunet
Who?
James Jarell "Jake" Pickle
Eddie--
Earl Walborg
This might be the names that are on this list, which goes back to 1964. But it had Young Michael, Representative Young Michael. Woodruss, Greisenbeck--
James Jarell "Jake" Pickle
Yeah, he was--
WALBORG:
Cole, who was a city councilman.
James Jarell "Jake" Pickle
Yeah, that's right.
Earl Walborg
Novoside. Just Novoside.
James Jarell "Jake" Pickle
They had a nickname for him -- I don't recall it -- but it was something like "Dumbo" or something, but he was cooperative. But we had several on the board. And they decided that they could tie in that land down in Smithville not just as a state parks board, but as also a laboratory to do work with cancer. And that all would declare together. And the members of the Smithville community in Bastrop County went to the state parks board. The state parks board was Johnson--
Clifford Drummond
Yeah, Pierce was on that.
Earl Walborg
Will Odom.
James Jarell "Jake" Pickle
Will Odom was on that, too. He was on the state parks board. Well, they decided that they could do that. So I told them, "if you can do that, we can start a world health organization." And you talk about the National Institute of Health, or one of these great big national programs. We said, "we will be the beginning of a world health organization." It sounded big, and I'll tell you, if you could get the parks board a decent piece of land, we could use that -- right in the middle of your park area -- and build a laboratory. So they said, "All right, we'll do it." And they did do it. The Smithville people didn't do it. The Smithville Bastrop people. They actually went the state parks board, to P. O. Johnson, and Johnson was cooperative. Had a wide vision enough to know, "what are you going to do with that land out there that we've got, that's Bastrop's parks... and nothing more than but the Bastrop park's area. What are you going to do with it? How would people come out there? Why would they come there? Just to see a pine tree?" Well, that'd be a few. But he decided that maybe that would be putting it to a good use, make good practical sense. So he finally, the Bastrop people helped, through Pierce Johnson, get the approval of the park's board to give us 100-- 100 acres out there or whatever it was.
Earl Walborg
Actually, finally 717.
James Jarell "Jake" Pickle
Huh?
Lesley Williams Brunet
Originally, the first batch was what, 500?
Earl Walborg
No, it was -- what was finally decided upon was 717 acres of land.
James Jarell "Jake" Pickle
So they decided, yes, we'll do it. But it had to be, it had to be written up that it was for this purpose. It wasn't to build another lake or another recreational area or to bring people in just to be adventurous. But it was to conduct certain types of work. And that was a pretty restrictive sort of limitations they placed on themselves. But the Smithville people went to the parks board with Pierce Johnson and made this appeal to them. And they finally decided that they'd do it. And they gave us 150 acres of what it was for top put the laboratory. And I went out there with them one summer, I don't remember when it was, and I looked around myself and there wasn't anything but old coliche land, gravel road, weeds, and I said to myself, "Well, Lord, help me! I've oversold this! Lord help me!"
Lesley Williams Brunet
It's beautiful now!
James Jarell "Jake" Pickle
But we went out there and looked at the land, and it was good land except it was old gravel and rocks and little old bitty roads. There wasn't a road in there at all. No paved roads at all. So we decided, well, we're committed. We're pregnant. We've got to go ahead with this thing. So they said let's do it. We spaded that ground out there on that big groundbreaking ceremony. But check your records to show when it was.
Earl Walborg
I was there.
James Jarell "Jake" Pickle
And we started it. And we picked a place about where we'd put it, and the size of it -- and it wouldn't be very big. But we limited it to laboratory work. Now, at that time we were kind of working two sides of the street. And it didn't work out good in the long run, but we had some laboratory work we wanted to go and conduct down there, because at that point in time, the Texas parks and wildlife board had some monkeys down in Bastrop, if you remember. They had some chimpanzees or whatever they were.
Clifford Drummond
May have been rhesus monkeys.
James Jarell "Jake" Pickle
Rhesus monkeys. But anyway, one of them -- one or two of them actually went on a flying trip one time, when they were running some preliminary tests. But we had some monkeys, so we decided we might do some laboratory work on some live animals -- monkeys. Man, that was exciting! That was -- that state park board would be willing to go along on it. So we -- in the back of my mind, we were going to use those monkeys for some experimental purposes to reel on in on human beings. And that appealed to us. But we found out that once we got to that, we had at that time the parks and wildlife board, and the Buescher Science Park were two different facilities. What were the names of the two groups who worked together?
Earl Walborg
You're thinking of Camp Swift division.
James Jarell "Jake" Pickle
The what?
Earl Walborg
The Camp Swift division was the veterinary division.
James Jarell "Jake" Pickle
The veterinary -- they had the monkeys. And we were going to use them there. That didn't work very well because we always had trouble getting the right to use them, and then to use them for experimental purposes, and it just didn't work out very well. Although we had the veterinary division down there, separate and apart, and we were going to use it and did plan to use it some, but instead we put in for some laboratory work for rats and mice. And that didn't appeal to me because monkeys was a lot more glamorous to talk about than research on rats and mice. You got a lot research on rats and mice, so--
Lesley Williams Brunet
Rats and mice are the basis for all medical research today.
James Jarell "Jake" Pickle
So we're getting ready to go in with the veterinary division. We never did try to move it; it was just too hard. It was too complicated, so, but we did go into the laboratory work for what we have down there now. So between Lee Clark and multi-- or what was his name?
[Break in audio file/transcript]
Recommended Citation
Pickle, James "Jake" Jerell; Drummond, Clifford; Brunet, Lesley W.; and Walborg, Earl PhD, "Chapter 03: Approval and Funding for MDACC Research Science Park" (2005). Interview Chapters. 328.
https://openworks.mdanderson.org/mchv_interviewchapters/328
Conditions Governing Access
Open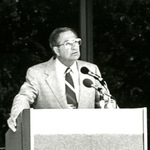 COinS