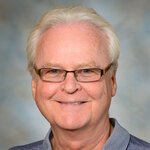 Title
Chapter 10: Work with Faculty and Academic Development and Other Communications Projects
Description
Dr. Baile then comments on his contributions to the Department of Faculty and Academic Development. He gives examples of personal leadership coaching he has done, commenting that physicians are leaders in the institution and must be nurtured. He notes that academic medical institutions tend to place untrained individuals into leadership positions. Dr. Baile notes that i*CARE is housed within Faculty and Academic Development. He then talks about new projects he is conducting. In partnership with Diagnostic Imaging he is developing a program to connect behavior of faculty and staff with institutional core values. He also talks about a program for Surgical Oncology fellows addressing communication challenges in surgery consults.
Next, Dr. Baile comments on how his interest in communications evolved, noting that he likes the creativity of new projects and the opportunity to "give birth." Next segues to a conversation about a number of photos he has taken.
Identifier
BaileW_02_20160823_C10
Publication Date
9-1-2016
Publisher
The Making Cancer History® Voices Oral History Collection, The University of Texas MD Anderson Cancer Center
Topics Covered
The University of Texas MD Anderson Cancer Center - Building the Institution; Discovery and Success; Evolution of Career; Professional Practice; The Professional at Work; Leadership; On Leadership; Mentoring; On Mentoring; Education; On Education; Building/Transforming the Institution
Creative Commons License


This work is licensed under a Creative Commons Attribution-Noncommercial-No Derivative Works 3.0 License.
Disciplines
History of Science, Technology, and Medicine | Oncology | Oral History
Transcript
T.A. Rosolowski, PhD:
Now when you shifted away from the section chief role, took on the I*CARE project, that was housed within Faculty Development at that time?
Walter F. Baile, MD:
Housed in Faculty Development with a joint appointment in Behavioral Science. So you have to have a faculty appointment in order to get clinical benefits. So I see patients in psychiatric oncology clinics. I have a joint appointment there. But my home department is in Behavioral Science. My home department isn't Psychiatry because some of the people are still there who created the mess, and I don't need to be there.
T.A. Rosolowski, PhD:
Yeah. Well, it sounds like they arranged things pretty well so you could stay effectively.
Walter F. Baile, MD:
Yeah. Steve Tomasovic was a really great guy.
T.A. Rosolowski, PhD:
Yeah. He was responsible for bringing me on, restarting this project. He definitely had vision in a lot of different areas.
Walter F. Baile, MD:
Yeah. I think the one thing that he could have done is to push me a little bit more to work on grants and provide me with a little bit more resources to get grants. I was coinvestigator on a lot of grants. I brought in some money. But I think that if I had had more of an infrastructure to write grants I would have really pushed a little bit harder. But since no one was pushing me I was doing what was fun.
T.A. Rosolowski, PhD:
Sure. Now your involvement with Faculty Development. Are you involved with—tell me about that.
Walter F. Baile, MD:
So I've been involved with the Faculty Leadership Academy. I've been involved with coaching chairs and dealing with difficult dilemmas. Jan and I work very closely together on projects. So I'm trying to create a path for when I leave that someone else can pick up where I left off and bring things forward and maybe develop new programs and blah blah blah.
T.A. Rosolowski, PhD:
Let me just ask, because I actually have a bunch more questions to ask. Probably not two hours' worth. But I'm wondering if it would be OK, I know you're traveling in a bit, but maybe we could schedule another session.
Walter F. Baile, MD:
Yeah.
T.A. Rosolowski, PhD:
OK, cool. Because I didn't want us to feel hurried. We have 15 minutes left. Because I wanted to ask you if you could tell me about some of the initiatives you've worked on within Faculty Development.
Walter F. Baile, MD:
Well, so my workshops on communication skills are all housed at Faculty Development. So my work there in designing the workshops and following up with people is all within the purview of Faculty Development. I've done a few Faculty Leadership Academy projects with Jan [Janis Apted Yadiny, oral history interview]. But more or less I have my own entity. So I*CARE is considered part of Faculty Development. So I don't know that I can really point to a lot of projects. We discuss a lot the dynamics of the institution and what kind of—so Jan consults with me a lot about leadership programs for the chairs. And although I'm not directly involved with teaching I've done some stuff with Marshall Hicks for example in rolling out his program on communication and on the new direction for the Division of Diagnostic Imaging. And I work with his––
T.A. Rosolowski, PhD:
What's that look like?
Walter F. Baile, MD:
So he was very interested in pairing the institutional core values with the behavior of the faculty and staff. And so they rolled out a program which was led by one of his project directors. And I forget her name. But I worked with her a lot on making their program more interactive and not just lectures.
T.A. Rosolowski, PhD:
And just for the record, it's caring, integrity, discovery. And I'm just saying that because there will be people who don't know.
Walter F. Baile, MD:
Yeah. So she had a whole curriculum. And we went through the curriculum and I said, "Here's how you can make this piece more interactive. Get people to talk amongst themselves and bring out ideas, talk about experiences, be transparent." So I think they found that very helpful.
T.A. Rosolowski, PhD:
What were some of the solutions that they were looking at to make that connect?
Walter F. Baile, MD:
Stories of people and success stories of how people collaborated, things of that sort. And so what I did is to say, "Well, get people to talk about stories of their own in which collaboration really worked. And how about when collaboration didn't work? What got in the way?" So that was one thing that I did. We just did a program, Danny Epner and I, for surgical oncology fellows coming on board on communication challenges when you're on the consult service as a surgical oncology fellow. When you're called as a last resort and you have to tell patients and family members, "There is no last resort, you've had it." So that was very interesting to do.
T.A. Rosolowski, PhD:
In what way?
Walter F. Baile, MD:
We had a very attentive group, very collaborative group, and the two surgeons who asked me to do this sat through the whole thing. Showing your commitment. So that was incredible, I thought. That was very gratifying. And people were interested. They found it valuable. I've developed a lot of education material, brochures, handouts. I don't know whether you've seen those.
T.A. Rosolowski, PhD:
I grabbed a couple of things, yeah.
Walter F. Baile, MD:
So that's been part of my work. And we're going to be putting on a three-day workshop next May to teach people from around the country how to use communication, these role reversal and doubling techniques in teaching communication skills. So I'm trying to get rolling with that.
T.A. Rosolowski, PhD:
Yeah. That'd be exciting. Is that the first time you've done something like that here?
Walter F. Baile, MD:
Yeah. Here, yes. I've gone to other places, but here, yes. It's a major undertaking. And you have to be ready to do it and do it far enough ahead of time and figure out the resources. So we've done this kind of thing a couple of times. And people have raved about it. So we said, "Why not?"
T.A. Rosolowski, PhD:
Absolutely. Well, you have to also think you've got a prospective audience as well. But if you're going to be inviting people from all over you ought to be able to get a critical mass.
Walter F. Baile, MD:
Well, they're going to pay.
T.A. Rosolowski, PhD:
Well, sure, but it means your pool is larger.
Walter F. Baile, MD:
No, I only want 20 people.
T.A. Rosolowski, PhD:
Oh, OK.
Walter F. Baile, MD:
I mean you can't teach this stuff in a large group format. Because you have to get people to practice. I want them to take home something they can use immediately.
T.A. Rosolowski, PhD:
Oh, interesting. It'll be really fascinating.
Walter F. Baile, MD:
Yeah. Show them how to do it.
T.A. Rosolowski, PhD:
Yeah. I never asked you specifically where you think your interest in communication came from.
Walter F. Baile, MD:
I'm a psychiatrist.
T.A. Rosolowski, PhD:
No, but I mean this kind of thing. Obviously that part. But I mean the training piece, because that's slightly different. The how-to piece is what I'm asking about.
Walter F. Baile, MD:
Let me see if I can trace this back. It really came from a phone call from Tony Back saying, "Do you want to participate in this grant?" But before that I think I had been doing—so here's what happened. So I got invited to Naples to give a talk to the Italian Psycho-Oncology Society. That's something. And I met some people there who became lifelong friends who said, "Why don't we do some communication teaching in Italy?" Said, "OK." And they organized it and I went there. And then we published about it and off I went.
T.A. Rosolowski, PhD:
Off you went, yeah. A new career.
Walter F. Baile, MD:
New direction. Otherwise I might have just remained. But I guess when I came here in 1994 as section chief—I'm trying to think about whether at Moffitt or not I was involved. I wasn't really that involved with communication skills teaching at Moffitt. It's when I came here that I started to read more about it and get interested in it as I thought about what area could it be any more important than oncology. So that's where it came from. And I've always been a liaison psychiatrist, which means worked in the medical field. So I was so aware of the fact that—how things could go awry when you're not communicating effectively.
T.A. Rosolowski, PhD:
It's also a new field, helping to form a new field, new techniques. You've mentioned the word creativity so many times. Obviously creating something new within a field. Not quite seat of your pants, but that excitement that comes from going into a situation and having kind of a framework but not knowing exactly how it's going to work out, having to create it on the spot. Just seems like there are a lot of very cool—yeah. You're pointing at your photos for the record. Yeah, the creativity seems to be a really important piece of it.
Walter F. Baile, MD:
Yes. The opportunity to give birth. See, these photographs are like giving birth for me. What do they call it? It's birthing. And so the composition, the deciding, putting yourself in the—role-reversing yourself with the viewer and saying, "What's this going to look like?" The novelty, the cuteness of it. I like to take things that other people might not think about taking because they have a message or that there's some kind of humor in it. Show you what I mean. So I'll show you one photo that really captures that issue. These pictures of Beth. I call them my Marilyn Monroe pictures.
T.A. Rosolowski, PhD:
Beth is your wife.
Walter F. Baile, MD:
Yeah. This phone doesn't want to do this. That's really weird. So I have some pictures from Morocco. OK, here it goes. OK, so I'll just be one second.
T.A. Rosolowski, PhD:
When did you and Beth get married?
Walter F. Baile, MD:
We got married about 10 years ago. So this was taken. I was sitting in a restaurant with a telephoto camera and I saw this guy.
T.A. Rosolowski, PhD:
Oh my.
Walter F. Baile, MD:
Sitting across the way. And he's an old guy with a lot of joy in him. 0
T.A. Rosolowski, PhD:
6 Yeah, I love the smile. Kind of toothless smile but— 4
Walter F. Baile, MD:
4 If I had a better camera it would be a better picture. But I didn't. See, if that were a better picture, if I'd had a better camera, that would have been a better picture. But it's not. And then against a background of color with— 2
T.A. Rosolowski, PhD:
2 That's a beautiful photo.
Walter F. Baile, MD:
Yeah. And then in Casablanca there's this graveyard of boats that was out the window.
T.A. Rosolowski, PhD:
That's very cool.
Walter F. Baile, MD:
Wasn't a good picture, but there's just—so having a window. This is the Milano Cathedral at night there. And here's a bunch of Hare Krishnas walking down the street of Milan near the cathedral. So it's this kind of stuff that I've always been somewhat impish, and I think that I like a side of photos that say something. This was kind of weird. These are little waves made by a boat passing by that are traveling all together down the shore. So things have a message to them.
T.A. Rosolowski, PhD:
Shall I turn off the recorder for today? And then we can look at a few more.
Walter F. Baile, MD:
Sure.
T.A. Rosolowski, PhD:
All right. So just for the record I'm turning off the recorder just at 11:00 a.m. 01:49:52.
Recommended Citation
Baile, Walter F. MD and Rosolowski, Tacey A. PhD, "Chapter 10: Work with Faculty and Academic Development and Other Communications Projects" (2016). Interview Chapters. 419.
https://openworks.mdanderson.org/mchv_interviewchapters/419
Conditions Governing Access
Open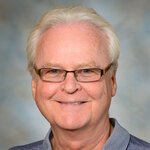 COinS