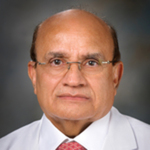 Title
Chapter 02: The Advantages of Moving to Texas and to MD Anderson
Description
Dr. Buzdar begins by talking about how he came to leave New England (where his wife, Barbara, was very happy) and come to Houston. He explains that there was an unexpected opening at MD Anderson, and called Dr. Schullenberger to follow up. Dr. Buzdar then sketches his evolving research focus within the Breast Cancer Section. He explains that, at the time, there was little that could be done for breast cancer patients as oncology was in its infancy. He talks about the dramatic results achieved when he and Dr. Gabriel Hortobagyi [oral history interview] developed the 3-drug combination of 5-flourouracil, Adriamycin and cyclophosphamide for use in patients with metastatic breast cancer, resulting in cancers shrinking in 75% of patients. The combination was then used for adjuvant therapy. Dr. Buzdar talks about controversy over using aggressive chemo therapy with severe side effects, noting that the study was blocked by other disciplines when it came up for review in the IRB.
Identifier
BuzdarA_01_20170210_C02
Publication Date
2-10-2017
Publisher
The Making Cancer History® Voices Oral History Collection, The University of Texas MD Anderson Cancer Center
Interview Session
Topics Covered
The Interview Subject's Story - Joining MD Anderson/Coming to Texas; The Researcher; Joining MD Anderson; Personal Background; Professional Path; Funny Stories
Transcript
Tacey A. Rosolowski, PhD:
Okay, right, in 1975. So just to kind of get it for the record, you did your rotating internship in Honolulu, and then from '69 to '70, you were a first-year resident in Maryview Hospital in Portsmouth, Virginia. That's a big change, Honolulu to Virginia. Then, you were in Ohio, at Lakewood Hospital, and then in Connecticut, so that was the New England part. So the woman who had the breast cancer was in Connecticut.
Aman Buzdar, MD:
In New England.
Tacey A. Rosolowski, PhD:
And you were there from '72 to '73. Oh, and then you did a fellowship there. Now, these were research fellowships? When did the whole research piece come in for you?
Aman Buzdar, MD:
Well, the research piece came when I came to MD Anderson, because this was mostly dedicated, state of the art, current standards. MD Anderson, even today, it is required that when you come as a trainee, you have to do at least one research project, which has to be completed.
Tacey A. Rosolowski, PhD:
Now tell me about how you got here, to MD Anderson.
Aman Buzdar, MD:
I think that is very interesting, I can tell you that, because at that time, my wife loved it. My wife is from Pennsylvania, and when we moved to New England, she loved New England. She didn't want to leave. We even found a first-year fellowship at this Norwalk Hospital, which was in affiliation with Yale. Second year, because the chief who was there, he said oh, you need to go to New Jersey School of Medicine in Norwalk, no Newark, Newark, New Jersey. And I thought the guy is good, so I took his word, I signed the contract, and a few weeks -- just about two months before we were supposed to move, me and my wife -- since we were in Norwalk and this is about maybe less than a two-hour drive -- my wife and me decided to go and let's take a look, see where we're going to live. We go there, this is in '74, and my wife didn't want to get out of the car. She said, "There's no way I'm going to live here."
Tacey A. Rosolowski, PhD:
Yeah, Newark was kind of a tough place then.
Aman Buzdar, MD:
A tough place to live, and where this hospital was, in the middle of downtown. I said okay, we won't live here, and we have no job.
Tacey A. Rosolowski, PhD:
What's your wife's name?
Aman Buzdar, MD:
Barbara.
Tacey A. Rosolowski, PhD:
Barbara, okay.
Aman Buzdar, MD:
So we came back and the next day I told her, I said okay, we are not going to go there. So I wrote a letter, I said for unpredictable circumstances, I am not able to come and join your second year fellowship. Thank you for giving me the opportunity. I looked, started looking for different positions, and at MD Anderson at that point there was the unexpected opening, and I saw an ad. So I sent my papers over here and a few days later, I called the person who was the Department of Internal Medicine and Hematology Oncology, Dr. Shullenberger. I said I am interested, I am doing this. Actually, I was one of the few percent who, within one year, I came over here, I was fully licensed. I took the exam and I was a fully licensed physician. I could have gone to private practice even, as an internist or anything, but I wanted to continue my education. So he said okay, your application looks interesting, let me think around, and I will call you. I didn't hear anything.
Tacey A. Rosolowski, PhD:
Oh, no.
Aman Buzdar, MD:
A couple of weeks later, we were -- for me, making money is no problem. You were getting $600 as a stipend, working as a fellow, and you could moonlight for two days in a month, you will make more than $600 for eight hours each shift you work. So that was not a concern, but I still wanted to pursue my education, so a couple of weeks later, I called Shully, his name we used to call him, Shully. So I called Dr. Shullenberger back and I said, have you decided? So, after two or three times I called and he said, "You are very persistent and your application looks encouraging, okay, you are accepted." (both laugh)
Tacey A. Rosolowski, PhD:
Well, what do they say, you can't win if you don't play.
Aman Buzdar, MD:
So that's how I end up at MD Anderson, and at that time, because I needed only one more reel of training to become oncology, because oncology was oh, very young. They didn't have oncology boards or anything, so I needed one more year. And once I completed my one year, even before a few months, I was offered the opportunity to stay, and I've been since then here.
Tacey A. Rosolowski, PhD:
Now, obviously, I'll have a bunch of questions to ask you about all of this, but before we get to those, let me ask you, if you didn't want to move to Newark, what did you think about moving to Texas?
Aman Buzdar, MD:
Oh, my wife didn't want to do it, and so the thing is, we wanted to -- I said okay, we just need one year and we'll move wherever you want, but once she came over here, after one year, then it took me a lot of courage to tell her that oh, the hospital offered me an opportunity to stay as faculty. She had some reservations but she loves it now. We've been living over here now, 40-plus years. "ƒ
Recommended Citation
Buzdar, Aman U. MD and Rosolowski, Tacey A. PhD, "Chapter 02: The Advantages of Moving to Texas and to MD Anderson" (2017). Interview Chapters. 563.
https://openworks.mdanderson.org/mchv_interviewchapters/563
Conditions Governing Access
Open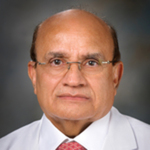 COinS