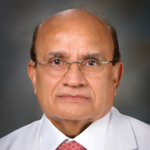 Title
Chapter 06: Research on Hormone-Dependent Breast Cancers
Description
In this chapter, Dr. Buzdar talks about his work on the effectiveness of anti-estrogens in shrinking cancers. He led the research, he explains, on aromatase inhibitors that block estrogen production. After skepticism, this work led to new therapies that became standard of care. Dr. Buzdar talks about his collaboration with Dr. Gabriel Hortobagyi. He notes that accepting the challenge of collaboration is an important first step in doing multidisciplinary research.
Identifier
BuzdarA_01_20170210_C06
Publication Date
2-10-2017
Publisher
The Making Cancer History® Voices Oral History Collection, The University of Texas MD Anderson Cancer Center
Interview Session
Topics Covered
The Interview Subject's Story - The Researcher; The Researcher; Research; Discovery and Success; Healing, Hope, and the Promise of Research; MD Anderson Impact; MD Anderson Impact; Controversy; Ethics; Research
Transcript
Aman Buzdar, MD:
+ Other things that I did --other things which my interest was, looking at --because two-thirds of the patients with breast cancer have what we call hormone dependent breast cancer. In that area, our group major contributions was --we were the group which I was fortunate to lead-- aromatase inhibitors. The standard treatment, which was more than 120 years old, is that women, if they have breast cancer, you remove their ovaries and the cancer shrinks. But, subsequently, it has become clear that if you give them antiestrogens, give high doses of estrogen to postmenopausal women, that this cancer will shrink. Our contribution was, I was fortunate to lead some of the research studies with aromatase inhibitors. Aromatase inhibitors are a different class of agents. A woman who has gone through change of life and her ovaries are not producing the estrogen but still, estrogen is being produced in the muscle, in the skin, connective tissue and in the fat, and there is these compounds, aromatase inhibitors. They block that estrogen production by 99 percent, so if you take it today, a 60 year-old female, you measure their estrogen level, it will be anywhere from ten to fifteen pica moles, whereas you give these agents for a few days, that level will drop less than two to three. So these were unique compounds at that time, and I was fortunate to test this. Up to then, they either removed the ovaries of the patient, you give them antiestrogens are in older women, high dose estrogens or antiestrogens, they have similar efficacy, but their safety profile was different. Like say you have to remove the ovaries, you have to take the patient to the operating theater, so on, whereas the antiestrogen was giving a pill.
Tacey A. Rosolowski, PhD:
Okay.
Aman Buzdar, MD:
But with these new compounds, when we compare to the older compounds, these were the first compounds which showed that their anticancer activity is better. They keep more patients alive, free of disease, for a longer period of time, control their disease, and now they are standard treatments. There are three of them now. They are all off patent, but we did with all three of them, different studies.
Tacey A. Rosolowski, PhD:
Now were these -- were you approached by pharmaceutical companies, to test these? How did you get connected with these compounds?
Aman Buzdar, MD:
Because, I was doing some hormonal agents, so I was asked to lead these studies, and I led the studies with aromatase inhibitor, Anastrozole. First, we did studies in patients with metastatic disease, where we showed --again, you have to start in a step wise fashion, so the first we showed that the patient's tumor already is resistant to antiestrogens. We give them progestins. So we show that these new compounds are better than progestins, and in randomized trial, we showed that they control the disease for a longer period of time and patients live longer. That was again, the first time we showed, and I was the one who had to stand in front of it, and after that, then there was tremendous skepticism, even in the whole U.S. they said oh yeah, everything works at MD Anderson. But, because I was standing in [ ? ] and showed that here, aromatase inhibitor given to the patients, they are living longer.
Tacey A. Rosolowski, PhD:
Now why was there so much skepticism?
Aman Buzdar, MD:
Because for 75 years, as I described a few minutes ago, a hormone is a hormone is a hormone. They may have a better safety tolerance, but their control of the disease is similar duration, so longer control of the disease, whereas here, for the first time you show a new class of agent has longer control of the disease and keeps patients alive for a longer period of time. Subsequently, I had the privilege of doing a large study, which I was the North American investigator, where we had 9,000 women, randomized in a simple study; antiestrogen, which was tamoxifen, new drug, which is anastrozole, or we give the third, a combination of both. In that 9,000 women, it showed that this newer agent kept more patients alive free of disease.
Tacey A. Rosolowski, PhD:
Now, was this multi-institutional?
Aman Buzdar, MD:
This was a global trial.
Tacey A. Rosolowski, PhD:
A global trial, wow.
Aman Buzdar, MD:
It was a global trial and it resulted in approval of this drug practically globally, once the data became available.
Tacey A. Rosolowski, PhD:
That's amazing, wow. Now, who are some of the individuals who you collaborated with? You mentioned the importance of recognizing a team. Who were the people that became your primary collaborators and why did you work so well together?
Aman Buzdar, MD:
I think because the research, especially if we had to treat 9,000 women, we'd be still doing the same study, whereas this was a global effort. Industry led the studies, but it was more than 25, 30 countries together. We used to meet every month or every two months, to look at the safety reports in a blinded manner. There was independent committees which looked at it and very quickly, once the study was complete, within less than three years, it became clear that the new approach is better and it became standard of care, FDA approved it.
Tacey A. Rosolowski, PhD:
Wow. I was thinking, when I asked about the collaborators, I was thinking about individuals within the institution that you kind of --
Aman Buzdar, MD:
The institution is very simple, because the thing is, as I said, that even though you may have difference of opinions and everybody thinks -- but in our breast group-- which Hortobagyi and me came the same day to MD Anderson.
Tacey A. Rosolowski, PhD:
Oh, really?
Aman Buzdar, MD:
Yeah, on July first 1974, both of us came on the same day. He was a fellow in the -- there used to be two separate departments. I was in the Department of Medicine. We have two separate training programs in medical oncology. One was in the Department of Medicine, which I was a fellow, and then the other one was led by Dr. Freireich [oral history interview]. It used to be called Developmental Therapeutics, and Dr. Hortobagyi was in that department. So, once we -- after Blumenstein left, Hortobagyi was the section chief and subsequently department chair, we developed a very collaborative effort. We would sit down, everything, we discuss it as a group, and once it is agreed upon by the group, that became our standard approach, if it was an already established therapy or it would be our priority for research point of view, that we're going to offer those approaches to the participants, to see if they want to be part of research.
Tacey A. Rosolowski, PhD:
Now, I mean this is kind of a qualitative question, but I'm wondering, is there a certain mentality or a certain set of intellectual skills, that a researcher has to have in order to really collaborate productively? So much of science is based on the individual researcher, and is there a change that has to take place in order for someone to really work effectively in a team?
Aman Buzdar, MD:
Well, I think the first thing is that you have to be willing to accept the challenge. Because the thing is, when you accept a responsibility, it requires that you have to spend a lot of time, effort into making sure that it is going to succeed. It's just not that oh, you are the principal investigator. You have to work very closely with your colleagues, this is why you are interested in this and why they should be doing it, and constantly working together, and bringing it, all of us, keeping it on the same page.
Tacey A. Rosolowski, PhD:
What are some of the challenges that arise with a team effort like that?
Aman Buzdar, MD:
I think the team effort, which we manage very effectively, is that you don't want to create -- say, if you are looking at a research question in certain subset of patient population; you should have two or three same subset addressing and questioning, and doing studies in the same population at the same time, because that way the results get diluted. You need to complete that one study.
Tacey A. Rosolowski, PhD:
Interesting.
Aman Buzdar, MD:
Unless there is a different certain criteria which don't fit into one protocol, those other subjects can go into the next protocol. So if you do this, then you have less of a bias in the results of the study. If you have two, three, four studies running in the same population, you don't know why subjects went into study number one, versus two, versus three.
Tacey A. Rosolowski, PhD:
Does it become difficult to actually achieve that when you have different investigators who want to run primary and secondary trials? Does that mean people have to make decisions about where to focus their research energies?
Aman Buzdar, MD:
It becomes challenging, but the thing is we really have addressed the same situation even today. We ask the department chair to put in their priority list. They have to say this subgroup, this is our priority number one, this is our priority number two, this is our priority number three, in the second group, so on. So that is required, every department chair has to submit that, and with me now being responsible for clinical research, I look at it every Tuesday, when the new protocol comes.
Tacey A. Rosolowski, PhD:
Interesting.
Aman Buzdar, MD:
I look at it, to see that there is no conflicts and there is appropriate justification there.  
Recommended Citation
Buzdar, Aman U. MD and Rosolowski, Tacey A. PhD, "Chapter 06: Research on Hormone-Dependent Breast Cancers" (2017). Interview Chapters. 567.
https://openworks.mdanderson.org/mchv_interviewchapters/567
Conditions Governing Access
Open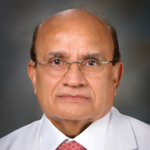 COinS