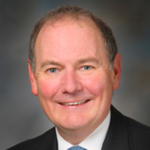 Title
Chapter 19: A New Opportunity in California
Description
In this final chapter of the interview, Dr. Buchholz explains his decision to retire from MD Anderson (effective 02/28/2018) to assume the role of Medical Director at the Scripps MD Anderson Cancer Center in San Diego (effective 04/16/2018). He talks with great feeling about his time at MD Anderson and describes the sendoff he is getting from colleagues as "awesome."
Identifier
BuchholzT_03_20180308_C19
Publication Date
3-8-2018
Publisher
The Making Cancer History® Voices Oral History Collection, The University of Texas MD Anderson Cancer Center
Interview Session
Topics Covered
The Interview Subject's Story - Post Retirement Activities; Personal Background; Character, Values, Beliefs, Talents; Professional Path; Evolution of Career; Professional Practice; Activities Outside Institution; Career and Accomplishments; Post Retirement Activities; Professional Values, Ethics, Purpose; Leadership; On Leadership
Transcript
Tacey Ann Rosolowski, PhD:
Okay, because you want to stop around 11:30. Okay, yeah. So, well, you're going to a new opportunity, so tell me about that.
Thomas Buchholz, MD:
Yeah. It was... I had to decide if I wanted to stay at MD Anderson and ride out my career here. And there was a little bit of hurt in the beginning. I'm a pretty optimistic, positive person, and I could get over that, and heal, and forgive, and move on, and... So I have reached a really good place, and... But I felt as if I wasn't contributing enough, that this leadership component has been part of my job for... Well, you saw it here. (laughter) And there were some—
Tacey Ann Rosolowski, PhD:
Actually, from when you were in football. (laughs)
Thomas Buchholz, MD:
Yeah, so many people in the organization, too, are saying, "Tom, you're more than just going back and being a doctor, and you're more than..." And I've done enough academic research-wise that... I'm not a Jim Allison in the laboratory, about to make the next discovery or so. My research is being carried on by those who came after me in a similar type of fashion, so it's not a huge void. So I was thinking, well, what should be my next step, and I was offered a position of leadership in a major cancer center, like MD Anderson. Obviously smaller, but... That just wasn't a good fit for my wife and I, in terms of its location. People started to call us to run healthcare systems. I interviewed for a CEO of a major healthcare system in the Northeast. That, too, I don't think I have the right skillset for that, or the right interest as... So in the end, going to Scripps, it was appealing to me because it allows me to keep my MD Anderson identity, even though I used to be responsible at the end in my Physician-in-Chief role for the entirety of the national network, in addition to from the medical standpoint. And so I was there at the Scripps signing ceremony, and I met with the recruiter when they first posted this position as what are the characteristics that I think should be in this thing. So some could consider this, I think, ah, well, you're not moving up, per se. You're kind of taking a... But I'm looking at it as I'm less worried about a legacy. I don't really care. I want to contribute in a meaningful way, and I want to do it in something that's meaningful to me. And I found I really love the cancer space, and I love being... I think I have the right skillset to do it here. They certainly feel—
Tacey Ann Rosolowski, PhD:
What's the position, exactly, that you will be serving?
Thomas Buchholz, MD:
I'm going to be the medical director of their Scripps MD Anderson Cancer program. So I'm going to be a member of the Scripps Healthcare Executive Team, and then I'm going to have a 10% effort of being an oncology doctor. So the physicians there, they respect me as an oncology doctor. They respect me as an academician. They don't have the same opportunity to publish like I have had in my career. They don't get invited around the world to speak on oncology. And so I think they respect me as being a national, international figure in oncology, who really gets the practice of oncology, and gets academics, and can help give some authenticity to the MD Anderson Scripps program that they're excited about. And in the healthcare administrative side, too, they love the fact that, wow, look at your expertise and how you could help complement that from an organizational... So I think it's a great fit, and I'm excited about it. I'm excited to get in there, and I'm excited about the outward-facing things, too. I kind of got to the point where I really enjoy that. One of the most rewarding things about being Physician-in-Chief was I had the credibility to be a national spokesperson about cancer, and the mission of MD Anderson. I love the fact when people say, "Oh, can you help me with MD Anderson?" I would say, "Yeah, I can help you. Yeah, do you need help seeing someone, or...?" I love being the face. I was probably the best at being the face of clinical care at MD Anderson, not from an ego standpoint but from a pride of being able to represent that. And I think Scripps is going to afford me that opportunity to start anew, and they have a lot of building to do, but I feel like I got that. This is a... I've been there. I've been through... They have a lot of organizational change to do, and... But it is amazing. Experience does help, right? And I'm confident that I'm going to bring and be a positive thing. And it's fun. The last two months have been tremendously personally rewarding and fulfilling, to the number of people in the organization who are sad to see me leave, who give testimony of the impact that I've had on their careers. It's awesome. (laughs) Really awesome. So it's fun.
Tacey Ann Rosolowski, PhD:
Well, I remember when I asked you to define—because you had said being chair was fun, and I said, "Well, what do you mean by fun?" And you had said it was having an impact. And so you've had an impact on people, a patient, colleagues, patients, and institutions. So that's really great.
Thomas Buchholz, MD:
Yeah. I mean, it's awesome. Yeah, so the advocates are having a party for me Tuesday, or a week from Tuesday. My colleagues are having a party for me on Saturday. Peter Pister's taking me out on Sunday. One by one, all these faculty members want to take me out for dinner one last time, and I'm going to get fat. (laughter) No, but so it gives me a great sense of pride. And I was in the military, as you know, and after 20 years in the military you're supposed to retire. And so I've been at MD Anderson. It feels kind of natural, like, well, that's a good way to close it, and I could have a sense of pride that what I've been able to do far surpassed what I ever thought I'd be able to have the opportunity to do. And then, at the same time, it's, okay, now I've got a new chapter, and I could do this for a period of time and see how it goes. So it's great. And MD Anderson does take care of you. I mean, it's fun to have the freedom now to take care of from the experience, from, yeah, we've been able to afford this beautiful house, and move on. And so it's good.
Tacey Ann Rosolowski, PhD:
Well, I'm delighted. I've really enjoyed our conversation.
Thomas Buchholz, MD:
Thank you.
Tacey Ann Rosolowski, PhD:
And I want to ask you if there's anything else you would like to add at this point.
Thomas Buchholz, MD:
No. I've enjoyed it, too.
Tacey Ann Rosolowski, PhD:
Good.
Thomas Buchholz, MD:
Thanks for hearing my story.
Tacey Ann Rosolowski, PhD:
Oh, yeah. No, it was really interesting. I've really enjoyed it. (laughter) I can see why people say "You have to talk to Tom Buchholz."
Thomas Buchholz, MD:
Well, I'm glad to be part of the archived history now, so... So, good, thank you.
Tacey Ann Rosolowski, PhD:
All right, certainly. It's been a pleasure. And I will just say for the record that I am turning off the recorder at 11:35.
Recommended Citation
Buchholz, Thomas A. MD and Rosolowski, Tacey A. PhD, "Chapter 19: A New Opportunity in California" (2018). Interview Chapters. 596.
https://openworks.mdanderson.org/mchv_interviewchapters/596
Conditions Governing Access
Open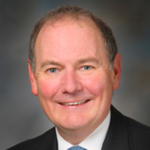 COinS