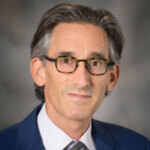 Title
Chapter 07: Building Psycho-Oncology at MD Anderson; Setting Up Research
Description
Dr. Cohen first tells the story of applying for a position at MD Anderson, noting that he wanted to leave the University of Pittsburg in order to become more of a leader in his field. He notes that no one was focusing on psycho-oncology at MD Anderson when he came in 1997; he explains why he was hired, noting that it was rare for a new faculty member to "walk in with an RO1." He then talks about the first studies he set up in collaboration with other faculty members. He also talks about learning to work with temperamental researchers and explains that the environment at MD Anderson was very drug focused with little focus on patient experience.
Identifier
CohenL_02_20160706_C07
Publication Date
7-6-2016
Publisher
The Making Cancer History® Voices Oral History Collection, The University of Texas MD Anderson Cancer Center
Interview Session
Topics Covered
The University of Texas MD Anderson Cancer Center - Building the Institution; The Researcher; Mentoring; On Mentoring; Understanding Cancer, the History of Science, Cancer Research; Professional Path; Joining MD Anderson; Overview; Definitions, Explanations, Translations; Leadership; On Leadership; MD Anderson Culture; Research, Care, and Education; Research
Transcript
Lorenzo Cohen, PhD:
Interesting, when I interviewed here, it was probably for the second interview, and I was being co-interviewed by Scott Lippman and Terry Bevers, and I remember this very well. You probably never met Scott Lippman. He used to be head of Department of Cancer Prevention and then he became the head of Thoracic Medical Oncology. And now he's head of the San Diego Cancer Center, UCSD. He said, "Oh. Well, if you're going to be coming to work with Dr. Gritz [Ellen Gritz, PhD; oral history interview], I guess you're going to have to change and do tobacco research. I looked at him and said, "What do you mean? I'm a psychooncologist, I do psychoneuroimmunology in cancer patients. He was like, "I don't think so. I was like, "Well, I couldn't care less about tobacco, I know it's bad. As my tobacco colleague says, the majority of the population quits without help, so I'm not interested in tobacco research at all.
Tacey A. Rosolowski, PhD:
So how did you find out about the job here?
Lorenzo Cohen, PhD:
I don't know. I think it may have been like in the APA Monitor or something like that. Andy of course was insulted that I would leave, and I'd never heard of MD Anderson. I was still relatively new to the world of cancer, and then quickly found out about MD Anderson. It's like, wow. Last place I ever imagined living is in Houston, Texas. I think my wife even said when we were leaving Toronto, which was both of our formative homes, "˜now we're moving to the armpit of the continent,' and I think when we were in Pittsburgh she remembers seeing what the weather was in Houston and I don't think she thought it out loud, but God, wouldn't it be horrible to live there.
Tacey A. Rosolowski, PhD:
One of those kill me now moments.
Lorenzo Cohen, PhD:
If Pittsburgh was the armpit of the continent, you imagine where we are now.
Tacey A. Rosolowski, PhD:
So why did you want to leave Pittsburgh?
Lorenzo Cohen, PhD:
Andy was a very strong personality. And I had ambitions to be a leader and to form my own independent career. And because of the size of Andy and his empire and personality I would always be working for Andy. And that's not something I could do.
Tacey A. Rosolowski, PhD:
So when you say you wanted to be a leader, what were you visualizing at that point in your career? What did that mean to you at that time?
Lorenzo Cohen, PhD:
At that point just carving out my own area to call mine and to start to grow a program. When I showed up here there was no one really doing psychooncology in Behavioral Science. I can't remember if Karen Basen-Engquist had been hired. But as Scott said, they were all smokers. But Ellen [Gritz, PhD; oral history interview] hired me because she wanted me -- have you interviewed Ellen?
Tacey A. Rosolowski, PhD:
Oh yeah.
Lorenzo Cohen, PhD:
So they hired me one, because I hadn't gotten the grant funded but they knew what my score was on the resubmission of the R01, so it was guaranteed funding. And then the question was could I transfer it. And we got that approved, and of course they were thrilled because it'd be easier to do the study than even it would have been in Pittsburgh. So that's pretty rare, as a new assistant professor to walk in the door with an R01 in your hand. That doesn't really happen that often. So at that point Ellen hired me because she wanted to start expanding the program beyond tobacco and to actually have a focus in psychooncology. I think she had a postdoc, Cindy Carmack, who continues to be here, who was a postdoc with her doing some psychooncology work. Then they hired Karen Basen-Engquist either just before me or just after me, who was interested in exercise in cancer patients. And so the portfolio started to grow in terms of balancing out the focus on tobacco.
Tacey A. Rosolowski, PhD:
So when you came for your second interview and you were cogitating over making the move, what were the opportunities that you saw here that convinced you?
Lorenzo Cohen, PhD:
There was nothing in psychooncology. It didn't exist. So I just had this open playground with anyone. I could pick any cancer to work with and there was no conflict over lab. In Pittsburgh everywhere I turned not only was there Andy but then there was other people in Andy's group and his growing program. And it was of course much smaller. Even back then nothing was quite as big as MD Anderson. Now it's out of control of course.
Tacey A. Rosolowski, PhD:
So you made the move in '97. So tell me about that.
Lorenzo Cohen, PhD:
I was fortunate to be able to hit the ground running because I had an R01 essentially in hand, actually started it the next year. And because of that I was able to hire postdocs and start my research program really quickly. Because the R01 was a three-arm clinical trial, I knew I had to form other collaborations and to get other studies up and running on a shoestring budget because back then either I didn't negotiate well or they just didn't give a lot of startup. That didn't really matter back then because I walked in with an R01, so I had some money to be able to launch a program. And so what I was able to do successfully in the first few years, even though I had an ongoing grant, was to form collaborations with different people and get a number of short term studies up and running and papers written by either adding stuff on to other people's clinical trials -- so for example I found out quickly in urology because that's where I was doing the prostate research, one of the GU medical oncologists was doing research in heat shock protein vaccines. So the purpose of the vaccine was to simulate the immune system, and he's already with company money collecting all the immune measures. And I said, "Well, why aren't we collecting some stress measures? So I added some stress measures on to the protocol, started working and learning about drug companies and how they interact. I was totally new, being a psychologist of course. And so was able to get some studies up and running quickly in that way.
Tacey A. Rosolowski, PhD:
Who was your collaborator for that study?
Lorenzo Cohen, PhD:
Probably don't want to mention his name here. No, but it's fine. Robert Amato, who didn't stay here very long. He was one of these physicians, and it's nothing against him, he thought he knew best. When Lance Armstrong came to MD Anderson for his treatment told Lance -- and this is in Lance's book, so I'm not sharing things out of turn. He didn't call it MD Anderson, I think he called it Houston Cancer Hospital, so we didn't sue him or something. So he was told by Dr. Amato, who really thought he was doing best, that you need to take -- I can't remember what it was -- BEP or BOP or one of these acronym multichemo treatments. And Armstrong says to Amato, "Do any of the drugs in there impact lung function? And Amato said, "Yeah, I'm afraid,whatever it was, "one of them is going to damage your lungs, and it's unlikely you'll be able to be a cyclist anymore. And Lance Armstrong said, "Well, then you have to take that out. He said, "I'm not going to take it out. That's the treatment that's going to cure you. And you're going to potentially,no problems with this, but, "this is the standard treatment and I'm not willing to modify it. So Lance Armstrong left. And do you know where he got his treatment?
Tacey A. Rosolowski, PhD:
No, I don't.
Lorenzo Cohen, PhD:
Right. But you can bet bottom dollar if he was cured by us, which he was cured --
Tacey A. Rosolowski, PhD:
Oh, we would know all about it.
Lorenzo Cohen, PhD:
You would know that it was MD Anderson that cured Lance Armstrong. He went to the University of Indiana, who was willing to work with him, and they figured out what would work, because he didn't want to live if he couldn't cycle, and that was before of course knowing that he was doping, but before he won seven Tours de France. So anyway Bob was an interesting character to work with because he's very headstrong and I learned how to work with temperamental doctors by those first few years of experience. And this was 1997, '98, when we had one IRB and one CRC and members of the IRB would say -- or of CRC, "You can't ask patients about depression and anxiety because you're going to cause them to be depressed and anxious if you have them think about it. It's like, what rock did you crawl out of? The tenets of psychotherapy is to look in and see what's going on. And we know that helps them. So no. Having them fill out a questionnaire is not going to cause depression. So there was just tons of education that had to happen in an institution that was really drug-focused. You could argue they're more drug-focused now than ever. But at least there is an openness and an awareness to the patient experience and the patient experience matters. So back then it was really just backwards in terms of the thinking of the importance of patients' well-being and mental health. They just took it for granted. Well, of course the patients are depressed and anxious. They have cancer. And I remember I showed this data early on that these kidney cancer patients who were on Bob Amato's trials, the ones who were depressed at the start of treatment and stressed had lower immune function and they died sooner. And so really since then there's been lots of publications, some from us, showing that depression is a prognostic indicator of outcome, controlling for everything else, all the usual things. And medical oncologists essentially saying, "Well, of course they're depressed, they have cancer. It's like but you're not quite understanding. Not everyone is depressed. And it's the depressed ones who die sooner regardless of their stage of disease. So this is something that we need to try and modify as you try and modify the tumor and target the tumor. So just a huge amount of lack of information, misinformation, preconceived biases that a physician has because they're not taught anything about behavior and psychology in med school.
Tacey A. Rosolowski, PhD:
Was it the same here as other places? Was MD Anderson slower in terms of that learning curve? I'm not asking for badmouthing. It's just where was the institution.
Lorenzo Cohen, PhD:
I don't know because I'm here and was here, and it probably wasn't that different in other places. I think MD Anderson is probably a bit more conservative. They're conservative at the same time as -- I remember being in IRB and Don Berry -- I don't know if you've interviewed him.
Tacey A. Rosolowski, PhD:
No.
Lorenzo Cohen, PhD:
He used to be the chair of Biostatistics here, super famous biostatistician, in particular in the area of breast cancer. And he didn't make a lot of friends in medical oncologists because he said, "You guys here at MD Anderson are like cowboys, you're doing things that are really right on the edge of is this appropriate and safe to do. But they're doing these things -- as J Freireich [oral history interview] probably shared, you're right at the edge of killing somebody or this could be the next discovery and the next step forward. They didn't know what was going to happen when you combined drugs. And they just did it.
Tacey A. Rosolowski, PhD:
A lot of people have used phrases like "˜cowboys' and "˜Wild West.' That was the period of Developmental Therapeutics' heyday. You can see how it happened. But then obviously that environment created a lot of controversy and a lot of commentary.
Lorenzo Cohen, PhD:
Yeah. So there wasn't as much openness to this. One experience, just sharing the challenging times. I had a prostate study that I had the R01 to support. Put it through the CRC, the IRB. It sailed through. So then I designed a second study. I don't know why I'm going to this level of detail. So I designed the second study, same study essentially, cookie-cutter, but let's do it with breast cancer too. So presurgical stress management. So I show up at the CRC meeting to present it. And you present the protocol 5 or 10 minutes. Here's the study design. And then it's open for questions. And one person asked a question about the blood. How are you going to get the blood? And I said, "Well, when I was in Pittsburgh we just went in the preop holding area and as they were setting up the IV. I don't know if you've interviewed Len Zwelling. If you have they probably made you delete all the recordings.
Tacey A. Rosolowski, PhD:
No.
Lorenzo Cohen, PhD:
So Len, I think he was the chair of the meeting, says, "You're not in Pittsburgh anymore. Just so demeaning. And then it was just a feeding frenzy. They just went nuts.
Tacey A. Rosolowski, PhD:
What do you think was behind that? What was that telling you about the culture?
Lorenzo Cohen, PhD:
One, that it is not supportive. The end goal wasn't to ultimately create a better study. I think they viewed it, particularly because I said, "Well, when I was in Pittsburgh,and they're like, "Little boy, you're not in Pittsburgh anymore, this is MD Anderson. Again this ego and bravado of we are better and we know better. And I viewed it because of the way it was done as it's almost like a hazing. And I didn't come from the medical world. Psychologist. We're nice to people. And that's the medical model of being very aggressive. And it happens in all disciplines. And we had one graduate faculty member who was like that. He would just grill people and ridicule them. But he did it using the Socratic method because he thought was the best way. Through fear and intimidation you're going to learn more. Again it's certainly more of the medical model. I don't know. To have me save some face, they deferred the protocol and said, "Why don't you go and meet with,I think it was with Genie Kleinerman [oral history interview], who was Len's wife and then ultimately became head of Pediatrics here. Because she was doing some immune work. And so I essentially met with her, paid my dues. And she said, "I advise you. Next time you go into that room, have your collaborators with you.
Tacey A. Rosolowski, PhD:
Oh, interesting.
Lorenzo Cohen, PhD:
I didn't have any of my collaborators with me to jump in and defend. So I walked in the room with Gabe Hortobagyi [oral history interview], who was the chair of Breast Medical Oncology, Eva Singletary, who was the head of essentially breast surgery, a biostatistician, my immunologist. And I sat down. They nodded to people. All sat down around me. I presented the study. They said, "Any questions? No questions. And I was approved like that. So that was a learning experience. Go in with your army.
Tacey A. Rosolowski, PhD:
It may very well have been, too, a PhD psychologist confronting this.
Lorenzo Cohen, PhD:
For sure. Taking blood from surgery.
Tacey A. Rosolowski, PhD:
Hazing sounds like -- well, certainly people have mentioned that kind of environment over and over. Always critically, I have to say.
Lorenzo Cohen, PhD:
It made me better, it probably did, in terms of making sure that when I walk in that room to this day I don't view it as a kind, supportive environment. I'm there to be attacked, and I need to be ready. And having been on the other side, because I've been in the CRC as well as a member of the IRB, and as a mentor, my job is to find the problems. I read a paper not looking to write "˜good' in the margin. I read a grant not looking for the good parts. I'm looking for the holes, for the problems, and to fix them ultimately.
Recommended Citation
Cohen, Lorenzo PhD and Rosolowski, Tacey A. PhD, "Chapter 07: Building Psycho-Oncology at MD Anderson; Setting Up Research" (2016). Interview Chapters. 626.
https://openworks.mdanderson.org/mchv_interviewchapters/626
Conditions Governing Access
Open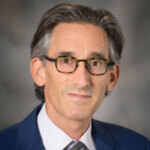 COinS