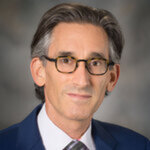 Title
Chapter 15: A New Book on the How-To of Quality of Life
Description
In this chapter, Dr. Cohen explains his approach to a new book that is intended to be a practical follow up to Dr. Servan-Schrieber's more theoretical, Anti-Cancer Living, with Dr. Cohen's wife, Alison Jeffries serving as the "how to" voice. He explains the approach taken in the book and how he and Ms. Jeffries approached Penguin/Random House to secure a contract. He also talks about working with agent Doug Abrams. Dr. Cohen also explains the complexities of basing the book on the in-progess comprehensive life study at MD Anderson. He talks about anticipated criticisms from colleagues.
Identifier
CohenL_03_20160824_C15
Publication Date
7-24-2016
Publisher
The Making Cancer History® Voices Oral History Collection, The University of Texas MD Anderson Cancer Center
Interview Session
Topics Covered
The Interview Subject's Story - The Researcher; The Researcher; Personal Background; Professional Path; Multi-disciplinary Approaches; Discovery and Success; Healing, Hope, and the Promise of Research; Human Stories; Offering Care, Compassion, Help; Patients; Patients, Treatment, Survivors; Understanding Cancer, the History of Science, Cancer Research; The History of Health Care, Patient Care; Professional Practice; The Professional at Work; Collaborations; Controversies
Transcript
Lorenzo Cohen, PhD:
+ In I guess it -- well, I have the exact date, but that's probably not important. It was probably around 2012 that I reached out to Penguin Random House -- and I didn't know who to reach out to at that point -- and said, you know, "I have this idea of -- for a book, but I wanted to hear from you guys of what you were planning with Anticancer. And so they connected me with David's editor, who I had initial email conversation with, and she -- you know, I said I'd be -- you know, "If you're interested in doing a third edition, you know, I would be your guy,because, you know, I became super close with David, we're doing the clinical trial that he was part of before he died. We actually hadn't started recruiting to the trial before he died, but I think he knew that we had gotten the money that we needed to, and continue with the designing of the study. And she essentially said, "Well, you know, it's not -- we're probably not going to do a third edition, because without the author, you know, you can't -- you can't go around and give talks and do book signings on behalf of David. You kind of -- I'm totally new to the book world, of course, and that's understandable. You can't. And I said, "Well, what David's book doesn't do that I think we need is how do you do it. [] So there's a lot of books on what you need to do: the harms of sugar, the harms of fat. You know, Dean Ornish has written wonderful books on essentially what you need to do, but there really wasn't how to do it. What was quite remarkable that we were seeing in the comprehensive lifestyle study is that we were showing women how to do it, and we were successfully at least getting them to engage in the behaviors. So, I actually didn't speak to Alison that much about this, and just we spoke briefly about it -- about her getting involved with this, and being the voice of how do you do this, because I at that point was really transforming my life, and essentially becoming vegan. My father was diagnosed with prostate cancer, and... Well, his PSA was starting to rise, and I told him what he should do, and he didn't follow what he should do, and did the biopsy, and the active surveillance, continued to consume milk and not do everything I told him to do. Super healthy guy. I mean, exercises all the time. He was even doing Qigong, and never ate red meat, and did yoga every morning, but he wouldn't stop with the milk. Anyway, that bugged me, because milk and prostate cancer are actually linked. So... But anyway, that -- he ended up having to have a radical prostatectomy. I think it was in, I don't know, 2009 or '10. I've documented all this somewhere for the book purposes. And -- so I was starting to transform my life, so Alison had to -- you know, was sort of implementing this in the home and, you know, working with our friends in our community, and, you know, she was sort of, "I'm the scientist and the voice of, you know, this is what you should do,like David's voice, "this is what you should do,but nobody put in writing, well, how do you actually do it. How do you send kids off to school with a packed lunch that is healthy, with healthy snacks, and when they come home from school instead of putting in the --I guess our generation-- Pop Tarts. I don't see those anymore, but whatever these -- those disgusting, you know, folded over pizza things with lots of --
Tacey A. Rosolowski, PhD:
Oh, right, Hot Pockets, or...
Lorenzo Cohen, PhD:
Hot Pockets, and all this, you know, junk. How do you actually get people to eat healthfully, exercise? You know, sleep has always been -- we've been so regimented, and we sleep with our children from the time they were born, and it's been very successful. You know, our 15-year-old got into bed at 9:30 last night, because he really needed it, and he was asleep, you know, 15 minutes later, and I'm in there with his older brother, helping him to make his bed. He was out, you know. Luca, the middle one, was out. And kids need more sleep than... Anyway, I don't want to get off too much of a tangent. So, essentially, I -- we pitched to the editor that we would write a book that updates the science, because, you know, David's book, second edition is 2009. He died in 2011. Now it's 2012, '13. And then really the how-to, and basing some of the how-to on the ongoing study, and that we would, you know, describe what's going on at MD Anderson with the clinical trial. They're, of course, hoping that the book would be a reveal of the study, but it's ongoing, so we can't really... We have a manuscript under review that needs to be published before the book gets published, which is describing the trial in a peer-reviewed journal, and the patient experience. So we've pulled a lot of the quotes, and did interviews with the patients that we're incorporating into this paper, which sort of shows these life transformations.
Tacey A. Rosolowski, PhD:
What are the patients saying that made it so exciting to you?
Lorenzo Cohen, PhD:
So one patient said, "It's been 24 years since I've taken care of myself, and now I'm really focusing on myself. They're saying -- you know, they call the four therapists their four angels. They have the supports finally that are necessary to create the change. And an aspect that's actually going to be very unique about our book that doesn't exist in these other books is we're going to be prioritizing support, and establishing your support network to be able to do this, because without a support network you will fail, and without a support network you're not going to have the supports that you need to be able to implement these behaviors. And it's more than just getting your buddy together to exercise in the morning. It has to be more pervasive and network-driven. So, these women are not only transforming their own lives, they're transforming the lives of everyone around them. So, this one woman -- and we see it, because we physically see the changes, and we meet their family, the husband who's been on insulin because he has diabetes for the past ten years doesn't need insulin anymore. He's not in our clinical trial, right? And the kids, you know, are now meditating with mom because they know that it's going to help mom, and they're exercising. I mean, it's... you know, whether they keep it up, whether it decreases recurrence of disease, which is our primary outcome, we won't know for a number of years, and, in fact, everyone will view the study as a failure if we don't decrease recurrence of disease, and the headline could be, "See, you know, lifestyle doesn't matter. But these women would probably write an op-ed saying, "You guys don't understand. We are healthier than we've ever been in our lives. Our lives are transformed. And you hear this from other cancer patients where cancer is a crisis that happens in your life, and for many the lightbulb goes off and they transform their lives, and they start leading the lives that they know they should've always been leading. And somehow cancer and this life-threatening illness has given them permission to go down this path that they always knew they should've been on. [] And I've --the first time I heard this was actually this famous Latina popstar named Soraya who was at MD Anderson, and I remember this encounter very distinctly. We're standing in front of what was then the Place of Wellness, and she said to me, you know, "I am now leading the life that I always should've been leading, having my priorities right, and even if I could go back and change my fate and not have cancer, I wouldn't. She had a stage three breast cancer, and a few months later she died. And she was in her, like, thirties, you know, this vibrant pop star.
Tacey A. Rosolowski, PhD:
Did she talk about her disease publicly?
Lorenzo Cohen, PhD:
Oh, yeah, yeah, yeah. I mean, it became her kind of mission. So that was -- you know, at first I thought, you know, this is a one-off, but then you just keep hearing it over and over and over. And I think that's what we've been able to do, and will be able to document it, 'cause we have a measure called benefit finding, finding meaning an illness, that we've been able to help women through the behavior change, start to transform their lives. So anyway --
Tacey A. Rosolowski, PhD:
I -- just a quick question. I mean, you're doing this study with women. What was the reason for not doing a study that also included men, or a parallel?
Lorenzo Cohen, PhD:
Well, so when we decided to do the -- when we decided to design Comp Life, and to get on the bandwagon to raise the money, we -- I met with essentially people involved with the five cancers that we know are guaranteed can be influenced by lifestyle: breast, prostate, ovarian, endometrial, and colon. Lots of data in those five cancers, some more than others, that lifestyle factors can influence outcomes after a diagnosis, because we weren't doing primary prevention here. And they all lobbied hard to have them picked. Now, colon, of course, would've been a mixed cancer, but the other ones are sex-specific. Breast, you know, we've had so much experience working with the breast group. The data, you know, arguably, certainly in the area of obesity is extremely consistent, the link between alcohol and recurrence of disease, the link between obesity and recurrence of disease, and exercise and recurrence of disease, fruits and vegetables and recurrence of disease, all the research on stress and depression and recurrence of disease. It was just sort of -- we knew they were going to be an able and willing and excited population. The numbers were really high. And that was kind of it. And so we're like, we're going with breast. We don't want to... Now, do I want to go and do research in the other populations? Absolutely. And the next stage is -- and I'm hoping this week or next week to get the phone call saying, "Yes, you have the money to do Comp Life 2.0 through a philanthropist,which would be to go virtual, so they would have a six-hour boot camp here at MD Anderson, meet their four therapists, and then everything else is done on Facetime with an iPad that we give them. So they meet with their dietician in their kitchen, and our dietician is in our kitchen, but they can cook together, and they can learn, and the same curriculum, modified, of course, to work appropriately in a virtual world. And doing the guys with prostate cancer, undergoing radiotherapy, I, you know, spoke with another foundation two weeks ago saying the only thing stopping us from going to do it with guys is funding. The NIH is not interested in funding this because it's too comprehensive. You know, there's no active ingredient here. And, you know, I'm at a point in my career where I'll say yes, but I don't care. I'm not that interested in doing the reductionistic research anymore. Hypnosis stuff totally excites me because it's transformative, with a small T. Comprehensive lifestyle change is transformative with a capital T. [] And so the book, we ended up -- it took us a number of years to go through a super bad agent who was not supportive, didn't know what they were doing. Landed a phenomenal agent who's -- Doug Abrams of Idea Architects, who's the agent for Desmond Tutu and the Dalai Lama, and they're just putting out a book called The Book of Joy, where the Dalai Lama and Desmond Tutu had an extended encounter, and Doug is actually putting it together as, let's call it, the author, but it's their words. So anyway, Doug took us on, helped us put together, you know, just a rock solid proposal that Viking ended up being, and then 14 other markets around the world, 12 languages already, and we have not written it. (laughter) Technically, the book is due October 1st. We're not likely going to make the deadline, but I've heard that doesn't matter.
Tacey A. Rosolowski, PhD:
So what's your plan for putting the book together?
Lorenzo Cohen, PhD:
Oh, so, I mean, we're deep into putting the book together, and we have a collaborative writer. I don't use the term "ghostwriterbecause we're writing it, but he is making it sound good. You know, I'm overly cerebral and wrapped up in fear of the medical community vilifying me and the book because we're overstating the message. The message is stronger today than it was when David wrote the 2009 edition, substantially stronger. You see it every day, every week in the New York Times, another article about, you know, lifestyle and health, and there's no guidelines on -- the AICR and the American Cancer Society have guidelines on cancer prevention that specifically highlight diet, exercise, weight as a way to prevent cancer. We know that at least a third of cancers in our world could be prevented just focusing on diet, exercise, and weight, not talking about environment, not talking about stress, not talking about sleep deprivation that we know is linked to obesity and, you know... So my... So in terms of the book, I mean, we're -- we just have to finish it. What Doug does really well, and why he is successful with his authors -- he's more of a boutique agency -- is we do essentially a full, essentially annotated outline of the whole book, so we know, you know, what's going into every section of the book, and we'll have to get the Comp Life paper published, because then it will be in the peer-reviewed literature before it comes out in the book, the patient experience, because, as you know, my medical colleagues are going to criticize me for talking about a study that's ongoing, and "misleadingis probably going to be a word many people will use. The readership, that somehow doing this is going to lead to decreased recurrence of disease, yet Dr. Cohen hasn't even finished his story. So I'm -- we're going to be very careful in the book to say, you know, we're not saying doing this is going to decrease your recurrence of disease, and, in fact, the study is ongoing, but we want you to meet these women, because their lives are being transformed, and what they're sharing with us will be empowering to you. And you think it's not possible, but look at this woman who lives in Louisiana, grew up on chicken fried steak, and is on food stamps. She's doing it. She's becoming primarily vegan, and doing yoga and meditation every day, so you can, too, and meet her. Listen to her words, and what her family's situation is, and what she's overcome, and having them, you know, kind of be the social support in, you know, two-dimensional black and white for these other people who are trying to make these changes.
Tacey A. Rosolowski, PhD:
That must be kind of frustrating, or -- you know, to feel like you have this message, and opportunity to be the voice piece to provide an outlet for these patients, essentially, but you have to be concerned about --
Lorenzo Cohen, PhD:
Well, if the study was done and we should we could decrease recurrence of disease, no issue, you know? They would still criticize and say, "It's only one study, Cohen's overstating it, they need to replicate. So no matter where... You know, I'm used to it. And I was speaking, actually, on Sunday, this past Sunday -- as part of transforming our community, every Sunday dads and kids get together for what they call Sunday soccer, and, you know, kids of all varying levels -- now the eldest are seniors in high school, you know, down to 12-year-olds. But one of my colleagues is a medical oncologist, used to be at MD Anderson, now is in private practice, who has read a version of the introduction where, you know, being really cautious, and, you know, in talking to him I realized I have to just take on the persona and the ego of the stereotypical surgeon and just say, "I don't give a shit what you think. You know, this is an important message, and I know the patients it's going to resonate for. It's going to help transform their lives, as David's book has. This book is going to transform more lives, if it's successful, than David's book did, because it's going to be prescriptive, and it's going to share these remarkable stories of success, and not just the women in the clinical trial but other people that we're interviewing who are not even cancer patients making these life transformations, and sharing their stories.
Tacey A. Rosolowski, PhD:
What's the mechanism? How are you finding those people to interview?
Lorenzo Cohen, PhD:
Kind of happenstance. Some are friends, and in our community here, no question, but one remarkable story that's going to be the lead-off of the chapter called "The Wild West,which is how we're leading this Western lifestyle that's going to take us to our grave. We recruited -- we were recruiting a woman for our yoga study at MD Anderson, and she was already practicing yoga, but had heard about me, and read David's book, and gave her card to the research assistant, saying, you know, "I'd love to speak with Dr. Cohen. And I was like, whatever. Her card sat in my desk for a long time, and it sat on my -- and it was a different kind of card. It was like this big card, and it had, you know -- it was a business card, but it was, you know, large, like, postcard size. And it had, you know, this kind of fun drawing on it. So I went to her website and saw that she was blogging, and her cancer story. And for some reason I called her, and said, "No, I'd love to -- you know, tell me a bit about yourself. And she described something that was just -- it's a quintessential message that our patients get, but it links into the book beautifully, which was that she's from Baton Rouge, Louisiana, and she was diagnosed with a pretty aggressive -- I think it was stage two breast cancer. And she's going to do chemotherapy and then surgery, and then radiation, because of her stage. And at the start of chemotherapy she says to her oncologist in Louisiana, "What should I do --because I've been reading -- with my life? I've been reading about sugar, and that diet's important. She already exercised a lot, and -- but was pretty stressed out, and her diet was horrible. And the doctor said, "Don't worry about it. You're going through a super hard time. Chemo's going to be really rough. You don't have to do anything. Just enjoy your life. And so she took it to heart, and as she literally said, she went on a pity party, and donuts and ice cream and, you know, "Doc said it was OK. And by the time chemo ended and it was time for surgery or cancer it doubled in size. Now, her cancer may have doubled in size independent of... [] So then, she's leaving medical oncology and she decided to come to MD Anderson. I can't remember where she had her surgery, but she was going to come to MD Anderson for her radiation treatment. And she's in the last consultation with her doctor, and, you know, she says -- well, you know, again, she says, "Well, what can I do? And he said, "You know, you have a very aggressive cancer. I think it was ER negative. There's a 30% chance that it could come back. You know, she has two young kids. She's in her thirties, and she's just, like, mortified. And he said, "But there's one thing I recommend, and I'm telling you this as a friend, not as an oncologist. Read this book called Anticancer by David Servan-Schreiber. Oh, and by the way, I'm vegan. (laughter) And she's like, "What? They went out and they bought five copies of the book, everyone read it, they transformed their lives on a dime, and why didn't this doctor say that six months earlier? Why didn't the doctor say this as her oncologist, not as a friend? So I went into a little more detail here because it's like, I don't know how this stuff is happening, but meeting this woman was totally random, and her story just sort of hits the nail on the head. We have a broken system, and the doctors believe the message, but they're not going to sell it because it's not the conventional model. There's not enough evidence. I'm doing air quotes, for the stenographer. (laughter) And, is it wrong to tell an obese breast cancer patient who has a horrible diet that they really need to start eating healthfully? Some doctors would say it is because you're giving them false hope, but they're going to get healthy. They're going to decrease their risk of heart disease, which is the next disease that they are at risk for.
Tacey A. Rosolowski, PhD:
That's a great story.
Lorenzo Cohen, PhD:
Yeah, it's a great story in the book, too. And, of course, you know, there's poetic license to expand upon it. But it is the message. And Dr. Hortobagyi, the former chair of Breast Medical Oncology here, I have an email exchange that -- I save all my emails, and now I know why -- and I need to check with him before we put -- you know, go to publication, but there's an email exchange between the two of us in the book that -- you know, I would send him, you know, emails on a regular basis with the newest press release, and the newest article linking lifestyle to breast cancer and worse outcomes, blah, blah, blah. Total supporter of everything we do, but is the first to say -- and the first to not prescribe lifestyle, because it's all associations. There isn't the clinical trial. And so he's actually, you know, featured in the book as saying, "Let's do the clinical trial, and then I can prescribe it.
Tacey A. Rosolowski, PhD:
Oh, interesting, yeah. Yeah, wow.
Lorenzo Cohen, PhD:
So that's kind of where I am, literally, now, and in particular with my career, is, you know, really want to focus on transforming lives, and not by doing a little hypnosis during surgery, which, of course, is important, or, you know, a little bit of yoga while you're undergoing treatment and then you go back to your, you know, unhealthy lives, but trying to do this I guess what you could call more true transformational work, the difficult stuff.
Tacey A. Rosolowski, PhD:
Well, you get very enthusiastic and excited when you talk about it. You know, it's obviously where your heart and spirit is right now, for sure. I mean, what do you see kind of long-term? You've got the book, and so where do you see all this going in five, ten years?
Recommended Citation
Cohen, Lorenzo PhD and Rosolowski, Tacey A. PhD, "Chapter 15: A New Book on the How-To of Quality of Life" (2016). Interview Chapters. 634.
https://openworks.mdanderson.org/mchv_interviewchapters/634
Conditions Governing Access
Open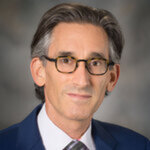 COinS