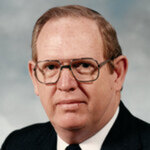 Title
Chapter 13: A Shared Culture of Commitment to Mission
Description
In this chapter, Dr. Bowen talks about the culture, history, and mission of MD Anderson. He also discusses "the individual and collective sense of ownership of M. D. Anderson's mission."
Identifier
BowenJM_01_20000327_C13
Publication Date
3-27-2000
Interview Session
Topics Covered
The University of Texas MD Anderson Cancer Center - MD Anderson Culture MD Anderson Culture; Institutional Mission and Values; MD Anderson Culture; MD Anderson History; MD Anderson Snapshot; The Life and Dedication of Clinicians and Researchers
Transcript
Louis J. Marchiafava, PhD:
Are there any areas that we haven't covered?
James M. Bowen, PhD:
I have tried to move somewhat biographically through the things that were happening at M. D. Anderson over the period of time that I was there and, you know, in the middle of the night tonight, I many think of something that, oh my gosh, I wished that we had talked about that because that was important. But in this long period of time, I feel as though that I have covered the highlights of my association. It is highly personal, and I hope that that doesn't diminish the things because . . .
Louis J. Marchiafava, PhD:
It has to be personal.
James M. Bowen, PhD:
Many of us who will speak to you in this area individual and component seams of what was happening in the institution over that period of time. And that is basically the way I think we are going to see it. I had a marvelous opportunity to work under two presidents with two administrative styles, but both of them absolutely focused on the same goals, and each of them with the capacity to cause the rest of us who were associated with them to invest in those goals. And the thing that I have said before that is so remarkable about M. D. Anderson is the individual and collective sense of ownership of M. D. Anderson's mission.
Louis J. Marchiafava, PhD:
Let me ask you this: I know if the history committee is interested perhaps in one day in the not distant future, of having photographs that people might have duplicated for an archive or papers that might be similarly donated or duplicated if the person wants the copies back for this archive, and I would like you to think about that somewhere down the line . . .
James M. Bowen, PhD:
I will. I just have a few collected over the years, but I will look at those, and any that I have, I would be glad to have if they were valuable and useful.
Louis J. Marchiafava, PhD:
Yes, they have a lab, and all the needs that we go in reproducing photographs. So, I know people don't like to give up their personal photographs.
James M. Bowen, PhD:
Oh, I would have no problem with that. One of the nice things about that is that the institution has kept excellent photographic records over the years. So, much of what any of us have are already going to be in the institutional files. It may take some digging to get them. I was laughing when you told me that because one of my favorite and most amusing memories of my initial contact with M. D. Anderson was a picture that I had been sent. There was available for purchase for one dollar or something/nothing amount of money . . . Some 8 x 10 color photographs of medical center institutions. There was an aerial photograph of the whole Medical Center. And, you know, when I first came to M. D. Anderson, there were lots of trees around. And there was a period of time when we didn't have much green space. It was all parking lots and buildings. But, I mean, there were woods between where M. D. Anderson's clinic now sits and Holcombe Boulevard when I first came here. Hurricane Carla did a good bit to diminish those woods, and we had a few of those trees coming through our windows when the storm hit. Even the experience of that storm was a remarkable piece of M. D. Anderson's history. People that were not physicians were there wheeling patients on their gurneys, out of their rooms because their windows were breaking, because the storm came from there. And as far as I know, the eye of Hurricane Carla came right through the Texas Medical Center, right down Holcombe Boulevard. And it stripped slabs of pink marble off the buildings and dropped them onto automobiles. And everyone stayed there for most of the time. And, you know, everybody was pitching in just to bring water and helpful and to talk to people. Everybody was scared. We were scared. I never experienced a hurricane before. I grew up in north Texas. I knew what a tornado was but a hurricane seemed even more scary to me because a tornado came and went in a hurry. But, at any rate, I had asked someone, and I can't even remember who now, but it was some member of the department, to send me some information about M. D. Anderson. And in the envelope . . . I was still in Corvalis at the time . . . There was this 8 x 10 picture, and it showed the initial clinic . . . In the old building of M. D. Anderson, there was a ramp that went up to the clinic and then came back down again where you could drop patients off, and then the hospital went up above it, and the research wing was at the back. So, there was this very definitive structural signature of the building in those days. And there was this sun-drenched 8 x 10 color photograph of the clinic entrance of M. D. Anderson showing most of the building, with this enormous fountain up in front of it. A beautiful picture. I am sure I still have it somewhere in my books. Well, one weekend after I had been here two or three weeks, I had been in to get an experiment done on Sunday afternoon, and I just went for a walk around the Medical Center and suddenly it hit me to go and look for that fountain. Well, after considerable search, I found what the photographer had done with that picture. This beautiful cascading fountain was nothing of the kind. It was a tiny little, sort of lawn sprinkler-sized fountain in front of a hedge, in front of St. Luke's Hospital, and the photographer had obviously gotten down on his belly and photographed this picture of M. D. Anderson through this little stream of water because he was looking for something in the foreground that would give some structure to this huge pink imposing building. And we always used to say, when we would encounter a big problem, that probably this problem is a St. Luke's fountain kind of problem. It is much smaller than it seems at first glance! And that became kind of a standing joke in the department for years.
Louis J. Marchiafava, PhD:
Well, this has been truly an informative interview, and you have been very patient to sit here this long.
James M. Bowen, PhD:
Oh, I have enjoyed every moment of it. You are the one who has been patient. And I really hope that it is in the style that you are interested in.
Louis J. Marchiafava, PhD:
It is. I am telling you the truth on that. I am very happy with it. I do have some forms that need to be signed. I have to sign one, too. What it does is give the M. D. Anderson Cancer Center rights to use this in publication. I have to sign it, too, because we both have copyright into it and this signs it away. And on that note, I will terminate the interview, with deep thanks on behalf of the committee and myself.
James M. Bowen, PhD:
Thank you. It has been a joy.
Louis J. Marchiafava, PhD:
Thank you.
Recommended Citation
Bowen, James M. PhD and Marchiafava, Louis J. PhD, "Chapter 13: A Shared Culture of Commitment to Mission" (2000). Interview Chapters. 688.
https://openworks.mdanderson.org/mchv_interviewchapters/688
Conditions Governing Access
Open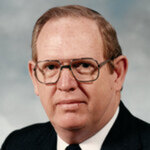 COinS