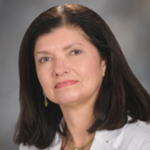 Title
Chapter 07: Choosing to Stay at MD Anderson
Description
Dr. Escalante describes why she decided to stay at MD Anderson despite her original misgivings. A primary consideration: she like the people and the patients. Dr. Escalante explains how oncology patients have taught her a lot and helped her "reset her life priorities." She also explains that she would never have predicted a career for herself that included academic medicine. She also notes that it was of benefit that she didn't fully visualize her future, as this kept her open to opportunities.
Identifier
EscalanteCP_01_20140603_C07
Publication Date
3-6-2014
Topics Covered
The Interview Subject's Story - View on Career and Accomplishments; Patients; Cancer and Disease; The Clinician; Professional Values, Ethics, Purpose, Commitment to Work; Dedication to MD Anderson, to Patients, to Faculty/Staff; Personal Reflections, Memories of MD Anderson
Transcript
Tacey Ann Rosolowski, PhD:
]+Well, I did want to talk about your research, but I think maybe we need to talk about how you got the time to do the research first. (laughter)
Carmen Escalante, MD:
Well, yeah, probably, because that didn't come for a while.
Tacey Ann Rosolowski, PhD:
So how did that happen, and when did you know you wanted to do research? How did that [unclear]?
Carmen Escalante, MD:
Well, I didn't have a clue about research. I'll be quite honest. I mean, I had never done research in residency, I had never done a fellowship, because back then, fellowships in general internal medicine was a new idea. I mean, it may have just been starting. It certainly wasn't an established thing. If you did a fellowship, it was in a medical subspecialty, and it wasn't necessarily that you were going to end up doing research, but most of those fellowships had at least a year of research required, whereas if you finished general internal medicine, you just went out and practiced.So probably for five, six, seven years, we just did clinical work, and then I remember we had a new head of medicine. [Irwin] Krakoff retired and Bob Bast [Oral History Interview] came in. And I had been there for about—well, actually, I remember when I was an instructor, because I came in as an instructor, and after a couple years, I asked Ed, I said, "Okay, so when am I going to get promoted to an assistant professor?" It wasn't like, "Okay, it's time for your promotion."He said, "Oh, okay." So next day he tells me, "Okay, you're going to get promoted."I said, "Oh, good," you know. It was not very—I guess if I wouldn't have asked, maybe it wouldn't have happened.
Tacey Ann Rosolowski, PhD:
Yeah. Now, is there any kind of gender thing in there or do you—
Carmen Escalante, MD:
Who knows?
Tacey Ann Rosolowski, PhD:
Right.
Carmen Escalante, MD:
I mean, they used to call us—because Ed hired—the first four or five of us were all women, so they'd call us "Ed's harem." [Rosolowski gasps.] I'm serious. Because we were all women, the first—one, two—four of us were all women, and almost always we were predominantly women. Now, I'm assuming Ed just picked the best and it happened to be women, but we were all women and so some of the—I remember Ed's telling me this, he said, "Yeah, some of the groups are saying this is Ed's harem," because we were all women. What did you do back then? Nothing. Kind of shrugged your shoulders and say—you know.So when about six or seven years after I was there, I said, "Well, what do I need to do to get promoted to associate, Ed?"He said, "Oh, I'll put you up, okay?" Now, all this time Ed said, "Just do your work, you'll get promoted. No bother." Well, then the message was, "Well, you don't have any papers." I had done one early on with Ed on a review, because he had said, "Do you want to write something?"I said, "Sure, I'll write it." So I wrote it and we published that, but no one had really said you need to write or you need to do this or that. It was always just do your work.So after about seven years, I was told, "Well, you can't get promoted unless you publish."And I said, "Publish? Publish? I mean, what?" I didn't have any projects of my own. All we had been doing was seeing patients. I mean, Ed was doing some neutropenic fever things, and we helped enroll patients, and we got our name in the middle on one or two things, but it was like, no, to get to associate, Bob Bast had changed the rules, because before, I think it was much more lenient. So I was very disappointed, and I said, "Well, how am I going to do this?"So Ed, you know, gives me some writings to do. He gets opportunities from people to write a review on this or to review this or write a review paper there. So I start writing all these reviews, but they're not, you know, scientific original publications. I mean, they're reviews, they're book chapters, whatever, so I can get promoted. And the first time I wrote an abstract, it took me probably a week. I didn't know what I was doing.And by that time, Linda Elting [oral history interview] had transferred from ID, Infectious Disease, to General Internal Medicine. She just retired. She is a doctor of public health. So Linda helped a lot in, like, helping us figure out, well, how do we do this? I mean, I'd never done it before. How do we do this? And explained some basic statistics and giving us ideas. I mean, it was like a foreign language. So I kind of self-educate myself as much as I can and get some projects going, do all the chart reviews myself. It was a lot of work, a lot of work. So, finally, I get myself promoted to an associate professor, but, you know, it was a delay. Back then it wasn't structured where you get a mid-cycle review and people talk to you and tell you what you need to do, and I certainly think that [Helumut] Goepfert and Von Eschenbach were helping behind the scenes. Andy von Eschenbach appointed to me to what it was called back then, the Disaster Committee, when I was like a second-year—maybe my first or second year there. And that was the first committee I was on, and it was to help prepare the institution for emergencies. So I participated in that, and then I became the chair after a year or two, and I've been on every medical staff committee after that. But he opened the door.
Tacey Ann Rosolowski, PhD:
I'm sorry. Who was it that recommended—
Carmen Escalante, MD:
Andy von Eschenbach. And he was the chair of ECMS, and so he got to appoint people to the committees. So he knew me because we went to his clinic a lot and saw patients, so he invited me to be a member. Then after that it took off, so I became the chair of the Disaster Committee, then I became the chair of the Transfusion Committee. Somebody recommended me [unclear], which was a little higher-level committee. And then I became the chair of Medical Practice, which was a much more elite committee, and then I became the chair of the Credentialing Committee. I was the chair and vice chair of all those committees. Then I became the vice chair and then the chair of ECMS. So I went all the way from probably the lowest-ranked one to the highest-level one of service on all these committees, and, I mean, it allowed me to network with a lot of people that I didn't know. And, you know, I credit Andy in giving me that opportunity back then of sponsoring me into that first committee, and that I worked hard and I was very diligent in my service work, and it came in handy when it was time for promotions, to get some of these people to write letters for you.
Tacey Ann Rosolowski, PhD:
Absolutely.
Carmen Escalante, MD:
And, you know, I didn't know it was networking at the time, I didn't call it that, but looking back, it was an opportunity that I was given early on and helped me throughout my career.
Tacey Ann Rosolowski, PhD:
I'm not familiar with that.
Carmen Escalante, MD:
The Executive Committee.
Tacey Ann Rosolowski, PhD:
Yeah, the Executive Committee—
Carmen Escalante, MD:
Of the Medical Staff.
Tacey Ann Rosolowski, PhD:
Okay.
Carmen Escalante, MD:
So all these committees would make policy for the clinical staff, how we practice. The Transfusion Committee, like who should be transfused and how do we handle transfusion issues. And so I met Lichtiger [oral history interview] and some of the other people that had been here a while as I went through these committees and worked with a lot of different people that I probably would never have worked with, and learned how the institution worked. I mean, that gave me an insight into how do these policies get implemented, and how does this committee goes to this committee goes to this committee, and that ultimately reports up to the president. So it really gave me a lot of opportunities, and I probably didn't realize it way back then when I used to get teased about being on the Disaster Committee. They've changed the name since then, but that's what it was called back then.
Recommended Citation
Escalante, Carmen MD and Rosolowski, Tacey A. PhD, "Chapter 07: Choosing to Stay at MD Anderson" (2014). Interview Chapters. 765.
https://openworks.mdanderson.org/mchv_interviewchapters/765
Conditions Governing Access
Open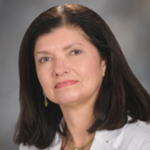 COinS