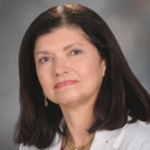 Title
Chapter 10: Research into Cancer-Fatigue
Description
Dr. Escalante describes cancer-fatigue then tells how MD Anderson established the first cancer-related fatigue clinic in 1998. She describes services that patients received and notes that the MD Anderson clinic served as a model for others all over the world. She explains what was offered for patients: treatment for depression, anxiety, sleep deprivation, "cheerleading", and advice about exercise. She notes that she enjoyed the level of interaction with patients and the confirmation that "we can make a clinical difference". Dr. Escalante explains that, at first, she served as medical director and both managed and staffed it on her own. She and others are now working on national guidelines for treating cancer fatigue and she has given lots of interviews and lectures for other providers and patients. She describes how the clinic really functioned as a "virtual multi-disciplinary clinic" with connections in services all over MD Anderson.
Identifier
EscalanteCP_01_20140603_C10
Publication Date
3-6-2014
Topics Covered
The Interview Subject's Story - The Researcher; The Researcher; The Administrator; Overview; Definitions, Explanations, Translations; MD Anderson Impact; Building/Transforming the Institution; Multi-disciplinary Approaches; Institutional Mission and Values; MD Anderson Culture
Transcript
Tacey Ann Rosolowski, PhD:
But do you have time to talk to me about some of the specific research projects you conducted? We can also talk about it next time.
Carmen Escalante, MD:
Well, I didn't only do fatigue, because about the same time also, I was doing some venous thrombosis work, blood clots. An opportunity came, I don't remember exactly how, but I met someone that was doing a national study, and we've done several multi-site studies for blood clots, because our patients get a lot of them. And so I was the site PI for those, and one was a really big one, the Clot Study, that now is the basis of recommendations on how to treat cancer patients with blood clots. And we, MD Anderson, entered quite a few patients on to that trial. So I had an interest in deep venous thrombosis and pulmonary embolism.
Tacey Ann Rosolowski, PhD:
Why did you get interested in that?
Carmen Escalante, MD:
Because we would treat it a lot. I mean, now we have benign hematology, but until a few years ago, there was no non-cancer hematology here, so we took care of a lot of the basic hematology needs. And so we were consulted, because it happens a lot in cancer patients pretty regularly, about clots and treatments and how we treat clots.
Tacey Ann Rosolowski, PhD:
Why is that? Why does it happen in cancer patients?
Carmen Escalante, MD:
A lot of factors. Sometimes it's because of the cancer cells and pro-coagulant factors that are released. Also the chemotherapy can increase risk. The ports and lines we put in can increase risk. Some of the surgery, you know, being idle, or the patients are not as active, can increase risk. And some agents are much more thrombogenic than others. So—what is it—Thalidomide, that's given for myeloma. Many times they'll give them aspirin at the same time or another anticoagulant, because they get such a high risk for clots. And we would get called on it pretty routinely, and there were lots of challenges with these patients.
Tacey Ann Rosolowski, PhD:
So how do you treat them? What did you discover [unclear]?
Carmen Escalante, MD:
Well, that's when we first used low-molecular-weight Heparin, and that we could treat these patients as outpatients because initially when I first came, everybody got intravenous Heparin and they had to be hospitalized. Then these low-molecular-weight Heparin started coming out, which were injections, and one of the studies, the clot trial, was looking at Coumadin, which is an oral therapy that we use for the chronic phase of it, and the low-molecular-weight Heparin. And if you can give even the first seven days an oral versus IV, you can treat them as an outpatient, and most cancer patients do not want to be in the hospital unless they absolutely have to, because they're always under treatment and they're really used to outpatient treatment. And it makes it easier if they can do it with the self-injection. So this trial, they either got self-injection for the first acute part of it, and then they were either randomized to Coumadin, which is an oral that we've had for a long time, that you have to get regular blood checks to check the level, and the bad thing, it interacts with a lot of food and medicines, and the therapeutic window is very narrow. Absorption's an issue. So it's been around for a long time, it's very cheap, but it's very difficult to manage.And then we put the low-molecular-weight Heparin, Dalteparin, against the Warfarin, which was an injectable, to see if the bleeding—because you always worry about bleeding or the blood clotting—were different. And Mark Levin and his group was the PI of the whole thing, but they needed cancer patients. This was exclusively for cancer patients, which is unique in itself, because many times cancer patients are left out of those kind of trials and kind of subset analysis.So it showed that the Fragmin didn't cause any more bleeding that the Coumarin and actually had less reoccurrence than you did with the Coumarin. So now that trial is the basis on the algorithms for treatment, that you use the low-molecular-weight Heparin is the first choice for cancer patients versus Coumarin. And initially, insurers weren't paying for it, but since that was recommended as the standard, they now pay for the low-molecular-weight Heparin, because initially patients couldn't get it because it was expensive, and the insurers didn't want to pay for it versus Coumarin, which is very cheap. So we had to treat them with Coumarin because they couldn't pay for it. Now, on almost all, it's a standard of care that you would only use the Coumarin if, you know, there were some contraindication or the patient refused to inject or whatever. But the insurers had to pay for it, and now there are generic preparations so it's cheaper.
Tacey Ann Rosolowski, PhD:
So it's even cheaper, yeah. Well, we're almost at time. Would you like to close off today and—
Carmen Escalante, MD:
Yeah. (laughs)
Tacey Ann Rosolowski, PhD:
Okay. I know. Two hours of talking [unclear]. (laughs)
Carmen Escalante, MD:
You know, when I saw the two hours, I said, "Oh, we'll finish early. What are we going to talk about? I mean, there's not that much to talk about." (laughter) Was I ever wrong.
Tacey Ann Rosolowski, PhD:
Well, I really thank you for taking the time. I've enjoyed our conversation.
Carmen Escalante, MD:
Well, thank you for giving me the opportunity. It's like you probably say, "When is she ever going to shut up?"
Tacey Ann Rosolowski, PhD:
No, no, not at all. This is—
Carmen Escalante, MD:
Because I thought, "Oh, gosh, two hours. What am I going to recall about the history that's going to last two hours?"
Tacey Ann Rosolowski, PhD:
No, everyone always thinks that, and then it's amazing the stories that do come out. (laughs)
Carmen Escalante, MD:
Oh, yeah, you start triggering some of those cobwebs.
Tacey Ann Rosolowski, PhD:
(laughs) All right. Well, I'm turning off the recorder at 12:59, and I want to thank you for your time today, Dr. Escalante.
Carmen Escalante, MD:
Oh, thank you. That was very, very enjoyable.
Tacey Ann Rosolowski, PhD:
Good. I'm glad. (laughter)
Carmen Escalante, MD:
Interview #49Interview Session Two: May 14, 2014
Recommended Citation
Escalante, Carmen MD and Rosolowski, Tacey A. PhD, "Chapter 10: Research into Cancer-Fatigue" (2014). Interview Chapters. 768.
https://openworks.mdanderson.org/mchv_interviewchapters/768
Conditions Governing Access
Open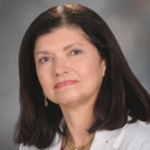 COinS