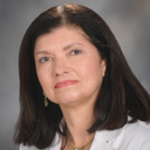 Title
Chapter 15: A New Department is Created: Growing the Department
Description
Dr. Escalante explains how she came to be Department Chair once the Section of General Internal Medicine was reorganized as a Department within the Division of Internal Medicine. She applied internally during the search process, which lasted until 2005, a difficult period in which she was a leader, but without any resources to build the Department. In 2005 she received a package and was able to develop both research and clinical activities. She gives an overview of what has been accomplished in the last nine years. Next she notes that Dr. Robert Gagel instructed her to build a research program. She reports that he also told her that he never thought she would be able to do it and speculates that this was a gender-motivated comment and might also have been influenced by the fact that she does not have an Ivy League degree.
Identifier
EscalanteCP_02_20140514_C15
Publication Date
5-14-2014
Interview Session
Topics Covered
The Interview Subject's Story - The Administrator; The Administrator; The Leader; Obstacles, Challenges; Experiences Related to Gender, Race, Ethnicity; Building/Transforming the Institution; Institutional Politics; Gender, Race, Ethnicity, Religion
Transcript
Carmen Escalante, MD:
And we've built the Hospitalist Program, that was extremely difficult, because there was a lot of controversy—
Tacey Ann Rosolowski, PhD:
Yeah, I wanted to ask you about that.
Carmen Escalante, MD:
—about turf issues and, again, a lot of politics. But, fortunately, Dr. Burke [Oral History Interview] was a believer and gave us the ability to do it.
Tacey Ann Rosolowski, PhD:
And that happened—you launched that in 2007, if I have my—
Carmen Escalante, MD:
Yeah, we started around that, I think 2007, when we recruited our first. It was a lot of transitions for a few years because, you know, building with one, I had to use my other group to help.
Tacey Ann Rosolowski, PhD:
So tell me about what was the need that was emerging.
Carmen Escalante, MD:
Well, a lot of the need was that these patients are very complex, they're very sick when they get admitted to the hospital, and many times they're being admitted for medical issues that are not cancer, either from the co-morbidities or from the treatment of cancer or from the malignancy, but they're medical issues, internal medicine issues. Many of our oncologists were farther away from internal medicine. They had a lot of stress and anxiety related to taking care of medical issues such as heart failure or hypertension or diabetes, and these patients are not often being admitted to get cancer treatment anymore. Most of that is outpatient. They also had a lot of stress because they had heavy outpatient clinics, and many don't enjoy doing inpatient care. It's hard. It's a lot of hard work. These patients are really sick and they develop a lot of medical issues: hyponatremia, renal insufficiency, heart failure. And they didn't feel as qualified anymore. You know, medicine changes rapidly, and they are very good at taking care of the cancer. In fact, they're so sub-specialized, for example, in GI medical oncology, some just do colon cancer, you know, some just do pancreatic cancer, and here you're asking them not only to take care of the cancer, but to take care of everything, because when they come in the hospital, you've got to take care of the whole patient, not just what's happening with the pancreatic cancer. And so some groups were very enthusiastic about having us help manage or manage their inpatients.
Tacey Ann Rosolowski, PhD:
Now, you said it was kind of controversial and there were turf wars. What were the issues coming up? Because to me it just sounds like a no-brainer, you know, given the state of science in medicine today.
Carmen Escalante, MD:
Well, I think what one aspect was, was Cancer Medicine didn't want to cede their—or to have the internist take over some of the inpatient care of cancer patients, because that has always belonged to Medical Oncology. And some groups in Medical Oncology were fine with that and other groups weren't, and other groups wanted to hire their own internist to do that, which I had a big problem with.
Tacey Ann Rosolowski, PhD:
Why?
Carmen Escalante, MD:
Because internists are not fellows, and we've been through that before when we were part of medicine in cancer medicine and we got, you know, what was left over, and Dr. Mendelsohn pulled us out. In addition, internists need to be with other internists so that they can grow, so that they can have opportunities to discuss cases, versus having one internist in this department and one internist in that, one internist in here. And, you know, we've done that, been there. It didn't work then. So GI medical oncology was very enthusiastic. Jim Abruzzese, who since has left the institution, was a great supporter and his group was a group supporter, and so we started with GI medical oncology.
Tacey Ann Rosolowski, PhD:
So what were the services that you put in place, and what does that mean, the Inpatient Hospitalist Program?
Carmen Escalante, MD:
We basically admitted their patients to our service center, our care, and managed them throughout their hospital stay. We coordinated care with them, and if a patient needed to be seen, Jim wanted his people to go and see the patient so the patient didn't feel like they were deserted. But we made decisions, we talked to them if the decision—we needed their input. But we basically took, and are still taking care of a lot of their patients. They have now a small inpatient service, but since we've expanded, so now other groups saw what we've done, and they more readily want to admit their patients. Right now, Thoracic, we're asking Dr. Buchholz for additional positions so we can take more thoracic patients. We take surgical patients that have not had surgery in the last thirty days that have medical issues. We take some radiation patients that have internal medicine issues. We take patients admitted to the Emergency Center that don't have an oncologist yet and need a workup to show that they have cancer. We basically take all those little bits. We take breast patients that may have predominantly medical issues. And right now we have three inpatient services going, three teams. We could easily expand to a fourth and fill it up probably very quickly, but we need more resources to do that. We did assign a hospitalist to GU oncology, and it didn't work, and we had to pull that internist.
Tacey Ann Rosolowski, PhD:
Why? I mean, why didn't it work?
Carmen Escalante, MD:
Because we had agreed that this person would be treated appropriately and would be in our department, and after a year, that wasn't happening. And the person was very unhappy, lots of issues had occurred in her ability to manage their patients, and she was going to leave, so I moved her to the Emergency Center. That didn't help me. In fact, that department chair had Dr. Hung set up a meeting with Dr. Gagel and that department chair, and I wasn't invited, to basically complain of how this was managed. Thankfully, the faculty member is flourishing in the emergency department. At that time, I managed both groups and we had a position available in the Emergency Center for faculty, and she was moved there. But we tried our best to make it work, and it just didn't work.
Tacey Ann Rosolowski, PhD:
You've mentioned a number of times, I mean, these stresses. What's the lesson that you learned from that? You know, is it something about MD Anderson culture? Is it still resistance to embracing general internal medicine people as full equals? You know, what [unclear]?
Carmen Escalante, MD:
I think it's a little of both, and I think we knew this group was going to be extremely difficult, but they wanted to be included. They wanted to be included, and I talked to the department chair. I told him how it needed to be. There was a general agreement. I think some of it is culture. I think some of it is their view on how to treat an internist, you know, and being able to work as a team and letting loose some control over the patient so the internist could succeed in caring for that patient appropriately. I guess the good thing is that that group is now back at the table. Dr. Burke asked us, instead of setting up—because the eventual plan was we'd set up teams for just one group, is now to set up teams and everybody admits to them. There's no one team just for GI or no one team just for GU, but there would be availability and competition, basically, to admit to our services, and no one team would own or have their own services. So probably two or three years ago, we restructured.
Tacey Ann Rosolowski, PhD:
And how has that worked?
Carmen Escalante, MD:
I think that's much better, because there's always competition, or "Why do they have this and I don't have this?" And I think it's better for everyone and there's no perceived favoritism and everybody feels—and then everybody is in the picture, so when we fill up, it's everybody's duty that wants to admit to help us get the resources necessary to take their patients. So I think that everybody—and it allows all patients to benefit if they have pressing internal medicine issues that overcede or are overwhelming and need to be cared for by an internist. And I think our hospitalists have done a tremendous job in being available to work with different groups and good communication. And I'm happy we've—you know, no program is without controversy, but each time I've learned. I've learned and I think I've become better. You know, it's not easy when you have conflict. No one likes conflict, but it gets easier to address it each time.And, you know, my mother especially always told me, "Do the right thing. Always do the right thing and things will work out." And, you know, one of the right things is taking care of the faculty, making sure that they're treated appropriately, that they're doing the right thing and I'm doing the right thing. And so I always ask myself, "Go with your instinct and what's right, what's right for everybody," and that's always helped me in making good decisions that may be painful and may not be the best sometimes for me at the time, but in the long run, it's the best decision for everybody.
Tacey Ann Rosolowski, PhD:
What are your hopes for the Hospitalist Program? How do you see it growing?
Carmen Escalante, MD:
I think it's one of the most important programs that we have developed as a group, for not only our department but for the Division of Internal Medicine. I think it can impact the most patients by allowing them good internal medicine care. I'm hopeful that this program will be allowed to continue to grow and help as many patients and I think help the oncologists, because they don't feel comfortable managing some of this.And I think as medicine changes, we'll be less able to get five and six consults. You get a consult for their diabetes, you get a consult for their hypertension, and you get a consult for this. I think especially if we go into bundled care, that you're going to have to get someone to manage this where you have fewer consults, and as a general internist, that's what we do. I mean, we do get consults for complex things that we need to address, but we can manage a lot of medical issues. And with these patients, they are extremely sick when they get in the hospital because only the sickest ones are admitted. We have a lot of infrastructure for outpatient care, so many patients that would likely be admitted in other facilities are cared for in outpatient. So the ones that are admitted are usually very complex and pretty sick, and I think that we've been able to develop skills and recruit people that have the expertise to do this.
Tacey Ann Rosolowski, PhD:
Is the program part of the new value-based care discussion at all? Are you [unclear]?
Carmen Escalante, MD:
I'm not aware. I went to the value-based care that was at Rice [University] just a few weeks ago, but I think that as they figure out how much things cost and who contributes what, that our care will be integrated in there. I'm hoping they see the value in our programs. I think some groups have noticed this already. But my hope is that this program will continue to grow as long as there's a need. If there's need from other groups that they want to admit to our service, I think we should continue to grow, and right now we do have requests for need and we're at capacity.
Recommended Citation
Escalante, Carmen MD and Rosolowski, Tacey A. PhD, "Chapter 15: A New Department is Created: Growing the Department" (2014). Interview Chapters. 773.
https://openworks.mdanderson.org/mchv_interviewchapters/773
Conditions Governing Access
Open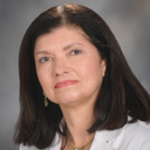 COinS