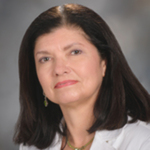 Title
Chapter 16: The Hospitalist Program
Description
Dr. Escalante talks about the Hospitalist Program, beginning with the need that this program addresses. She talks about controversy over integrating hospitalist support to care teams. She lists supporters of the Hospitalist Program and those who are interested in establishing a connection with the service. She talks about the three existing service teams and explains the difficulties that an internist can face working as part of an oncology team. She explains how a focus on general internal medical conditions has resulted in a different process for admitting patients. She notes that the Hospitalist Program is one of the most important in the Division and how its services will be important to bundled care structures as it decreases the number of consults.
Identifier
EscalanteCP_02_20140514_C16
Publication Date
5-14-2014
Interview Session
Topics Covered
The University of Texas MD Anderson Cancer Center - Building the Institution; Building/Transforming the Institution; Multi-disciplinary Approaches; Obstacles, Challenges; Institutional Mission and Values; MD Anderson Culture; The Healthcare Industry; Fiscal Realities in Healthcare
Transcript
Tacey Ann Rosolowski, PhD:
]We began talking about that because you were describing your vision for how the department would grow, and I'm wondering, what were the other dimensions that you were looking at in growing the department?
Carmen Escalante, MD:
You know, after we got the research program going and our clinical program growing, the last few years we've also focused on education, because we hadn't really paid much attention because we're so busy growing these other two areas. So we said, as a group, that our vision was to grow this area to the same level that we had invested in our clinical growth and expertise and our research growth and expertise. So we've developed a group of educators.We have an agreement now with Texas A&M. Initially, they sent their fourth-year medical students as electives to rotate with us, and Dr. Oh, Jeong Oh, O-H, has done a fantastic job in developing a program with the A&M group and with others, because you have to have set lectures and lots of infrastructure set up to support this. The fourth-years got so much out of it, now they have sent their third-years, which is a mandatory part of their training.
Tacey Ann Rosolowski, PhD:
Wow.
Carmen Escalante, MD:
And many of them rotate on our hospitalist services. We also have medical observers and physician assistants that come through. In the summertime we have a huge group, because we have medical students that take clinical electives that come through. We also take in the institution high school and college science summer program people come in.We are working on a residency with the division. Dr. Manzullo has been working on developing an internal medicine residency through Division of Internal Medicine like [unclear] in general internal medicine would have a huge part. And once this is developed, a decision has been to partner with Baylor, so it looks like it'll be happening in the next couple of years. We can't have a standalone because we're a Cancer Center and we need another facility, so those residents will be training through other groups besides general internal medicine, but likely a large part of it will be through general internal medicine training.
Tacey Ann Rosolowski, PhD:
So with all these programs that you're developing, what's the kind of large-scale impact that you're hoping to have?
Carmen Escalante, MD:
That as internists are trained and go out, or even non-internists, because some of our medical students comes through, that they'll understand principles of internal medicine and the unique aspects that may apply to oncology patients, and they will help us train others in the community to care for cancer patients. I mean, cancer now affects so many patients, and many of those patients may be survivors. And patients even that are not survivors that are under treatment will go back to primary-care providers in the community, and these primary-care providers need to—many now say that, "You have cancer, you need to go back to MD Anderson," even if it's diabetes or hypertension, because they're a little anxious about it.But as we train these people or make other educational opportunities available so that they understand how to do some of the aspects that oncology patients may encounter, then they can train others, and when they come into contact with a patient that has cancer and other co-morbidities, they'll feel more comfortable in managing. If a hypertensive goes out there that's on a VEG-F inhibitor or TKI, they'll understand why the blood pressure is higher and feel comfortable managing the blood pressure in the community, because not every cancer center or oncology practice is going to have a well-versed internist that understands all the side effects of some of these drugs and how it impacts the medical care for the patients.
Tacey Ann Rosolowski, PhD:
It's like it makes MD Anderson and cancer centers in general more efficient, too, because it leaves to them the work that they're best suited to do.
Carmen Escalante, MD:
Right. And we can't care for all these patients to infinity.We also wrote the Medical Care of Cancer Patients. Dr. Gagel and I and Dr. Jim Yeung edited the book. So we have that text that we wrote specifically.General Internal Medicine is doing their third conference in February on medical care of the cancer patient, of cancer patients and survivors, to try to continue to broaden our education on toxicities, side effects, co-morbidities in cancer patients. We've done two previous. This is our third.
Tacey Ann Rosolowski, PhD:
This is the third edition?
Carmen Escalante, MD:
Third conference.
Tacey Ann Rosolowski, PhD:
Oh, third conference.
Carmen Escalante, MD:
We've done the book. We've only had one edition of the book.And then the training of medical students and residents and interns. We have electives available for interns and residents from other programs that want to come, that we make available and have some training with us. So we did get the first Educator of the Year that was given by the division, was given to Dr. Jeong Oh, our faculty. So I felt very good that we're getting our educational activities off to a great start, and my vision is that these programs will in the next few years be—and I think we have a good leg, you know, a good run-in already of getting it on the same level as what we've done in clinical care and in our research program.And many of our faculty are involved in various parts of the educational program. Dr. Oh set up multiple leaders. For example, Dr. Patlan takes care or oversees all of our—it's called the preceptorship for the Texas Medical Association. They come in in the summer. They're supported. It's to focus on getting residents or medical students interested in primary care and internal medicine pursuits. Hopefully they'll do their residency. We have Dr. Tayor that does just the observer, medical observers. We get a ton of requests for those. Dr. Marina George takes a lot of those rotating on the inpatient service and oversees many programs in that area. So they all have leadership pieces in education because they've decided that they want to focus on this area, and it gives them an opportunity to develop and develop leadership skills and develop programs.
Tacey Ann Rosolowski, PhD:
Had you expected that at the beginning when you took over chairmanship of the department, that it would evolve quite the way that it has?
Carmen Escalante, MD:
I was hoping it would evolve. I want it to be successful, but not to the extent that it has. I'm extremely happy. And I attribute that to recruiting good faculty. Without them—it's a team effort. I can't be successful without them. If they're successful, I'm successful, and so, you know, I'm happy they're doing such a great job. Dr. Oh has done a fantastic job in education, Dr. Suarez in building the research program, numerous clinicians in building the various clinical programs. You know, I have to attribute my success to all of them, because it wouldn't have happened. We wouldn't have this without all of us working together.
Tacey Ann Rosolowski, PhD:
What do you think remains to be done?
Carmen Escalante, MD:
There's always room for improvement. I think continuing to build the programs we started with. You know, our Hospitalist Program is not yet where I think it—you know, we want to invest into the research aspect of the Hospitalist Program, and we have. Dr. Manzano, who we recruited, that I told you about, was the fellow who's now in Dr. Suarez's program, she's one of our hospitalists, and she's doing a lot of research right now. Hopefully, we can inject some research into that group that I think will make it most interesting. We have a Suspicion of Cancer Program that Dr. Patlan is growing. I think it's—
Tacey Ann Rosolowski, PhD:
What is that?
Carmen Escalante, MD:
Where we—[redacted]. Didn't we talk about that program?
Tacey Ann Rosolowski, PhD:
[unclear].
Carmen Escalante, MD:
[redacted] was a faculty in our department from the beginning, and she died several years ago of colon cancer, metastatic colon cancer. In the early years, she decided that she needed something more, and she came to me and asked if—that she saw there were patients that could not get into MD Anderson because they weren't diagnosed yet, that they had a high suspicion of cancer, but because they had no diagnosis, they couldn't get in, and she asked whether she could start a program to get these patients in. She thought it would be challenging for her to develop this, and she did. She started this program with very limited resources. This was before I was even chair. And she started getting these patients in and provided ability for patients to get in. They were new patients, so they had never been treated with cancer, gives them an opportunity to be on trials, gives the institution new patients, another source of new patients. Unfortunately, she was diagnosed with colon cancer and she died probably about 2007, somewhere in that range, '06 or '07.So for a year or two, the program kind of stalled. I had other people [unclear], and then I recruited Dr. Patlan into that position and he started increasing the numbers, and this past year we were able to recruit an APN and another physician. I think it's important. And after [redacted] death—she has two daughters, one is in medical school and one is a lawyer now, but they started an endowment, and the clinic was endowed in [redacted] name. It's called the [redacted] Cancer Clinic.So this clinic has grown. The institution --Dr. Burke again has supported us by giving us resources to grow it. It's going to be beneficial to the institution because it allows new patients. We have a high selection of patients that we think has cancer, so most of them are diagnosed with cancer and they haven't been treated before, and the majority of them stay in the system. And they can go on to studies and trials, and they're chemo-naïve because they're brand new. And so it benefits the institution, but it also benefits these patients in allowing them to get the best treatment possible for their cancer.Many times their provider, once they see a mass, they don't have the resources or they don't feel comfortable in working them up and getting the biopsy or how to proceed. And so he's built a network. He's also been out talking to some of the community providers that may be seeing these patients. He's been giving talks and conferences about how do you manage these patients, what do you do. And this, I think, has allowed providers opportunities so that if they see someone that has a mass in their pancreas and it looks like it's cancer, they just send it to Dr. Patlan, and then he goes through the workup, gets the biopsy, confirms the cancer, and then gets it to the right cancer specialist. So I think that's been on a growing trajectory, growth trajectory.And so I think there are a lot of opportunities to continue. I think the research, continuing to try to build from our successes, get this other tenure-track-faculty tenured, continue to encourage collaboration and research throughout the department. Dr. Suarez's new program, trying to teach young faculty methods will be valuable, and she offers this not only to our department, but it's throughout the division.We have two slots every year that Dr. Burke approved that we could use to start this program. So I think there are—you know, it's never good enough to stand on your laurels. You need to continue to improve. So I think if you look hard enough, there's always opportunities. You just have to take them and build on them.
Tacey Ann Rosolowski, PhD:
Let me pause the recorder just for a moment.[recorder is paused]
Recommended Citation
Escalante, Carmen MD and Rosolowski, Tacey A. PhD, "Chapter 16: The Hospitalist Program" (2014). Interview Chapters. 774.
https://openworks.mdanderson.org/mchv_interviewchapters/774
Conditions Governing Access
Redacted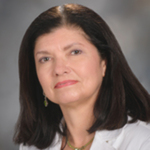 COinS