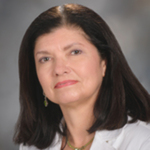 Title
Chapter 18: Developing Station 19 and the Emergency Medical Center
Description
She explains the administrative re-structuring of Station 19 as well as changes in physical location. She explains the staffing of the Emergency Center and the challenges of hiring faculty for these positions. She recalls Station 19 when she first worked there and notes the growth and improvement in treatment of patients since that time. She explains that, in 2010, Dr. Robert F. Gagel decided that the Division of General Internal Medicine was too big and split Emergency Medicine into a separate department, with positive results. She notes that Chairman Dr. Todd is developing a research program and filling clinical positions. She also notes that the economic crisis has created a lot of stress in the emergency service.
Identifier
EscalanteCP_02_20140514_C18
Publication Date
5-14-2014
Interview Session
Topics Covered
The University of Texas MD Anderson Cancer Center - Building the Institution; MD Anderson History; Building/Transforming the Institution; Growth and/or Change; Obstacles, Challenges
Transcript
Tacey Ann Rosolowski, PhD:
It sounds like this might be related, too, to your role with the Chemo Clinic.
Carmen Escalante, MD:
So the Ambulatory Treatment Center, you know, again when we split, when I became section chief, I also became medical director, and our internists were overseeing the after-hours and the day care. So when we split with the Emergency Medicine Group, they continued to oversee the night and the weekends, because they're here, and provide coverage, and we provide coverage during the day, Monday through Friday. Many of those patients develop reactions to treatment or medical symptoms or pain, and before we did this, the oncologists had to go down and take care of them, which would interrupt their clinic. So how it got started is we would go and see them and take care of the issues so the oncologist wouldn't have to break out of clinic and come down and take care of it. And it has continued. So we do observation, basically. We're considered the supervising physician. Sometimes there's no issues and everything goes well, and sometimes people can even have a code, you know, where they develop life-urgent, life-threatening conditions. They get a severe reaction to the treatment. So somebody has to be available to take care of them.
Tacey Ann Rosolowski, PhD:
Now, does that happen in a specific place, or you go to the clinics?
Carmen Escalante, MD:
We have two sides of the streets now. That area has grown immensely, and so I work closely with the Cancer Medicine Group as well as Paula Lewis Patterson, who is the Center administrative director, and she does all of the heavy lifting. But we have beds on the May side in the clinic building, the Mays Clinic, and we have beds over on the Clark Clinic side, so we have physicians on both sides of the street supervising. It's huge, the largest Ambulatory Treatment Center in the world. I mean, they give over two hundred—probably there's sometimes close to four hundred treatments a day—
Tacey Ann Rosolowski, PhD:
Wow.
Carmen Escalante, MD:
—of various things, from chemo to injections to blood to fluids. So it's a huge operation. But, you know, it's worked out well, and we are able to help our oncology friends and provide supervision, and we've continued to do so.
Recommended Citation
Escalante, Carmen MD and Rosolowski, Tacey A. PhD, "Chapter 18: Developing Station 19 and the Emergency Medical Center" (2014). Interview Chapters. 776.
https://openworks.mdanderson.org/mchv_interviewchapters/776
Conditions Governing Access
Open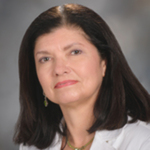 COinS