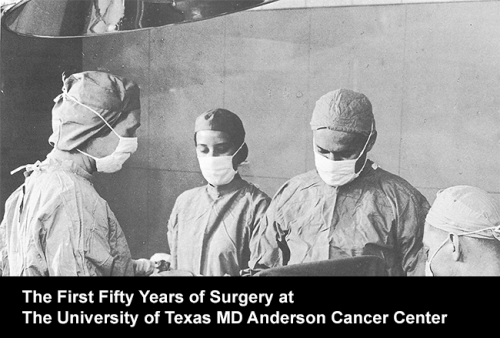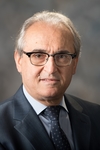 Title
Chapter 01: Creating a Division of Surgery
Description
Dr. Sawaya begins this chapter with the story of how he was recruited to MD Anderson. Dr. Balch then sketches the mission of this interview project, and the conversation explore the evolution of departments within the division and the individuals who spurred these processes. Dr. Sawaya comments that leaders help programs grow by providing resources, leadership, and supporting the creation of department identities.
Identifier
SawayaR_01_20190312_C01
Publication Date
3-12-2019
Publisher
The Historical Resources Center, The Research Medical Library, The University of Texas MD Anderson Cancer Center
Topics Covered
Building the Institution; Joining MD Anderson/Coming to Texas; Leadership; On Leadership
Creative Commons License


This work is licensed under a Creative Commons Attribution-Noncommercial-No Derivative Works 3.0 License.
Disciplines
History of Science, Technology, and Medicine | Oncology | Oral History | Surgery
Transcript
Tacey A. Rosolowski, PhD
You were talking about how you felt he was a man of vision. I'm interested in your view of what that means.
Raymond Sawaya, MD
Well, first I will say Charles is the one who hired me. Can we say trivial things?
Tacey A. Rosolowski, PhD
Sure.
Raymond Sawaya, MD
So, I was at the University of Cincinnati, in Ohio, and I had trained there and then left to go to Johns Hopkins, NIH, and there was some shakeup at the University of Cincinnati Neurosurgery. So, I get a call from the chief of surgery, to bring me back to Cincinnati, so I did, I went back in 1982. [Knock on door; pause.]
Tacey A. Rosolowski, PhD
Here we go. Let me just put this on pause. Okay, so now our counter is moving and let me just say for the record that today is March 12, 2019, and I'm in the Historical Resources Center Reading Room conducting an interview with Dr. Charles Balch, thank you for being here this morning, Dr. Balch.
Charles Balch, MD
Glad to be here.
Tacey A. Rosolowski, PhD
I'm getting your voice for the transcription service. Today we are interviewing Dr. Raymond Sawaya. Good morning, Dr. Sawaya.
Raymond Sawaya, MD
Good morning.
Tacey A. Rosolowski, PhD
This is the second interview that we're doing for Dr. Balch's project on The First 50 Years of Surgery at MD Anderson. The time is about eight minutes after nine and we started the recorder a little earlier but then Dr. Balch came in so now we're officially starting. So, please.
Raymond Sawaya, MD
I'm going to start with anecdote and Charles may not remember but he will after I tell you the story. I get a call while I was at the University of Cincinnati, this was in January of 1990. The call came from David Hohn. David was the deputy to Dr. Balch in the Division of Surgery and he announced to me that MD Anderson and the Division of Surgery was conducting a search for a chair, a founding chair of the Department of Neurosurgery. Would I be interested? I said, Wow, of course I would be interested. In the meantime, I called a dear friend of mine who was at NIH with me, Raj Narayan, Neurosurgeon, head of the Neurosurgery Program at Ben Taub [Hospital] at the time.
Charles Balch, MD
Yes, yes.
Raymond Sawaya, MD
And I said, Raj—he's a really good friend of mine. I said, "Tell me about neurosurgery at MD Anderson," and you know, should I look at the job. I knew the answer and of course Raj was extremely complimentary. He said, "You know it's a great cancer center and you're interests in brain tumor …" and so on. So I interview here in February, with Charles and David and a few others of course. Then I am brought back in April for a more in-depth interview with all the "neuro" components, in addition to Surgery, and I was the luckiest man on earth when I was offered the job. So, I'm offered the job and of course I accept promptly and I put my house in Cincinnati up for sale and I hire this lovely, lovely young lady, realtor, to help me sell the house. One week she calls me and she said, "Ray, I'm going to my high school reunion this weekend, I'm sorry I won't be in town." You know, weekend is a busy time to show houses and I said, "Of course, no problem." She comes back on Monday, first thing in the morning she calls me, she said, "You wouldn't believe what happened!" I said, "What happened?" She said, 'I was sitting next to this wonderful doctor at the reunion and I asked him where are you from." He tells her, "I am from Houston, I live in Houston," and she said, "Oh, I'm trying to sell a house for a doctor who is moving to Houston." He asked her, "What's his name?" She said, "Ray Sawaya." She said he jumped off his chair and said, "I just hired him." [laughter] I don't know if you remember that story.
Charles Balch, MD
I do remember that.
Raymond Sawaya, MD
It was in Toledo, Toledo High School reunion.
Charles Balch, MD
I was the alumni award from my high school.
Raymond Sawaya, MD
Isn't that amazing?
Tacey A. Rosolowski, PhD
That's—talk about a weird small world.
Raymond Sawaya, MD
Unbelievable, I mean Toledo, Ohio, Houston, Texas, those two individuals sit next to each other, they were in the same high school obviously, and I'm link between those.
Tacey A. Rosolowski, PhD
That's crazy, that's crazy.
Raymond Sawaya, MD
So anyhow, that's the anecdote.
Charles Balch, MD
That's a really good story.
Tacey A. Rosolowski, PhD
It's very sweet. Well, did you want to—I was going to jump in with a question.
Charles Balch, MD
What we are trying to do is to recreate the history. In your case specifically, what led up to the strategy to form new departments within the Division of Surgery? Historically, there was no division. There was people who were in charge of the operating room and things, but they more or less reported directly to Mickey [Charles A.] LeMaistre [oral history interview]. Before I came, Mickey arranged for the Division of Medicine, hired Irv Krakoff and was using that model to create a Division of Surgery because he wanted to see growth. The other thing --and it's charged to me-- is he wanted the Surgery Department to be an academic department, to have viable fundable research, both laboratory and clinical research, and to train specialty surgeons on oncology. Those were the charges. So we wanted to get your historical perspective of what attracted you to come as the founding chair, because up to that time there was one part-time neurosurgeon early on. Then Milam Leavens was in the Department of Head and Neck Surgery with Helmuth Goepfert [oral history interview], but it was a fledgling specialty with only one person and yet there was a lot of need. So what we want to do is hear your perspective about what you saw as the opportunity. What were the things that helped make it the largest and most successful neurosurgery program in the country, from scratch, with really --you were the founding chair. Then how you saw the Division of Surgery fitting into the hierarchy between your department and the rest of the institution and your role in the division. I knew I needed to lead with collective wisdom and engage all of you in that process.
Raymond Sawaya, MD
Well, there are many elements pertaining to really, your questions. You mentioned growth earlier in your conversation, with LeMaistre, and I think we need to focus tremendously on that aspect. You had a section of Neurosurgery and a wonderful man by the name of Milam Leavens, who was leading that section. It was a section, it had no resources. I frequently think about that. And to link it to what I was saying about Charles having real vision, he saw the potential underneath. By creating a department, you have immediately done two things. One, you've brought leadership to develop the department. Two, you provided resources. Why did I come to MD Anderson, other than it's a great institution, is because of the resources. Why did I leave Cincinnati? Because it was a struggle to get resources. I was trying to build a program in Cincinnati and I was hitting a wall every time. Everything I had to do there, I had to bring it myself; grants, funding, people. I needed a neuro-oncology nurse, they wouldn't give it to me. Here, because they made it a department, it comes with resources. Now of course, nothing is free all right, but it's like investments. The resources that were created by establishing a department was the investment, and I was able to build on that to what we have today. Now, we can talk more about the specifics of how, building and all of this, but I think the concept of … To be able to grow a program, you have to help it differentiate, you have to help it get established, you have to invest in it, and I think Charles had the vision. Now, I will add to this that I think—and of course Charles knows that history much better than I do, but I believe the first program that he saw the need to build was thoracic surgery.
Charles Balch, MD
That's correct.
Raymond Sawaya, MD
He brought in a great guy, physician-scientist in the name of Jack Roth [Division of Surgery interview]. Jack came from NIH, and actually his wife is equally successful, Liz [Elizabeth] Grimm, in Cancer Medicine and research and IL-2 and all that incredible stuff she did at NIH. So, the first … Clearly the program that was ready for primetime was thoracic, and lung cancer is one of the most, if not the most common cancer, along with breast and prostate. So it was very wise to promote thoracic, and thoracic oncology, surgical oncology, developed into one of the best programs in the country. Neurosurgery was second, right after thoracic, and I was again, very fortunate to have been selected for that position and I will of course expand on what went on in neurosurgery. And then now I was here, you know thoracic was before I came. I was here, I showed Charles --because we had our division meeting focused on plastic surgery, plastic and reconstructive surgery, and why is that important? Because in cancer surgery, we do a lot of amputation, mutilation even, some people would call it, and so there was the concept of reconstructing, whether it's the breast or the jaw or a limb or whatever. Again, there was one or two, Kroll, who passed away unfortunately, prematurely, Steve Kroll, and Schusterman was here.
Charles Balch, MD
Mark Schusterman was the first chair.
Raymond Sawaya, MD
Schusterman was selected to chair the department, there was no department back then, it was a section.
Charles Balch, MD
It was the skill in micro-vascular surgery that he brought.
Raymond Sawaya, MD
In micro-vascular surgery. This wasn't commonly available or found. So here --and you will talk to Chuck, the chairman of Plastic Surgery. He will tell you the incredible number of micro-vascular plastic reconstructive surgeons they have here. There's probably no place on earth that would equal the numbers they have, like twenty of them, I mean it's just incredible. They started with two, and so that was the next one, and then the last one, I believe, before Charles moved on to higher positions, was orthopedics.
Charles Balch, MD
Yes. John Murray.
Raymond Sawaya, MD
John Murray, he brought John Murray actually from the community, a great surgeon and great person. He brought him here to head—it hadn't fully developed into a department back then but they were working on it. Then Charles became VP and then eventually went to other jobs. Now it is a department. And then the next one, which happened very, very recently, is Breast Surgical Oncology was made a department. It's amazing, to see how you help programs grow by giving them the identity, giving them the resources, bring in a leader who brings of course their own vision, and that's how it grows.
Charles Balch, MD
In all of those cases, I think the charge was --as was given to me in the Department of Surgical Oncology-- is to have excellence in your clinical care. The high end, top of the referral pyramid for complicated cases. To have clinical research, including clinical trials. To have some element of laboratory research and to have a training program in your specialty, and then last, to develop a multidisciplinary program. With you, Al [Alfred] Yung [oral history interview] had developed a very good neuro-oncology program but really didn't have any counterpart other than clinical surgery until you came and developed a full fledged clinical and academic program.
Recommended Citation
Sawaya, Raymond MD; Balch, Charles M. MD; and Rosolowski, Tacey A. PhD, "Chapter 01: Creating a Division of Surgery" (2019). History of Surgery - Interview Chapters. 38.
https://openworks.mdanderson.org/surgeryhist_interviewchapters/38
Conditions Governing Access
Open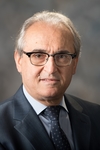 COinS