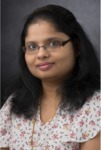 Optimal Avapritinib Treatment Strategies for Patients with Metastatic or Unresectable Gastrointestinal Stromal Tumors
Description
Implications for practice
Early recognition of adverse events and tailored dose modification appear to be effective approaches for managing treatment-related adverse events and maintaining patients on avapritinib. Dose reduction does not appear to result in reduced efficacy. Patients' cognitive function should be assessed at baseline and monitored carefully throughout treatment with avapritinib for the onset of cognitive adverse events. Dose interruption is recommended at the first sign of any cognitive effect, including grade 1 events.
Full article: Joseph CP, Abaricia SN, Angelis MA, Polson K, et. al. (2021), Optimal Avapritinib Treatment Strategies for Patients with Metastatic or Unresectable Gastrointestinal Stromal Tumors. The Oncol, 26: e622-e631. https://doi.org/10.1002/onco.13632
Cissimol Joseph pictured.
This paper has been withdrawn.