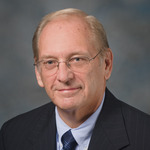 Title
Chapter 18: The Story of Research Park: Strategies to Acquire Land and Collaborators
Description
Mr. Daigneau goes into detail about the development of Research Park (and refinement of the Master Plan), beginning with Dr. John Mendelsohn's invitation to the Health Science Center to embark on a joint development project. He explains how the 100 acres was subdivided into lots to support buildings of thirty five to fifty thousand square feet. Mr. Daigneau tells the story of negotiating with the Health Science Center for use of land that currently housed an ecological park used for environmental studies, a process that took a year, with the Regents eventually intervening in MD Anderson's favor. He then explains the negotiation process required to develop the roadways and infrastructure and explains how he worked with Governmental Affairs to secure start-up money from the Governor's office to develop infrastructure. Mr. Daigneau also explains why MD Anderson has never been successful in attracting a third collaborator to develop the property. He then goes on to describe the
Identifier
DaigneauW_02_20131004_C18
Publication Date
10-4-2013
Publisher
The Making Cancer History® Voices Oral History Collection, The University of Texas MD Anderson Cancer Center
Interview Session
Topics Covered
The University of Texas MD Anderson Cancer Center Building the Institution; The Administrator; MD Anderson History; Institutional Processes; Discovery and Success; Building/Transforming the Institution; Growth and/or Change; Obstacles, Challenges; Professional Practice; The Professional at Work; MD Anderson in the Future; Beyond the Institution; MD Anderson and Government
Creative Commons License


This work is licensed under a Creative Commons Attribution-Noncommercial-No Derivative Works 3.0 License.
Disciplines
History of Science, Technology, and Medicine | Oncology | Oral History
Transcript
William Daigneau, MBA:
So the as I said previously, Dr. [John] Mendelsohn wanted to develop this research park in the South Campus. The land was owned by the UT System for the benefit of both Health Science Center and MD Anderson. So when he first proposed that to the Health Science Center, they were very supportive of that. There's one part of that that I'll talk about in a minute, but" so" we basically, in Facilities, began researching a little bit about research parks, found the one at UMass that resembled our situation, and so we based our planning on that type of a research park. So the next step, then, was to develop a master plan for it and basically subdivide the land" 100 acres into various uses, one being the Research Park. So retained an architectural land planning firm and subdivided the property that we owned" that the UT System owned into developable lots based on roughly 35,000 to 50,000 square-foot buildings. That's the first one" the pilot building was the Research Building 1. Four stories" as I said, a lower cost construction than what we had built on the main campus and based on that pilot" on land that Anderson already owned and controlled, we then" as I said" we subdivided all of them" all of the property. Health Science Center was supportive of that except for one thing; they had an ecological park that was" where they'd artificially created a swamp-like condition to mimic things that were native to Houston in the early years. Although it was completely man created" I mean, it was not natural at all. It had been" it was used by their School of Public Health for some environmental studies. That sat firmly in the middle of the property that was designated for the research park, so that initiated numerous discussions between the two institutions, beginning with me and my counterpart at Health Science Center about what to do with this environmental laboratory that they had constructed. Obviously, they took the position that they were willing to forgo it if Anderson would basically provide funds to recreate it elsewhere. So that little" probably it was about a five-acre parcel of land in the middle of the research park" that little issue probably took almost a year to resolve between the two institutions. Eventually, it was resolved through the intervention of a regent, so therefore the plan was then basically approved by UT System in both the components.
Tacey A. Rosolowski, Ph.D:
So did MD Anderson end up providing funds to recreate that laboratory?
William Daigneau, MBA:
No. In effect, the intervention of the Regents said that this was not" this was a" one of those boondoggles by the institution, and that the system was basically going to approve this regardless and it was through that kind of force of will that the Health Science Center forgo the" and when you looked at" you know what I mean? It was all" it wasn't like it was a natural thing. It was" had been all created, so it wasn't like" and when you develop any piece of land, of course, you have to designate wetland" it was not natural wetland. So even the Environmental Protection Agency basically signed off because it had not" it was not a natural wetland. It had been created. So there was nothing really to stop anything other than, again, just an attempt to leverage the situation. So basically the plan was developed. The question then became" if you look at the South Campus plan, you see the roadways there. Those roadways did not exist. There was no utilities, waterline, sewer lines" nothing was" it was just bare piece of land. So then the issue became, Well, who is going to fund those roadways and all of the infrastructure required to develop the land?" So again, took advantage of an opportunity there" at the time, state of Texas through the governor's office had a fund of money to help fuel business startups, businesses coming into the state, and so the institution" my office working with Governmental Affairs" we applied for a grant from the state of twenty-five million dollars to basically put in the infrastructure for the research park. That was approved.
Tacey A. Rosolowski, Ph.D:
Wow.
William Daigneau, MBA:
And so the institution basically" the state funded the development of the roadway system and all of the sewer and water infrastructure. So anyway" so we were able to then develop the property, and it was laid out based on the UMass Amherst type model. Over the years, we'd really never" the park has never been successful in terms of attracting a third party to build buildings out there.
Tacey A. Rosolowski, Ph.D:
Uh-hunh (affirmative).
William Daigneau, MBA:
Over the years, we've attempted many different things. We were able" basically the Proton Therapy Building was located on the corner out there. That came the closest to a third party, though Anderson participated heavily in terms of providing staff to operate the proton therapy facility.
Tacey A. Rosolowski, Ph.D:
What was the situation? I mean, why has it had a difficulty attracting partners?
William Daigneau, MBA:
Well it's an interesting problem for a lot of research parks in that most drug companies" they kind of got out of the business of developing facilities" stand-alone facilities many years ago. Even the Research Triangle [Park] in North Carolina has really kind of stalled and slowed over the years. What they would rather do" pharmaceuticals and biomedical-type firms" they'd rather fund investigative research at institutions without building anything. So even though the concept is well understood" in fact, it's been very few buildings over the years" there was a company that went around the United States and built some, but based" the recession in 2008, they basically shut down everything that they were doing. It's" not just for us, but for everyone, it's been a" it's a great concept, but funding for that concept really is never emerged in a significant way. So other than the proton therapy building, Anderson has continued to build out there, and of course we built South Campus Research Building 2, had some grant funds for that" from donors that were used. Since we're building next to it, one of the complaints of researchers out on the South Campus was that were no amenities out there" no food" everybody had to either bring their lunch or get in the car and drive somewhere else to get something to eat. When we developed the Research Building 2, it was an interesting issue of where would we put the food service facility, for example, and where did meeting rooms go? Things like that" conference-type facilities. So one of the" in trying to figure that out, one of the ideas that I proposed based on availability funding is to tie the two buildings together with a conference center, and that's how the conference center was then created, which basically" we moved a lot of the meeting rooms from the laboratory areas themselves, put them in a separate facility, which is cheaper to do, frankly" instead of using research space that's designed around research for meetings rooms. It's much cheaper to build just a structure for meeting rooms only, so that's how the conference center came to be, and we're" again, our development office was able to get funding for it, and it's" that's how it got named and all of that, and as it turned out, the two-building complex now became more of a single building with the tie between the two buildings. So we built South Campus Research Building 2, and then the third building out there other than Anderson developed was Research Building 3, and that was a collaborative effort, because the institutions" both of the institutions receive grant funds to develop the advanced imaging facility out there, which include a" you know" a" shoot" I'll think of it in a minute, but anyway, that grant was given to both institutions to fund that, as well as a grant from General Electric, and so that was a collaborative effort between the two institutions. Health Science Center was going to occupy one floor. We would occupy one floor. Then there was the shared imaging facility. So that was the third building developed out there. Since then, we've added Research Building 4, and Health Science Center has built their new dental school out there, as well as a research building themselves. So the park has developed primarily through the use of the land for research purposes for both of the institutions. Now as a side story about that" as I mentioned originally, the National Guard was out there, and then there was the Army Reserve and the Naval and Marine Reserves. Anderson acquired the corner property from the National Guard probably in the middle of the 1990s, but we always had an eye on the Reserve properties, because acquiring to those two properties significantly expanded the research park. At one point in time, there was some discussions that were initiated with the Army about acquiring that property and what would it cost to do that, and the Army basically" Department of Defense said that they would relocate" actually they, unbeknownst to us, kind of had a desire to relocate to Ellington Field and relocate if basically Anderson would compensate them for the cost of a replacement facility.
Tacey A. Rosolowski, Ph.D:
Uh-hunh (affirmative).
William Daigneau, MBA:
Well, the question became, what would that cost? So by the time you looked at the list of Army requirements, it worked out that the land in effect would cost over $200 a square foot. It was just an unbelievable price. Obviously Anderson and the UT System was not going to provide funds for that, and our development office was doubtful anyone" that any donor would contribute that much money for just land" in effect, land. So things kind of stalled for a while until some issues came up in Congress about the base closings, and one of the bases to be closed, which of course got the interest of Kay Bailey Hutchison, who was our Senator, about protecting the" that Air Force base out there. One of the arguments to keep the base was that it would be the home of the Army Reserve as well as the Navy Reserve Center, basically working with her office" of course by then, Governor Bush had become President Bush, so we had a lot of support at the highest levels. To make a long story short, eventually they were able to fund the creation of a new Army Reserve and Naval Reserve facility out at Ellington Field, which dramatically reduced the cost (laughs) of acquiring those properties, but I would say" I personally worked on that with our Governmental Affairs office for a good seven years.
Tacey A. Rosolowski, Ph.D:
Uh-hunh (affirmative). Wow.
William Daigneau, MBA:
From the beginning until finally getting the funding and acquiring the actual property. So to end the story about the research park, there were a couple of things that happened. Number one was once we were able to acquire that park, Dr. Mendelsohn wanted to look at the master plan and look at a possibly greater density development out there, since we owned everything all the way up to Old Spanish Trail now. So the master plan was revised, so now the master plan created more of a campus-like setting as opposed to individual building sites. Again, for the future, if it's ever developed, it remains probably a good source of future development for MD Anderson in terms of research.
Tacey A. Rosolowski, Ph.D:
Uh-hunh (affirmative).
William Daigneau, MBA:
The other development on South Campus was" I had earlier discussed about the development of a master plan for the north side of the main complex's research. Sitting in the middle was the dental school. Well, the Health Science Center was able to get funding for a replacement dental school, which is now not located on the South Campus, and Anderson basically has acquired now the rights to the dental school. So it now controls all of the property basically other than the Texas Children's Hospital Research Facility on the north side of the campus for future research development, which one of the parcels obviously has already been dedicated to the development of the Zayed Building.
Tacey A. Rosolowski, Ph.D:
Right, that's the Institute for Personalized Therapy.
William Daigneau, MBA:
Right, which is under construction.
Tacey A. Rosolowski, Ph.D:
Right, uh-hunh (affirmative).
William Daigneau, MBA:
So that basically kind of completes the story of how the South Campus came to be and its development. I don't know if I mentioned this earlier or not, but I'll restate it. One of the" one of the things that" I mentioned the Physical Plant Building is located out there. We also have a Hazardous Waste Processing Facility out there. Then one of the proposals was, of course, to expand the vivarium facilities in order to support the increased research out on the South Campus. The original vivarium was located in Smith Research Building, which was" basically supported Smith Research Building. With the addition of the other research facilities, there was not sufficient vivarium space. So the concept there was to basically take all of the Physical Plant Services, which we began to do, as well as the police department, out and use that space for future vivarium. The Physical Plant moved out into a warehouse located on what's now called the East Campus, which is off Alameda, and the first phase of the vivarium expansion occurred to support Research Building 1, 2, and 3. Eventually there are plans to further develop" move the police and further develop that to support increased research out there. Eventually, we'll have to build a separate vivarium if the property continues to expand, but at least that's the interim plan there. So the East Campus was acquired primarily because now this land had become too valuable for support functions. We were able to get" the East Campus landed roughly thirty dollars a square foot, which is a lot cheaper than the appraised value now of the South Campus. And so all of the future support service, warehousing" all of those things will over on the East Campus, which is about two blocks away from the South Campus. So that's basically" what's always been interesting is how it's like a big jigsaw puzzle" how pieces" how the dominos tend to fall and how pieces then fall into place for all of the various plans, so in large part, most of the" I mean" most of the things have moved in a way that at least have been not so haphazard as opposed to actually being planned that way, so when you look at MD Anderson, there was a lot of forethought that went into all of these things that led to its development.
Recommended Citation
Daigneau, William and Rosolowski, Tacey A. PhD, "Chapter 18: The Story of Research Park: Strategies to Acquire Land and Collaborators" (2013). Interview Chapters. 141.
https://openworks.mdanderson.org/mchv_interviewchapters/141
Conditions Governing Access
Open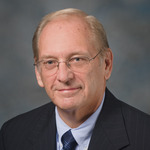 COinS