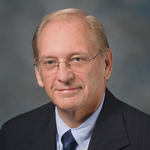 Title
Chapter 21: The Houston Main Building (The Prudential Building): Its Drawbacks and Implosion
Description
Mr. Daigneau tells the story of his controversial plans to demolish the Houston Main Building (also called The Prudential Building). He lists the problems with the building, among them the fact that there was no sprinkler system 'a fact that "kept him up nights." He also describes how he engaged three groups to study the building in preparation for tear-down. He explains why the building had no particular historical or architectural significance. He then talks about the decision to demolish the building once the State Fire Inspector issued instructions to install a sprinkler system. Mr. Daigneau advocated for demolishing the building, and MD Anderson executives all agreed this would be most cost effective. He then explains why demolition was held up until 2012. Mr. Daigneau then describes how he had planned the Mays Clinic and the Duncan Cancer Prevention Building with the demolition of Houston Main in mind. He explains how the decision was made to implode rather than demolish the building and explains the careful process of selecting the demolition contractor. He explains the safety processes they observed and the care taken not to disrupt patient activities at MD Anderson and surrounding Texas Medical Center institutions. He describes the implosion (video available at the website noted ) and notes that the site clearing took only six months.
Identifier
DaigneauW_02_20131004_C21
Publication Date
10-4-2013
Publisher
The Making Cancer History® Voices Oral History Collection, The University of Texas MD Anderson Cancer Center
Interview Session
Topics Covered
The University of Texas MD Anderson Cancer Center Building the Institution - Beyond the Institution; The Administrator; MD Anderson History; MD Anderson Past; Institutional Processes; Overview; Definitions, Explanations, Translations; Discovery and Success; Building/Transforming the Institution; Growth and/or Change; Obstacles, Challenges; Professional Practice; The Professional at Work
Creative Commons License


This work is licensed under a Creative Commons Attribution-Noncommercial-No Derivative Works 3.0 License.
Disciplines
History of Science, Technology, and Medicine | Oncology | Oral History
Transcript
And the last story is Houston Main Building.
Tacey A. Rosolowski, Ph.D:
Yeah.
William Daigneau, MBA:
Obviously that building personally took a lot of heat on that one. If you Google my name, what will pop up is the Houston Main Building. Yeah. So here's the story of the Houston Main Building. Beautiful building. If I could" if I thought there was any way to justify keeping that building, I would have. I would have argued for it, but here's the problem with that building. A. An old mechanical system" was built in the ÷50s, so to reuse that building, you're faced with replacing all of the heating and cooling system. B. The exterior of the building. It was" all of the stone panels were attached with metal clips. Over the years, all those joints leaked water, rusted the metal clips. We actually had pieces of the stone fall from the building, so how do you repair that? What you do is you go in and take all of those stone panels off and replace them with something or reattach them or repair them or" very expensive work. All of those windows were steel frame windows" rusted shut over the years, costly to try to reopen. So you have to replace all of the windows in the building. So that's just starters. There was no sprinkler system in the building. It was built in an era" it was a high rise building with no fire protection sprinklers. If you had a fire in that building, you had two problems: Nothing to stop its spread, other than firemen. Now you're in the high rise, so how do you get all of those firefighters up through the building? Stairs" because it's too high for a ladder, so that means the only way to get up and fight the fire is go up the stairs. So anyway, just that one thing alone" the lack of sprinklers in the building kept me up most nights, thinking about what would happen. We had our data center there. We had lots of people in the upper floors. That always scared me" we'd get a fire" flash fire or something to that building, and we'd have fatality, because the firefighters" it would just take them too long to get into the building and try to fight the fire. So that was a problem" big problem. Then we discovered that the foundations were settling and was causing cracking of the" actually cracked the mural" the mural had to be fixed, repaired, because the mural was painted directly on plaster attached to the wall. So when the plaster cracked, the mural cracked. The floors" terrazzo floors" beautiful terrazzo floors. They all cracked. So I had a structural engineer look at it. They actually put little gages in the basement to measure the width of the cracks, and they said if it gets to that wide, evacuate the building. (laughs) No flood protection in the building
Tacey A. Rosolowski, Ph.D:
(laughs) Gosh, it goes on and on.
William Daigneau, MBA:
I mean, the lower the floor" the basement was used as a loading dock, so we had whole" you had a big ramp that went down to the loading dock. If the bayous overflowed, it would just flood that, and of course, all of your mechanical equipment was exposed. So all of these things combined" the floor plan was inefficient. As I said, very inefficient building because it was built in an era where for an insurance company" where they weren't concerned about efficiency. Construction costs were low. Energy costs were low. Who cares? So all of these factors" the settling foundations, the condition of the exterior, the aged mechanical systems, the inefficient" all of these factors said" we had that building studied by three different groups. The conclusion of everyone was regardless of what the critics say, even the developer came in, looked at it, and we asked him, If you were buying this building, what would you do with it?" The conclusion was to tear it down. It just" other than for a historical reason" now they said, Well, it was one of the first high rises in Houston." Well, I researched that. True" outside the downtown, it was one of the first, but the building was never, never listed in any architectural texts as a symbol of something you want to" it was never said, One of the greatest buildings ever build was the Houston" " No. You never see that in any architectural texts. The architect, while somewhat recognized, was not of the Frank Lloyd Wright caliber" was never recognized as" if the building had been designed by Frank Lloyd Wright" for goodness sakes, you'd probably want to preserve it, because it was" he was such a world-renowned architect. Not the architect of HMB. Then it wasn't" no one had" up until we decided it could serve no use or purpose, it was never listed on any historical list. I mean, it was an insurance building. Nice to see but never recognized as an architectural gem. So when you look at all the facts, there was" you weren't taking something down that was one of a kind" the only one like it or anything like that.
Tacey A. Rosolowski, Ph.D:
What do you think created the controversy? Why did people start coming out of the wood work and saying you have to save it?
William Daigneau, MBA:
Well" and rightfully so" Houston had a reputation of not preserving any of its legacy, of just ripping everything down, so there was a sensitivity within the city of Houston itself" among certain circles that we were destroying all remnants of legacy" of the past, but though Houston's been around a long time" as a big city it wasn't, for many, many years. Galveston was bigger than Houston for many, many years until they had the flood. (laughs) So unlike the eastern cities, where there was some very, very old stuff" when you look at it, Houston Main Building was constructed in the ÷50s.
Tacey A. Rosolowski, Ph.D:
Uh-hunh (affirmative). Not all that old.
William Daigneau, MBA:
Not like it was 100 years old, you know? But there's a sensitivity there. Of course, there's also sensitivity to just preserving things for the sake of preserving things. So there's this" a certain group in any city, including Houston, that wants you to preserve it, even though the overwhelming evidence may say it was a nice building, not historically significant, the charter or constitution of Texas was not signed in this hallway. It was an insurance building, and other than a few features of it" the mural was the primary one, had no significance at all in historical, architectural" whatever. Unfortunately, it was a safety hazard that was falling apart. So the story about Houston Main Building was that in" I think it was in 2003, the state fire inspector came through and said" wrote us a letter and said, You need to sprinkle that building. It's high rise occupancy. That building needs to be sprinkled." I argued that we should put no more money into that building" that in fact, we should take it down, because the overwhelming evidence was that it was beyond its usable life. So everyone agreed with me" the executive, Dr. Mendelsohn. I said, We could put another building in its footprint that's more efficient, designed for our purposes that we can use at less cost than to try to convert that building into some other use." So the conclusion was yes. So I wrote a letter to the state fire inspection and said we would not install a sprinkler system, because our intent was to tear the building down within two years. So the clock is now ticking. When did we actually demolish the building? Not in 2005!
Tacey A. Rosolowski, Ph.D:
No, certainly not!
William Daigneau, MBA:
So you ask me what kept me up at night? Number one was the knowledge that I had letters sitting in a file somewhere that said we were going to tear this thing down within two years and the building was still standing. So I'm" even though I had it"
Tacey A. Rosolowski, Ph.D:
When did it actually" was it actually imploded? Was it 2010? 2011?
William Daigneau, MBA:
In 2011. So anyway, so personally, I was" and I decided that if we didn't get the building down before Dr. Mendelsohn left, there was a chance we might never get it down.
Tacey A. Rosolowski, Ph.D:
Oh, wow. Yeah. So why were you not able to take it down in 2005?
William Daigneau, MBA:
Like I'd said earlier, we had" first of all, we hadn't moved [the Division of Cancer] Prevention.
Tacey A. Rosolowski, Ph.D:
Right. Okay.
William Daigneau, MBA:
We got rid of the data center. The School of Nursing built their building, so we had to wait until they built their building next door. The building was used to Health Science Center, as well. They had their data center, and they had to move their data center. So over the years, it just took us longer to get everybody out of the building" find space for where those people" HR would eventually move down to Nabisco. They used to be in HMB. My office used to be in HMB up until 2005. (laughs) The year it was supposed to come down! It took us awhile to get everybody out of that building. Part of the space was used by diagnostic imaging research" Dr. [William A.] Murphy. He had a program in there. We had to find an alternative location for them. We moved them out, eventually, to the South Campus. So it just took a long time to find alternative space to actually vacate the entire building. Steve Stuyck was one group that moved" he's on the ninth floor. We finally moved him in the Fannin/Holcombe Building. The new Pickens Tower allowed us to move Governmental Affairs out, which occupied the eighth floor. So it just took" every building that we put up, we moved somebody out of HMB, but as it took us years, basically, to create the alternative space to actually vacate the building. So" but we were finally successful, and I said, Before I retire, if I have to go over there and knock it down myself, that building's coming down." My fear was I would retire, a new president would come in, and the preservationists would start in on the new president, and there would be weakening of the will. We'd get stuck with trying to renovate that old building. So one of my objectives was to make sure it came down before I left, and I am proud to say we were successful.
Tacey A. Rosolowski, Ph.D:
Uh-hunh (affirmative).
William Daigneau, MBA:
So that's about" I mean, there's a lot of details to go into, but we want to keep this within your maximum eight hours. (laughs)
Tacey A. Rosolowski, Ph.D:
(laughs) Well, there were a few other questions I wanted to ask you. Actually, do you mind if we pause just for a second? Okay, I'm pausing at five minutes after ten. (end of audio) (begin audio)
Tacey A. Rosolowski, Ph.D:
All right. Well let me" okay, we've back after a brief break. It is about 10:12, and the last little bit of the story" the Houston Main Building is how it was actually taken down. So maybe you can talk a bit about that" whatever you want to share that's important.
William Daigneau, MBA:
Well, long before Mays Clinic existed, from a Facilities Management standpoint, the right thing to do was take" eventually take Houston Main Building down. So when the Mays Clinic was planned, as well as the Duncan Cancer Prevention Building was planned, the architects were told that we were going to demolish Houston Main Building and that we needed to protect both Mays and Cancer Prevention when that day came. So distance between the buildings was a factor, utility interconnects" anything that could possibly be disrupted during the demolition of Houston Main Building was routed in a way that it would not be an issue when that day came. So there had already been forethought gone into how are we going to take that building, and how to we protect Mays and Duncan?
Tacey A. Rosolowski, Ph.D:
I just want to say right now (laughs) I am so impressed! You know, you said it was" this was a jigsaw puzzle, but nothing was done haphazardly. It was all planned, and this is another one of those amazing things! I mean, you hadn't even gotten the permission to take it down, but you were already looking ahead to taking it down and making sure that the institution and its function was preserved. So I had no idea, and I think there are a lot of people who don't understand the care and foresight with which the planning has done. I just really felt the need to say that. (laughs) Bravo!
William Daigneau, MBA:
Yeah, a lot of interconnecting pieces.
Tacey A. Rosolowski, Ph.D:
Absolutely.
William Daigneau, MBA:
So finally the day came where we able to get everybody out of the Houston [Main Building] and we could actively get approve of both the Regents and our Facility Steering Committee to demolish the Houston Main Building. Both were obtained, so both our executives as well as the Regents understood that this was the prudent thing to do, even in the face of certain criticism about it. So we got this approval, so the planning began in earnest. Now one of the issues was can we implode the building, or do we have to basically deconstruct it" dismantle it? This means cranes operating in the sky, taking the building down in reverse order in which it had been constructed. Two factors weight in on us in terms of making that decision. How long would that activity go on, and how long would it take to deconstruct it versus the dangers of imploding the building. Everyone had seen pictures on the Internet of buildings that fell the wrong way, you know? So we're careful in the selection of demolition contractor. We started actually working on that building almost two years before it was actually imploded, removing all hazardous material, like lead, asbestos, cleaning the building up, so that either" either in deconstruction or in implosion, hazardous materials would not be released into the air.
Tacey A. Rosolowski, Ph.D:
Who was the demolition contractor that you selected?
William Daigneau, MBA:
CDI" Controlled Demolition, Incorporated. Now you say, who are they? They have done every major demolition/implosion, including old casinos in Las Vegas, old sports venues, office towers, industrial towers/parks" you name it, they have experience doing it. So we selected what we felt was one of the best in the world to work with on this demolition. They have their own structural engineering department, so they understand the structural components of the building and what is likely to happen when certain" where explosives should be placed, how the building will come down, so they had their own structural engineers that worked on this. They don't rely on anybody else. We had one of the best individuals personally supervise the demolition and its very complex structures involved with our projects. So I think we" we didn't pick a novice on this, you know? We had buildings that were close. Across the street from us was Texas Children's Hospital. We needed to protect them. Up the driveway was St. Luke's Hospital, the Heart Institute" we needed to protect them. So there were a lot of surrounding folks that have had an interest in what we were doing. So I" now I won't go into all of the details of the planning of it all of that, but it was extensive" talking to everybody in the Texas Medical Center, using curtains" steel mesh curtains to protect buildings, all of that, but it" in summary, what happened was we looked at both options, and we chose the implosion because of two factors. Number one was the believe of the demolition contractor that they could drop the building into its basement. In other words, directly down" collapse the building directly down on itself as opposed to falling over" and believed that was the way to do that building, and that they could do it. Secondly was implosion reduced the amount of dust in the air. Now you say, how is that possible? Because while there's a lot of dust on the day that it comes down" afterwards, it's just a pile of rubble, and that" you can keep sprayed down with water as you actually load it into dump trucks and take it off the site, so it's in wet form. Other than the one day where you have a big dust cloud, there is no dust. On deconstruction, you dust every day, because you can't spray down a tower every day, keep it wet. So you've got noise, dust, everything. As you well know, dust for cancer patients is very dangerous.
Tacey A. Rosolowski, Ph.D:
Yeah, as well as for patients in the entire Texas Medical Center.
William Daigneau, MBA:
That's true. So for that reason, we figured if we took the building down, we'd have some dust in the air for one day" likely a weekend day, minimal amount of patients around. We could close off all our intakes for the brief period that it was actually in the air" so could the surrounding hospitals, and then we'd have minimum impact. But that doesn't make it necessarily worry free, you know? There's a certain amount of" do these people actually have" they've done the calculations correctly" and will that building fall directly straight down? So until that detonation occurs, there's always a certain amount of trepidation. So obviously I was very relieved when I watched that building fall directly down into its foundation" into its basement. So that's how it came to be.
Tacey A. Rosolowski, Ph.D:
How long did it take to remove the rubble from" because I was interested in what the time comparisons were for demolishing the building" taking it down piece by piece versus dropping the building and then removing rubble from the basement.
William Daigneau, MBA:
Well, it took us about" roughly to clean the site up" everything from demolition to cleaning the site up and restoring it was about six months. Now could it have been done faster? Yes, but we restricted the contractors operations basically to night time, because we were seeing patients during the day, so a lot of their activities" a number of hours they could work kind of was restricted, so it took longer because of environmental concerns.
Tacey A. Rosolowski, Ph.D:
Uh-hunh (affirmative). How long would it have taken if you had reverse constructed the building?
William Daigneau, MBA:
Oh, it would have been over a year. Fourteen months.
Tacey A. Rosolowski, Ph.D:
Yeah, so it was a time and cost saver to do it this way. Yeah. Well, congratulations on that! (laughs) You could sleep well after that! (laughs)
William Daigneau, MBA:
(laughs) Yeah, anyway!
Recommended Citation
Daigneau, William and Rosolowski, Tacey A. PhD, "Chapter 21: The Houston Main Building (The Prudential Building): Its Drawbacks and Implosion" (2013). Interview Chapters. 144.
https://openworks.mdanderson.org/mchv_interviewchapters/144
Conditions Governing Access
Open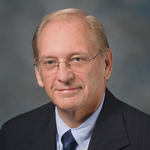 COinS