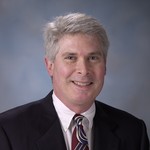 Title
Chapter 11: Chair of the Department of Diagnostic Radiology
Description
In this chapter, Dr. Hicks discusses how he stepped into the role of Chair of the Department of Diagnostic Radiology and developed a vision for developing the department. He explains that there had never been a dedicated chair of the department, that the head of the division had always served that role. He explains that to date there had been difficulty getting the section heads to work together. Dr. Hicks talks about his goal of creating a true department identity with a clear governance structure. He reflects on the value of this process as a kind of leadership training for the young section heads in the department and talks about the identity that emerged.
Identifier
HicksM_03_20180703_C11
Publication Date
7-3-2018
Publisher
The Making Cancer History® Voices Oral History Collection, The University of Texas MD Anderson Cancer Center
Interview Session
Topics Covered
The University of Texas MD Anderson Cancer Center - Building the Institution; Leadership; On Leadership; MD Anderson Culture; Working Environment; Building/Transforming the Institution; Growth and/or Change
Creative Commons License


This work is licensed under a Creative Commons Attribution-Noncommercial-No Derivative Works 3.0 License.
Disciplines
History of Science, Technology, and Medicine | Oncology | Oral History
Transcript
Tacey A. Rosolowski, PhD:
Okay, our counter is moving as it should and just let me say for the record, it is about one minute after ten and it is July 3, 2018. I am sitting in the Division of Diagnostic Imaging with Dr. Marshall Hicks, for our third session together, and we did our strategizing and thought it would be a good idea to start talking about your role as department chair.  
Tacey A. Rosolowski, PhD:
+ You took on the role of deputy department chair in 2007 and then fairly quickly advanced to ad interim department chair. Tell me about that whole process and what was going on at the time in the department.
Marshall Hicks, MD:
We had had a retreat, I think with Dr. [Donald] Podoloff [oral history interview] as a division head. My recollection was it was probably the first one we'd ever had. It was a leadership group in the division, with him, and out of that came some changes, one of which was the appointment of a deputy division head, and then Reggie Munden took the position of the ad interim department chair for Diagnostic Radiology.
Tacey A. Rosolowski, PhD:
Can I ask a quick question, because you said there had never been a retreat held for the division. What was the reason for doing it at that time, in 2007?
Marshall Hicks, MD:
I had a leadership retreat. I think one of it was, one of the issues was we had some backlog in some of the areas, one in particular for timely reading of examinations. I think it was just a chance to really bring the group together and have a collective ownership of that. Also, there were some just nuances in the reporting structure where some of the section chiefs were reporting directly to the division heads, some of the interim department chair, and it was just kind of a chance to—and that was more historic reasons, but I think it was a chance to really get aligned with the leadership group at the time. And so that was what came out of it and a strategy for the backlog as well. Dr. Munden was appointed the interim chair but was also looking at chair positions elsewhere, so he ended up leaving within a few months, to become the chair at University of Alabama-Birmingham. Before he did, he had asked me to be the vice chair of the department and I was happy to help, accepted that and worked with him over that time and when he left a few months later, I became the ad interim chair.
Tacey A. Rosolowski, PhD:
What was your evolving vision for what you wanted to do with the department?
Marshall Hicks, MD:
The department had really never had a dedicated chair position. The division had—when I first came here, Dr. [William] Murphy was the division head for Diagnostic Imaging and was also the department chair for Diagnostic Radiology. When he stepped down, Don Podoloff became the division head ad interim, and then subsequently the division head and he, I believe, appointed an ad interim department chair early on. I think there might have been a change there. I'll have to go back and look, but I think ultimately became Marc Chasin as the ad interim department chair. But as I mentioned earlier, several people still reported to Dr. Podoloff, even though there were section chiefs in that department. The reporting structure wasn't consistent across and really, they had never, as a department, had come together as a team of leaders. So one of the things I wanted to do when I became the ad interim chair was to get the section chiefs together. We had a retreat. We had an alignment to really decide what our vision was going forward collectively and to really have a department identity, because often it got blurred with the division as a whole because that department was so massive. It's such a large part of the division, it was at that time in particular, that it kind of dwarfed everything else, so it became kind of its own division and department. I think that part of what came out of that earlier retreat at the division level was establishing its own identity. So I took that concept with the leadership group and really started developing a governance structure for the department, which had not existed before, and how we were going to operate as a leadership group, as a team, making decisions collectively that impacted the department. Tried to foster the development of relationships of the section leaders, develop consistent policies across the department. Many of the work assignments overlap between some of the sections so really, having an opportunity, it's a talk through some of those coverage issues and other things that went across the sections at the department level.
Tacey A. Rosolowski, PhD:
How willing were people to participate in this?
Marshall Hicks, MD:
Very willing. I think it was because it really had not existed before there were, people were siloed in their section and there wasn't --policies that weren't consistent across the department created issues. Just being able to feel collectively, we're working towards the same goals, I think was embraced, and to establish that collegiality at the leadership level. Almost all of them were pretty new in their roles as section chiefs. Some of them more senior or had been in leadership roles before, but it was a relatively new group of section chief leaders to that particular role.
Tacey A. Rosolowski, PhD:
Who were these folks?
Marshall Hicks, MD:
Wei Yang was the section chief of Breast Imaging and Jeremy Erasmus was the section chief for Thoracic Imaging, A. J. Kumar was the section chief for Neuroradiology. Mike Wallace was the section chief for Interventional Radiology. Abdominal Imaging was Joel Dunnington and let's see, I know I missed one.
Tacey A. Rosolowski, PhD:
You'll think of it.
Marshall Hicks, MD:
Breast, thoracic, abdominal.
Tacey A. Rosolowski, PhD:
Neuro.
Marshall Hicks, MD:
Neuro. Musculoskeletal was John Madewell, certainly was a seasoned leader and he was probably the most longstanding leader there, and oh my gosh.
Tacey A. Rosolowski, PhD:
If you've forgotten anybody you can add it when you look at the transcript, so not to worry.
Marshall Hicks, MD:
Okay. Most of them were within a year of being in those roles, with the exception of John Madewell. So I think it was, for that reason too, creating that support amongst the colleagues and leadership roles.
Tacey A. Rosolowski, PhD:
Young leaders, yeah.
Marshall Hicks, MD:
Dealing with similar issues and coming up with, helping each other with solutions.
Tacey A. Rosolowski, PhD:
Interesting time then. So what was the department identity that emerged from this?
Marshall Hicks, MD:
I think the department had existed as, in large part, a clinical department. Keeping up with the work as we expanded, really doubled in size in the '90s, a lot of our effort was recruiting clinical faculty members to keep up with the workload. So this was a chance to look at all the mission areas and set some goals in the education and research realm as well, and really try to establish a separate identity for the department in all the mission areas, rather than just being a clinical workforce that it really was institutionally. What came out of it was a governance structure, but then wanting to establish not only goals on the clinical sides for performance, but what sort of education programs and research programs were aspired to within the department.
Recommended Citation
Hicks, Marshall MD and Rosolowski, Tacey A. PhD, "Chapter 11: Chair of the Department of Diagnostic Radiology" (2018). Interview Chapters. 199.
https://openworks.mdanderson.org/mchv_interviewchapters/199
Conditions Governing Access
Open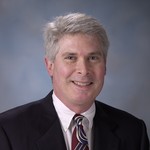 COinS