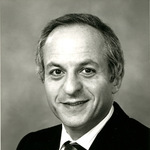 Title
Chapter 02: Mary Lasker: Personal and Financial Support for Research
Description
Dr. Gutterman discusses his close relationship with Mary Lasker (treated in depth in the 2006 sessions with Lesley Brunet), a philanthropist who was immediately interested in his interferon work in the seventies and who eventually gifted one million dollars toward his research. Mrs. Lasker schooled him in dealing with people and in strategizing to get a job done in the face of obstacles. Dr. Gutterman also talks about his gifts for visual thinking, his colorist paintings, and his habits of self-reflections which come from an interest in holistic systems.
Identifier
GuttermanJ_01_20120412_C02
Publication Date
4-12-2012
Publisher
The Making Cancer History® Voices Oral History Collection, The University of Texas MD Anderson Cancer Center
Topics Covered
The Interview Subject's Story - The Researcher; The Researcher; Personal Background; Professional Path; Portraits; Inspirations to Practice Science/Medicine; Influences from People and Life Experiences; Character, Values, Beliefs, Talents; Mentoring; The Life and Dedication of Clinicians and Researchers; Business of Research; On Philanthropy and Volunteerism; Evolution of Career; Professional Practice; The Professional at Work; Collaborations
Creative Commons License


This work is licensed under a Creative Commons Attribution-Noncommercial-No Derivative Works 3.0 License.
Disciplines
History of Science, Technology, and Medicine | Oncology | Oral History
Transcript
Jordan Gutterman, MD:
But you see—then I see—for example, that's what I get, and I learned a lot of that. I mean, I had it. [Emil] J Freireich [Oral History Interview] is one of my great heroes because he cured childhood leukemia, and you cannot talk about the history of this institute or cancer research in general without recognizing the passion and intensity. I know his whole history. We can talk about it. I have given talks about him. But that passion of sitting in Development Therapeutics and listening to the non-compromise—I mean—sometimes he can overdo it and then compromise of principles of getting drugs into people or doing whatever you need to do because people are dying often of inadequate treatment or neglect or whatever it is. That's why I had—and there was Mary Lasker. We're not going to get into too much detail, but Mary Lasker brought another dimension, and she must have recognized this. But I suspect in the old tapes I talked about how I first met her.
Tacey Ann Rosolowski, PhD:
Yes.
Jordan Gutterman, MD:
She kind of took me under her wing. She had the same passion, but she came about it from a completely different—you know—non-scientific, non-medical background. And it wasn't so much her money, it was the way she catalyzed bringing people together. But she had the same passion, and so it's that passion and—I don't know what the root of the word passion is or compassion, but the word compassion has got passion in it. So sometimes Freireich is accused of being crazy, intense, and blah, blah, blah, or Mary Lasker was too intense. But it was because of compassion. You have to have it. You get creative when you have those intense feelings, and that probably leads in—and I learned a lot from Mary Lasker about how you cannot rely on one particular source of funding to do a research if you really believe in what you are doing.
Tacey Ann Rosolowski, PhD:
Well, I was very intrigued and impressed with the story that you told in—when you were speaking with Lesley Brunet in those former interviews about just the amazing political knowledge you had to have to get funding for this project.
Jordan Gutterman, MD:
Yeah.
Tacey Ann Rosolowski, PhD:
So for the interferon project—I mean—it seems like Mary Lasker may have taught you a little bit of how to negotiate—
Jordan Gutterman, MD:
Oh, a lot more than a little bit. Yeah.
Tacey Ann Rosolowski, PhD:
Talk about a skilled person with people—
Jordan Gutterman, MD:
And of course, as you know, I don't have to tell you—it's not that she sat down, "Here's lesson one; here's lesson two." You learned by watching and learning and talking and doing.
Tacey Ann Rosolowski, PhD:
What do you think she saw in you? I mean, certainly the fundamentals of the research and the possibilities captured her imagination, but what about you as a person? What do you think—? What captured her about you?
Jordan Gutterman, MD:
Well, I think two or three things. One I can easily admit to is passion. She could see that I was really committed and I was passionate. I think I know it's correct—integrity. I think she had to trust a person. But I think if someone is really committed and—you know—and she has that sixth sense. Women have that—you know—we talked about that. I kept—because in raising money for interferon I may have discussed this. I usually found—not completely—that women were much more sensitive, much easier, and I asked Mary Lasker once why that was. She said, "Well, they are the ones that have to get up in the middle of the night and take care of middle ear infection. They feel the pain." And that's partially true—partially true. You know, it's feeling the pain. That's a trick in fundraising. You've got to relate. I used to go to Washington with her all the time, and she had to reach these Congressmen and Senators. She had to reach something deep, and I watched her. She always knew a lot about their history. "Didn't your wife just have a breast removed?" and this type of thing. She made it personal. This wasn't some abstract thing of raising money. So these people could understand it because they felt it, because they experienced it. And so that's a—so back to your question about me. I think certainly she was really interested in the novelty—the originality—because I said I don't want to do it the standard way. I have a new idea here. I don't know where it could go. I was aware of gene cloning back in '74 when she just came, and that was a whole new technology which hadn't even been developed. She liked that vision. She liked the passion. She obviously trusted me. So I think those are the—and she did have this amazing, developed, right-brain intuition. But she wasn't always right, though. None of us are.
Tacey Ann Rosolowski, PhD:
But she was obviously a really powerful force in your life.
Jordan Gutterman, MD:
Yeah. Oh God, yeah. Yeah, in many dimensions. I mean, certainly in medicines, science, getting to know people, and getting over shyness, because I'm still rather shy. I understand those roots, coming from a tiny town, and I'll still recognize where I will shy away from a crowd or this that and the other. That just comes from analysis. The arts have completely opened up. I mean, she opened me up to color. I didn't even have a clue. It's interesting. I think we all are undeveloped. You know, we have these nascent skills, but you often need someone to unleash it for you. Back in the seventies, I had no idea that I even would respond to color. Well—I mean—I'm not bragging, but I do know I can recognize art now, and I can paint a little bit. But the point is—and I get excited. I understand the power of, let's say, color or form. I like color, particularly. She kind of brought that out. So that was kind of characteristic of Mary. She would bring out stuff you didn't even know was there.
Tacey Ann Rosolowski, PhD:
When you mentioned your—I mean—I was stunned when I walked in and your assistant Carol—I immediately noticed the art on the walls, of course. I was remarking on it, and Carol said, "Oh, those are Dr. Gutterman's." And I said, "Wow." You know?
Jordan Gutterman, MD:
Well, I want color around here because it's so drab, you know?
Tacey Ann Rosolowski, PhD:
Well, sure, but they're really amazing. And I—
Jordan Gutterman, MD:
There are Sam Francis paints. I painted—this was done in Sam Francis's studio.
Tacey Ann Rosolowski, PhD:
Wow. That's amazing.
Jordan Gutterman, MD:
The one behind you—all these colors.
Tacey Ann Rosolowski, PhD:
Well, I am always interested in—you know—in asking people who do innovative and creative work—I mean—if they're visual thinkers. Do you consider yourself a visual thinker? Is visual thinking part of how you—?
Jordan Gutterman, MD:
How do you define visual—?
Tacey Ann Rosolowski, PhD:
Well—I mean—do you—can you see systems in your mind—?
Jordan Gutterman, MD:
Oh yeah. Oh yeah.
Tacey Ann Rosolowski, PhD:
Okay.
Jordan Gutterman, MD:
Connections. Connections.
Tacey Ann Rosolowski, PhD:
Yeah
Jordan Gutterman, MD:
Yeah, people have remarked about that. That is a big thing. People say, "How do you remember that?" I can just see the connections whether it's an idea in medicine or science and signaling and circuits or people and relationships. Oh yeah, I'm clearly a network. In fact, I am in the right named department—Systems Biology—Systems Thinking—because everything is interconnected. We're all interconnected. So many people—it just drives me crazy—are so—I forget the word in there, but unidimensional. They just—it's an I/it type of relationship even with ideas, you know? They don't see the connection. But you got to be careful because holistic thinking—you still got to do, kind of, focus reductionist thinking, but I think you can do both. It's a paradox. You can have—you can reconcile the two—very focused specific but also interconnected.
Tacey Ann Rosolowski, PhD:
Just to connect that dot, do you see those systems? Are they colored? Do you see them in color?
Jordan Gutterman, MD:
I don't think I see them in color. I see color, but not in that.
Tacey Ann Rosolowski, PhD:
Not in that?
Jordan Gutterman, MD:
No, I don't. That's a good question.
Tacey Ann Rosolowski, PhD:
I was just curious.
Jordan Gutterman, MD:
But, believe me, probably in one of the interviews I'll say, "You know, when you asked me this, and I was thinking about this." So we'll come back to that.
Tacey Ann Rosolowski, PhD:
Good. I'm a systems thinker. I see systems in color, so that's why I was curious.
Jordan Gutterman, MD:
I loved your interview about desserts and the whole central nature of desserts.
Tacey Ann Rosolowski, PhD:
Yeah. It's a fun thing. There was an interesting article in the New York Times yesterday in the dining section about physicians teaching cooking, which is very cool.
Jordan Gutterman, MD:
You know what? I'm an extremely busy—and I hate this when this happens, but by the end of the week I'm all piled up. In fact, I was upset today because my Times didn't come. And I do enjoy the Wall Street Journal equally. I also like the political balance there. But there was a restaurant in New York—because I'm going to New York a couple times soon—the Japanese restaurant which got three stars now in the Village. I read that one about the sushi, but I still have it. I have to go back and read it. So there's—oh—okay.
Tacey Ann Rosolowski, PhD:
Yeah, I'll send you the thing if you would like.
Jordan Gutterman, MD:
Okay. Yeah.
Tacey Ann Rosolowski, PhD:
It's a cool essay. Well, I wanted to start with the—
Jordan Gutterman, MD:
It was a long answer to where you were born, but—I mean—that's—
Recommended Citation
Gutterman, Jordan U. MD and Rosolowski, Tacey A. PhD, "Chapter 02: Mary Lasker: Personal and Financial Support for Research" (2012). Interview Chapters. 220.
https://openworks.mdanderson.org/mchv_interviewchapters/220
Conditions Governing Access
Open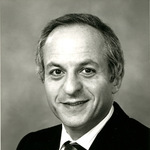 COinS