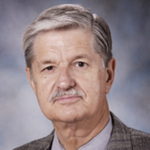 Title
Chapter 09: Fellowships and More Creative Research
Description
In this chapter, Dr. Arlinghaus describes the research he conducted under the mentorship of Dr. Richard Schweet while he was on fellowship at the University of Kentucky College of Medicine, Lexington, Kentucky (1962-1963 and 1964 - 1965).
Dr. Arlinghaus describes how he came to work on the mechanisms of peptide bond formation in ribosomes in hemoglobin.He describes the theory of this process at the time "that long chains of proteins were assembled.
Dr. Arlinghaus's research revealed a different and more complex, two-stop mechanism involving ribosomes, messenger RNA and translocation processes.
Dr. Arlinghaus notes that this ribosome mechanism is now in textbooks and, at the time, it won him national recognition.He recalls giving a talk in Atlantic City, noting that he wasn't nervous, but confident because "I knew what no one in this room knew and I was going to tell them about it." Dr. Arlinghaus states that he had knowledge and creativity and he reflects on where his abilities and research success came from: keeping up with the latest technique, luck, being "simple minded," open minded, and aware that thing might be different than reported in textbooks.
Identifier
ArlinghausR_02_20140402_C09
Publication Date
4-2-2014
Publisher
The Making Cancer History® Voices Oral History Collection, The University of Texas MD Anderson Cancer Center
Topics Covered
The Interview Subject's Story - Professional Path; Influences from People and Life Experiences; The Researcher; Evolution of Career; Portraits; Character, Values, Beliefs, Talents; Discovery, Creativity and Innovation; Professional Practice; Definitions, Explanations, Translations; Understanding Cancer, the History of Science, Cancer Research; The Professional at Work
Creative Commons License


This work is licensed under a Creative Commons Attribution-Noncommercial-No Derivative Works 3.0 License.
Disciplines
History of Science, Technology, and Medicine | Oncology | Oral History
Transcript
Tacey Ann Rosolowski, PhD:
So what was your next move?
Ralph B. Arlinghaus, PhD:
Well, with the help of somebody who wanted me in his lab as a Post Doc after my Ph.D. I can't remember his name and I should because he helped me a lot. I don't know why he took an interest in me. So he got me uh connected with several very competent high-level researchers and I wrote letters, sent them my CV, sent them a brief copy of my thesis so I could argue, you know, here I did something that was unique and real. And so that --- so there was a --- you know, again growing up in northern Kentucky there was a very well-known biological chemist named Richard Schweet. He had moved from northern California a couple years earlier, I didn't know that, but he was looking to hire postdoctoral fellows.
Tacey Ann Rosolowski, PhD:
And you said Richard Schweet?
Ralph B. Arlinghaus, PhD:
Schweet. S-c-h-w-e-e-t. Schweet.
Tacey Ann Rosolowski, PhD:
Gotcha
Ralph B. Arlinghaus, PhD:
And Schweet --- I interviewed with Dick Schweet in Lexington. I was in Newport, Cincinnati. Lexington is about 80 miles. I made that trip down there. I got married in 1957, married Barbara, my wife and so she agreed. She said let --- let's go to Lexington. So anyway we had two children while I was in graduate school so we --- Barbara and the two kids and I, we moved to Lexington in 1961 of September or October. I don't remember. And then I worked in Schweet's lab for four years. Got a Fellowship from the America --- National Cancer Institute to support my salary for two years while I was Post Doctoral Trainee for Dick Schweet and then got a Fellowship from the American Cancer Society. Again, these are competitive awards that you had to write up a project and so I got --- I got these two awards that paid my salary. So Schweet didn't have to pay me, so he was very happy with me. He could have labor that --- researcher that didn't take any of his money.
Tacey Ann Rosolowski, PhD:
So what was the project that --- what were the projects you were working on that got you NCI money?
Ralph B. Arlinghaus, PhD:
The --- The --- The money I got at Schweet's lab that I got a Fellowship was --- Dick Schweet was a guy that worked for a fellow named Henry Borsick and Henry Borsick was a guy at Cal-Tech that studied hemoglobin synthesis in red cells. As you may or may not know, your red cells and my red cells when you take them out or rabbits or mice or whatever the red cells produced predominantly one protein. That's hemoglobin. So Dick Schweet was studying how hemoglobin was made not in whole cells, not in rabbit reticulocytes but in what he called "cell free systems" that made protein on ribosome. And eh --- he was trying to study the mechanism of peptide bond formation on ribosomes which nobody at the time knew but which I figured out. It was believed at the time, remember protein-like hemoglobins got two, an alpha chain and a beta chain. The two alpha chains and two beta chains come together to form hemoglobin and hemoglobin in your red blood cells exchanges oxygen. When you breathe in, hemoglobin binds oxygen and releases CO2.
Tacey Ann Rosolowski, PhD:
As I recall, it's a very sort of convoluted --- that the chains are very convoluted to create that little pocket in the center that binds the oxygen.
Ralph B. Arlinghaus, PhD:
Oxygen or CO2. So --- So he --- So Dick Schweet was interested because that --- at that time it was thought that --- See ribosomes relatively speaking are big structures and protein chains are small things being produced on this big structure so it was widely believed at that time, we're talking --- when did I publish that paper? 1964. In 1962 it was widely believed that the ribosome, which bound messenger RNA, assembled the amino acids along the ribosome in long stretches which are --- then the amino acids were linked together to form large segments of in this case the globin chain. And finally the complete 120 amino acids of globin were made on the ribosome and released. That's what --- That's what the current dogma believed with very little evidence. So what I found is that it was really quite different from that. It was --- Now I have to explain. Amino acids bind to ribosomes not as amino acids but as aminoacyl-tRNA. You've heard of transfer RNAs?
Tacey Ann Rosolowski, PhD:
Mmmhhmm.
Ralph B. Arlinghaus, PhD:
Transfer RNAs transfer the amino acid from the milieu to the ribosome where they bind the messenger RNA and so it turns out what we found with the help of a guy named Joe Schafter and with the help of Dick Schweet, he played some role in this, that there's essentially a three step model. The ribosome bound two aminoacyl-tRNAs, amino acid 1 and amino acid 2. They got linked. Amino acid 2 linked to amino acid 1 and now it was part of the zone transfer RNA 2. Then transfer RNA 2 moved to a site to allow another transfer RNA to come in for the third amino acid.
Tacey Ann Rosolowski, PhD:
So a very complicated process.
Ralph B. Arlinghaus, PhD:
And then they link to form a trimer and then that --- that trimer has a --- has a transfer RNA, three amino acids on transfer RNA move to a site and then found another transfer RNA with a fourth amino acid which then linked to form a tetramer, four amino acids on the transfer RNA that was incoming. And then --- Then --- So there was a --- there was a binding step and a --- a step where the transfer RNA translocated to a --- what's called the acceptor site. This is in textbooks. And it came from the work I did in the Schweet's lab. So I worked out how peptide bonds are formed on ribosomes as a graduate --- as a Post Doctoral Fellow. So I became from, let's call it pretty well-known at The University of Cincinnati for new amino acids in collagen, definitely at the medical school, to somebody nationwide that was known for understanding how proteins were made on ribosomes by this two --- two step model. Bind to transfer RNAs, amino acid links to form a dimer peptide then a shift of the dimer peptide transfer RNA allowing the third transfer RNA to come. That was validated by others and I became famous. Famous in the world of biochemistry, you know, for a little while. Perhaps famous is too strong a word. What's the --- Well-known as a Post Doctoral Fellow. I gave a talk at Atlantic City after I submitted an abstract on this. I'll never forget. It was in this big auditorium in Atlantic City and that's where a lot of the what we call ______ ) meetings used to be held and I had to get --- stand up on the stage and give a talk. But I wasn't --- I wasn't afraid and I wasn't even nervous. I was confident because I knew what no one else in that room knew. How these proteins were made on ribosomes and I was going to tell them about it and I felt very confident.
Tacey Ann Rosolowski, PhD:
Wow. What a great feeling.
Ralph B. Arlinghaus, PhD:
Well I wasn't nervous. I wasn't shy although I was a very quiet young man growing up and didn't blow my own horn so to speak. So I --- I had a little bit of fame. Let's call it a little bit of fame. And uh . . .
Tacey Ann Rosolowski, PhD:
That's great. A very gratifying feeling to have an impact on a field like that and really make a contribution.
Ralph B. Arlinghaus, PhD:
It was. And I realized that --- like I realized when I got the 95s on an exam that everybody else or most everybody else flunked, I knew that I was I don't know what's the word? I had ability. I had knowledge. I had creativity. I knew that. And that showed up again in the mechanism of peptide bond formation on ribosomes. That was the title of my paper published in Poseidon's National Academy of Science with Dick Schweet and Joe Schafer.
Tacey Ann Rosolowski, PhD:
Where do you think that creativity comes from? You know like …
Ralph B. Arlinghaus, PhD:
That's a very good question. I don't know if I can give you a good answer except I was always at the forefront of the literature in the area that I was working on. So I was very knowledgeable about the latest techniques and I had some luck. Sometimes it's luck when you make a discovery. So --- But I was simple minded in many ways. I --- I did things in a straightforward manner that gave me surprises, but part of the luck and those surprises I believed them and it allowed me to take it further and understand things that no one else could understand because they didn't use the methods that I used.
Tacey Ann Rosolowski, PhD:
Well I was struck that there have been a few times in our conversation, you know, this time and our last session too where you said this was the dogma, you know. and it seemed like you went in and you weren't blinded by the dogma. You looked for something else.
Ralph B. Arlinghaus, PhD:
I wasn't. Not that I didn't believe it but I was always open minded. I had a guy that taught me biochemistry in the College of Pharmacy. His name was Gill Schmidt and he taught me that. To always be aware of things may be a little different than you learn in the textbook and he was right. And so I took advantage of that and was lucky enough to make discoveries that I was able to publish and so …
Recommended Citation
Arlinghaus, Ralph B. PhD and Rosolowski, Tacey A. PhD, "Chapter 09: Fellowships and More Creative Research" (2014). Interview Chapters. 293.
https://openworks.mdanderson.org/mchv_interviewchapters/293
Conditions Governing Access
Open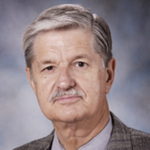 COinS