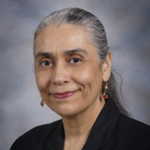 Title
Chapter 28: Women and Leadership at MD Anderson
Description
Dr. Rodriguez provides her views of women and leadership at MD Anderson. She cites statistics in support of her view that "the workforce in medicine is about women." She stresses that women have to know systems in order to succeed in leadership positions. She offers her view of coming up through the ranks when there were many fewer women and notes that MD Anderson does not have clear processes for filling leadership positions or establishing a pipeline of leaders. She talks about her own strategy for cultivating leadership.
Identifier
RodriguezA_04_20150605_C28
Publication Date
6-5-2015
Publisher
The Making Cancer History® Voices Oral History Collection, The University of Texas MD Anderson Cancer Center
Interview Session
Topics Covered
Diversity Issues; The Leader; The Mentor; Leadership Mentoring Experiences Related to Gender, Race, Ethnicity; Critical Perspectives on MD Anderson; Gender, Race, Ethnicity, Religion; Experiences Related to Gender, Race, Ethnicity; Women and Minorities at Work; MD Anderson History; MD Anderson Culture
Creative Commons License


This work is licensed under a Creative Commons Attribution-Noncommercial-No Derivative Works 3.0 License.
Disciplines
History of Science, Technology, and Medicine | Oncology | Oral History
Transcript
Tacey A. Rosolowski, PhD:
Yeah. You want to shift gears right now?
Alma Rodriguez, MD:
Yes, I'm—(laughter) I think I've said all I can about—
Tacey A. Rosolowski, PhD:
You've said—
Alma Rodriguez, MD:
—the future of medicine!
Tacey A. Rosolowski, PhD:
Yeah, you've said a lot. No, I mean, it's very interesting, because I appreciate your style of responding to questions, because you like to set things in a broader context, and that's very useful. That will be incredibly useful for people who are listening to this. And it provides another layer of understanding of the Institution and how it's responding not merely to an internal set of pressures, but you know is also in a much broader field of change. Yeah. I wanted to ask you about track for women at the institution. You've seen a lot of change in that area too, that's something we really haven't discussed.
Alma Rodriguez, MD:
Well, I think that we are in a positive direction. And again, frankly, I don't think that the institution can go in any other direction than in a positive one in this regard, simply because the workforce of medicine in the future is about women, even today. Today, at least there's parity in the number of newcomers to the medical school classes, in fact, in some medical schools there's even a predominance of female students over male students. I predict that that will be sustained, simply because as more medical schools are also integrating behavioral characteristics, not just intellectual or rational intellect as their selection criteria for classes, but also, they're now doing the interviewing for interpersonal skills, I think that it'll be a natural selection process, I think, that women will continue to be a major presence in medical education. So the pipeline for new people coming into medicine is female. We will be seeing more female physicians come to the organization as well, I hope. And that, in turn, will also give us a bigger pool of potential candidates for leadership. The truth is that beside—you know, there's the old ongoing conversation or arguments, are leaders born or made? The truth is, it's both. I think you have to have certain interpersonal skills; it's certain personality traits that direct people towards—or incline people towards leadership roles, but at the same time you also need to learn certain skills. You're not just a leader because you feel like you're one. You have to have—you have to learn certain things. And I think in the brave new world of medicine in the future, all of those skills that I mentioned, you know, knowing about information systems and infrastructure, knowing about best evidence, knowing about what others are doing, what the best practices are across various levels of the organizations in healthcare, and also understanding resource management—all of those are going to be really critical for leadership. You cannot just make good speeches. You have to know systems in order to manage well, to lead well.
Tacey A. Rosolowski, PhD:
I was really, you know, interested that—as you were describing the sequence and roles that you took on, you know, you spontaneously talked about the leadership training that each one of those roles gave you.
Alma Rodriguez, MD:
Right.
Tacey A. Rosolowski, PhD:
So it was an interesting, you know, kind of second theme, you know, running through those parts of our conversation. And I was curious, you know, really how you felt your own leadership track has evolved. You know, what is smooth? I mean, did you encounter obstacles? Did you see other—your peers among women encountering obstacles at the Institution? In other words, what was the environment as you were coming up for kind of free growth into leadership, as a woman?
Alma Rodriguez, MD:
Oh gosh, well, I don't think it existed. I—well, first of all, there weren't very many of us in the organization. So I have to say there's both good and bad aspects of that. You know, if there aren't enough of us, then the opportunities might be fewer. On the other hand, because there are fewer of us, we stand out more. And I think that depending on how much one is willing to put a foot forward, one can create opportunities in that kind of environment, where one is visible to some degree. I think that happened to me. I just simply—I was willing to do some of the tasks that other people were not willing to take on. And thankfully, I happened to have some aptitude for carrying them out well. And so I think that that's—I mean, to some degree, I think that that was how things happened for me. I don't think anyone consciously was thinking, let's create a career path for person X, Y or Z. Truly, I don't think that ever has been in the consciousness of the organization, even today. I think that although we have a lot of leadership training courses and so on, we're still struggling with, how do we select people appropriately for leadership roles? How do we encourage succession planning? How do we strategically think of that? I mean, you asked me previously about the organizational leadership on the larger scale. So, for example, it was no secret that Dr. Mendelsohn had on-boarded Dr. [Raymond] DuBois, because he wanted to have a succession plan in place when he stepped down. And he had envisioned all along Dr. DuBois, I think, was going to be his successor, or at least that's what we understood. But that did not happen. And so even in the best-laid plans, the succession planning, we have not been successful at carrying that out. I can tell you that I don't think that Dr. [Thomas] Buchholz was in any one succession plan to be our Executive Vice President for Operations. But he sort of was appointed to that. So the rules of how leadership is designed, if you will, or preemptively planned at this organization are not clear.
Tacey A. Rosolowski, PhD:
And then there's the question of how women fit into it when there's an absence of women here at the highest levels of leadership.
Alma Rodriguez, MD:
Correct. Correct. My own personal strategy for this is to encourage as many of the women who I see express an interest, or a potential, for leadership. I encourage them to take on tasks that may be a little bit of a stretch for them. As much as possible I champion them or sponsor them, recommend them. But in the end, really it is an individual choice. People have to be willing to take things on and carry them forward. And then supplement their own innate skills of leadership with additional knowledge.
Tacey A. Rosolowski, PhD:
Were you involved in [Office of] Women Faculty Programs at all? Or in the original committee of women that began to review salaries, for example, in recruitment strategies?
Alma Rodriguez, MD:
I'm not sure when—I mean, I've always had some link or connection to the Women's Academic Affairs office. I've participated on and off in various committees, but did I consciously want to do the salary review initiative? No. It was not my initiative. I mean, that came from Liz [Elizabeth Travis, PhD]—
Tacey A. Rosolowski, PhD:
Liz Travis? Yeah. OK, I was just curious, because, I mean I don't have perfect memory of the names of everyone who was—
Alma Rodriguez, MD:
Yes. But actually, the whole initiative stemmed from the faculty senate, they wanted to know if their salaries were fair. It turns out women's salaries were not fair, and so I was the beneficiary of that. (laughter) And I'm deeply grateful to the faculty senate for their interest in that topic way back when.
Tacey A. Rosolowski, PhD:
Yeah, absolutely. Absolutely. Is there anything else that you wanted to say about this issue of women at the institution? Or, anything else at this point?
Alma Rodriguez, MD:
Well, I think that the women at this Institution are amazing, simply because I see them juggling so many roles. Most of them are mothers, wives, Physicians, researchers, leaders. They have so many hats. I just, I'm in awe of them, really. I don't wear half as many as they do. And I think that they're admirable in how well they perform at so many tasks. I, you know, from the perspective of—if you ask me do I think that MD Anderson has the talent to embrace the future? Yes, I do. I'm hopeful, however, that that talent will be appropriately harnessed.
Recommended Citation
Rodriguez, Alma MD and Rosolowski, Tacey A. PhD, "Chapter 28: Women and Leadership at MD Anderson" (2015). Interview Chapters. 359.
https://openworks.mdanderson.org/mchv_interviewchapters/359
Conditions Governing Access
Open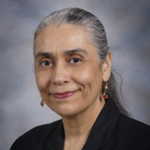 COinS