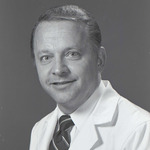 Title
Chapter 01: Inspired to Practice Medicine and Lured to MD Anderson with an Electron Microscope
Description
At the chapter, the interviewer and interview subject discuss a milestone for the School of Health Profession.
Next, Dr. Ahearn outlines his professional path leading from the small-town environment of Jackson, Texas, to the University of Texas, Austin, where an inspiring professor and mentor at who guided him toward graduate work in cytology. Dr. Ahearn received his B.A. in Zoology in 1958, his M.A. in Zoology and Biochemistry. His Ph.D. in Cytology was conferred in 1965. Specializing in ultrastructural pathology, Dr. Ahearn was brought to MD Anderson by Dr. Russell, Chair of the Department of Clinical Pathology, to serve as Director of the Diagnostic Ultrastructure Hematology Laboratory and work with the newly acquired electron microscope.
Identifier
Ahearn,MJ_01_20110802_S01
Publication Date
8-2-2011
Publisher
The Making Cancer History® Voices Oral History Collection, The University of Texas MD Anderson Cancer Center
Topics Covered
The Interview Subject's Story - Professional Path; Discovery and Success; Personal Background; Inspirations to Practice Science/Medicine; Influences from People and Life Experiences; Professional Path
Creative Commons License


This work is licensed under a Creative Commons Attribution-Noncommercial-No Derivative Works 3.0 License.
Disciplines
History of Science, Technology, and Medicine | Oncology | Oral History
Transcript
Tacey Ann Rosolowski, PhD
Thank you, Dr. Ahearn, for devoting your time to this interview and to this project, and I also wanted to say congratulations, because as I understand it on June 30th you received an important award, the President's Award for Excellence.
Michael Ahearn, Phd
Yes.
Tacey Ann Rosolowski, PhD
Which is very exciting, and I hope we'll have an opportunity to talk about that later. And I think another kind of congratulations is in order, as well -- we alluded to this briefly off record -- because in 2001 the first degrees in the School of Health Professions were awarded, and I believe there were 13 given?
Michael Ahearn, PhD
Yes.
Tacey Ann Rosolowski, PhD
And it's a decade later, and as I came in I saw boxes of caps and gowns, and it seems like there are more than 13 degrees being awarded. How many are being awarded?
Michael Ahearn, PhD
This year it's 123.
Tacey Ann Rosolowski, PhD
A hundred and twenty-three.
Michael Ahearn, PhD
On August the 12th.
Tacey Ann Rosolowski, PhD
So that's exciting evolution over the course of a decade of degree granting. We will, I hope, be touching on both of those subjects and many others, but I'd like to begin, if I may, with some personal information just for the record and background. Can you tell me where you were born and when?
Michael Ahearn, PhD
I was born in Jacksonville, Texas, a little town in East Texas in 1936.
Tacey Ann Rosolowski, PhD
And did you grow up in that area?
MICHAEL AHEARN, PHD
Yes. I spent my entire formative years in Jacksonville, through secondary school, and then went to the University of Texas in Austin.
Tacey Ann Rosolowski, PhD
In Austin. And were you always focused on the sciences? And were there other people in your family involved in the sciences?
Michael Ahearn, PhD
I had an uncle that was a physician, and my mother was a nurse technologist, X-ray technician. In those days, in small towns one did a little bit of everything, and so I did grow up around a clinical environment, and when I went to the University was primarily thinking about pre-medicine at that time. And met up with a professor, Dr. Theophilus Shickel Painter, who had just retired from the Presidency of the University of Texas and had come back to the Zoology Department, and I took a course under him my first semester there, which was Cytology 320, and he was the most wonderful mentor. It was like the pied piper, because he had a class that had about 300 students, and it was across the street in the old biology building on the UT campus, and his office was in the Experimental Science Building, and when he would leave the lecture hall about 20-30 students would follow him all the way back to his office just to get some little snippet of conversation. He had the most engaging lectures I have ever heard in my life, and it just turned me on. And he was the person that advised me to pursue a PhD rather than an MD degree, and that was a very influential person in my academic life.
Tacey Ann Rosolowski, PhD
Was he also influential in terms of your commitment to education and the quality of education?
Michael Ahearn, PhD
I think that I wanted to try to be an educator like he was. He had a God-given talent, being able to make lectures the most interesting I had ever heard from anyone, and that was... He always said, you know, you needed to provide something for the pipeline -- that was his term -- new people engaged in science.
Tacey Ann Rosolowski, PhD
Interesting. So that's very much on a continuum with the role you're now serving as --
Michael Ahearn, PhD
Yes.
Tacey Ann Rosolowski, PhD
-- the dean of the School of Health Professions. Let's focus a little more on that earlier part of your career. So you graduated with your BA in zoology in 1958 --
Michael Ahearn, PhD
Yes.
Tacey Ann Rosolowski, PhD
-- and then an MA in zoology and biochemistry in '61 --
Michael Ahearn, PhD
Yes.
Tacey Ann Rosolowski, PhD
-- still at the University of Texas, Austin. Then you stayed at the same institution for your PhD in cytology in 1965, is that correct?
Michael Ahearn, PhD
That's correct.
Tacey Ann Rosolowski, PhD
You know, as I was looking at your background, I was just -- you're Texas born and bred, and I'm wondering if that has had any influence on your commitment here at MD Anderson as a Texas institution. Is that anything?
Michael Ahearn, PhD
Well, yes. When I left the University, the last -- and I must say that Dr. Painter, who served as my supervising professor for my Masters and the beginning of my Doctorate, but he was getting ready to retire, and he had a former student of his that had gone to Sloan-Kettering in New York, and it was Dr. John Beaslie, and Dr. Beaslie was brought back to the University to assume Dr. Painter's role in the Zoology Department. And so I finished my degree with Dr. Beaslie as the supervising professor, transferring from Dr. Painter, and Dr. Beaslie had certain connections at Sloan-Kettering, and I was prepared to go there and work with one of Dr. Beaslie's former associates, and Dr. [Etienne?]
D'Harving, and the... My specialty had been electron microscopy, and Dr. D'Harving was an electron microscopist at Sloan-Kettering, but MD Anderson had acquired in the Department of Pathology, or Clinical Pathology at that time, an electron microscope from a grant, and Dr. Russell, who was the Chairman of Pathology, was looking for someone, as he said, that knew how to turn it on. And when they were installing it in Anderson, the team from Germany -- it was a Siemens electron microscope -- said that they had just installed one a couple of years earlier in Austin, and that I was the person that was running the electron microscope there. So Dr. Russell contacted me and asked me if I would come to Houston for an interview, because he needed to have someone who knew how to turn it on. I really had already accepted the offer between, for Dr. D'Harving, and started not to come, but Dr. Beaslie, having lived in New York, said, "You know, maybe you ought to go and talk with them down there, because," he said, "you don't have the proper wardrobe for New York. You don't even own an overcoat." And he said, "You would have to buy much heavier clothing." And he said, "For the amount of money that you're going to get at Sloan-Kettering you're going to live in a three-story walk-up with one window that looks out at an air shaft at the back." So he said, "Go down and see what they say at MD Anderson." And he said, "Besides, they've got an exciting leader down there, and I think they're going to go places." So I came to MD Anderson and, you know, soon found it to be a place that offered a lot of opportunity.
Tacey Ann Rosolowski, PhD
Well, I want to talk about that environment when you arrived, but I just wanted to ask: did you have a particular commitment to cancer research before you came to MD Anderson?
Michael Ahearn, PhD
Yes. My Master and my PhD degrees had been directed towards cancer related projects.
Tacey Ann Rosolowski, PhD
And was there any personal motivation for that particular focus?
Michael Ahearn, PhD
I think it was the influence of Dr. Beasley, having been at Sloan-Kettering, a number of problems that they had encountered there, and some preliminary work that he had done, and it was in the field, and so all of his graduate students at the time were working on cancer related projects.
Recommended Citation
Ahearn, Michael J. PhD and Rosolowski, Tacey A. PhD, "Chapter 01: Inspired to Practice Medicine and Lured to MD Anderson with an Electron Microscope" (2011). Interview Chapters. 40.
https://openworks.mdanderson.org/mchv_interviewchapters/40
Conditions Governing Access
Open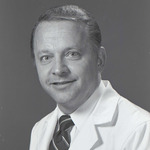 COinS