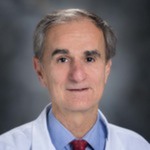 Title
Chapter 06: Establishing Palliative Care at MD Anderson: First Challenges
Description
In this chapter, Dr. Bruera sketches what services existed at MD Anderson when he arrived in 1999. He notes that his mandate from Dr. John Mendelsohn [oral history interview] and Andrew von Eschenbach was to recreate what he had accomplished at Cross Cancer Institute on a "huge scale," including a research component as well as a clinical service. He explains that his own personal goal was to establish an intensive inpatient unit for care of suffering as well as an outpatient clinic for supportive care, a combination that was virtually non-existent in the United States at that time.
Next, Dr. Bruera discusses how some of his expectations for beginning this new enterprise were immediately compromised because of Andrew von Eschenbach left the institution and there were other leadership changes that eliminated the sources of administrative support he had expected.
Identifier
BrueraE_01_20180806_C06
Publication Date
8-6-2018
Publisher
The Making Cancer History® Voices Oral History Collection, The University of Texas MD Anderson Cancer Center
Topics Covered
The University of Texas MD Anderson Cancer Center - Building the Institution; Overview; Institutional Politics; MD Anderson Culture; Leadership; On Leadership; Professional Practice; The Professional at Work; MD Anderson Culture; Working Environment; The Researcher
Transcript
Tacey A. Rosolowsi, PhD:
So tell me about when you arrived here in 1999. I mean you said palliative care basically didn't exist. Was there anything related that was in place at all, that you could build on?
Eduardo Bruera, MD:
There was a pain clinic, there were some pain doctors, and there was a process of organizing them into—some of them wanted to do palliative care and stay with us, and some of them did not. They wanted to do pain, only do pain. Another time, pain and anesthesiology was doing a lot of the cancer pain. Now they're doing more procedures and things like that and we are doing the cancer pain at MD Anderson, but at that time they were doing more of the pain procedures and so on. It was almost nothing else in terms of medical care of these very advanced cancer patients. So I found that refreshing, I have to say, because that gave me the opportunity to try to start a process of creating a department.
Tacey A. Rosolowsi, PhD:
Now let me ask you kind of two related questions. The first is, what was your official mandate from the institution, what did the leadership want you to do? And then the second question is what did you want to do? [both laugh]
Eduardo Bruera, MD:
That was a hidden agenda there.
Tacey A. Rosolowsi, PhD:
Well, you know, what personal goals or vision, whatever that might be.
Eduardo Bruera, MD:
The initial agenda from when I was interviewed by Andy von Eschenbach and John Mendelsohn at that time was bring this new area called palliative care, do a little bit of what you've done in Edmonton. Of course of a dimension that is about ten times larger than what you've been doing there, to MD Anderson. And build both a clinical and an academic program, a research program, an education program. So making sure that you're not just seeing patients well, but you are contributing to the body of knowledge. So that's what their agenda was. My personal agenda was to really bring, from the clinical perspective, two things that I strongly believe in: the Palliative Care Unit as a unit, the Intensive Unit for the care of suffering, and the Outpatient Center that we used to call the Pain and Symptom Clinic in Canada but now became the Supportive Care Center. Actually, we changed the name from Palliative Care to Supportive Care Center here at Anderson. Now it has become the name that is used in most of the centers in the world, because palliative care was a little bit too close to hospice and end of life, so we thought if we changed the name into supportive care, people are not going to be so worried about sending us patients. We did a study with a couple hundred patients, a couple hundred doctors at MD Anderson, doctors and midlevel providers, and effectively they said, in an anonymous survey, that they were much more likely to send a patient to a center called Supportive Care Center, than a center called palliative care, so we brought that name. But when I arrived, in Edmonton we called it the Pain and Symptom Clinic. The idea was that we should be able to do the outpatient center and the Inpatient Unit. Those were almost nonexistent in the United States at that time, so my goal was to bring those two, and there were some hiccups in the process because about a month before I was to land in Houston, so I had already sold our home and being ready to move, I received a call from John Mendelsohn, saying that Andy von Eschenbach has stepped down as chief academic office and that David Callendar was now going to be the Chief Medical Officer, and Margaret Kripke was going to be the chief academic officer, and that his job had been split in two pieces, done by two different individuals, none of them I had met. Basically, I landed to report in a way that was new. So, part of the challenge of bringing a new and kind of fringe program to bosses that never heard about it was that they really did not really know how that fit into MD Anderson very well, because it really had not been one of their babies.
Tacey A. Rosolowsi, PhD:
Yeah.
Eduardo Bruera, MD:
So that brought an extra challenge for the adoption and it delayed, a little bit, the program. Because my arrival to Houston, in a sense was with a feeling that if the chief academic officer had my back the same as Neil MacDonald had my back initially in Edmonton, things were going to be okay, because there was no doubt that there was going to be great resistance. And I expected that I was going to hear the administration say, we want this and we want that unit, and we want the center and we want research, and because we want this, we got this little guy, Bruera, who is coming to technically do it, but it's as we want. Instead of that, what became more of (inaudible), Bruera wants a unit, Bruera wants an outpatient center, Bruera wants to do research on that. And then people felt that it was very easy to throw a rock at Bruera, because he was nothing. It was very hard to throw a rock at a big boss, because the big boss said, I want this done. It was very hard, because you needed to be boss for other things. So the initial development was complex and more delayed, because I arrived coming from the tundra, with no real understanding of who I was, and wanting all these new things that had not happened before. So it took a longer time to get this kind of graft being accepted by the place.
Tacey A. Rosolowsi, PhD:
Sure. Well, we're almost at three and that sounds like a really good cliffhanger place to leave it.
Eduardo Bruera, MD:
Perfect. [both laugh] Wonderful.
Tacey A. Rosolowsi, PhD:
No, I mean that's an amazing story, it kind of goes back to that initial lesson you learned from Neil MacDonald; how important the administrative structure is, like bang, there it is.
Eduardo Bruera, MD:
Yes. Yes. Years after, I'd been banging my head, saying, I should have listened to him, but as you always do, you know it, but you don't really understand what he's saying.
Tacey A. Rosolowsi, PhD:
Well, I mean how could you have predicted this? You did everything right and then bang, MD Anderson did it smoke and mirrors with organization like it does.
Eduardo Bruera, MD:
As it does, yes, that's right.
Tacey A. Rosolowsi, PhD:
Well, I look forward to our next conversation.
Eduardo Bruera, MD:
Wonderful. Well, thanks so much for coming and spending so much time listening to all this.
Tacey A. Rosolowsi, PhD:
Sure. Oh no, it's lovely.
Eduardo Bruera, MD:
To me it's nice because it's reminiscing on old history that is fun.
Tacey A. Rosolowsi, PhD:
Well, I mean it's really important to get a window into these corners of how things happen, so I thank you for your candor and your information.
Eduardo Bruera, MD:
Wonderful. Well, thanks.
Tacey A. Rosolowsi, PhD:
And I wanted to say for the record, I am turning off the recorder at 3:00 p.m.
Recommended Citation
Bruera, Eduardo MD, FAAHPM and Rosolowski, Tacey A. PhD, "Chapter 06: Establishing Palliative Care at MD Anderson: First Challenges" (2018). Interview Chapters. 501.
https://openworks.mdanderson.org/mchv_interviewchapters/501
Conditions Governing Access
Open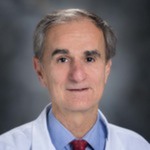 COinS