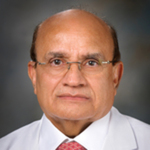 Title
Chapter 11: Endocrine Treatments for Breast Cancer
Description
In this chapter, Dr. Buzdar talks about research that developed in the aftermath of the discovery of Tamoxifen and hormone dependent cancers. He was the principle investigator on a national blinded study of the effectiveness of the aromatase inhibitor, anastrozole, which was eventually approved by the FDA and approved globally based on his work.
Next, Dr. Buzdar talks about the origin of research into the link between hormones and cancer. He notes his collaboration with endocrinologist Dr. Najib Saaman. He explains the impact that advancing technology has had on the study of tissues.
Identifier
BuzdarA_02_20170216_C11
Publication Date
2-16-2017
Publisher
The Making Cancer History® Voices Oral History Collection, The University of Texas MD Anderson Cancer Center
Interview Session
Topics Covered
The Interview Subject's Story - The Researcher; Discovery and Success; MD Anderson History; MD Anderson Snapshot; MD Anderson Culture; Controversy; Research; Understanding Cancer, the History of Science, Cancer Research; The History of Health Care, Patient Care; Technology and R&D
Transcript
Tacey A. Rosolowski, PhD:
+ Now have you covered all of the areas in which there was an impact on the natural history of the disease? Were there other advances?
Aman Buzdar, MD:
The other thing, I don't know if we talked about it or not, is the endocrine treatment. Endocrine treatment, like tamoxifen, was the first treatment which showed that you could reduce the risk of recurrence in patients who have hormone-dependent breast cancer. Subsequently, aromatase inhibitors --which I led the effort at MD Anderson, we evaluated these drugs, first in metastatic breast cancer, then in early stage breast cancer. This was the first time --I think we talked about it the other day, that up to that point, there was hormones of different degrees. Like you removed the ovaries, you gave the patient progestins or you gave them endogens. Their anti-tumor activity are the percent of patients who got benefit and the survival were very similar. For the first time --when these aromatase inhibitor anastrozole, which I was working with one of the pharmaceutical companies, we did a blinded trial, a national trial, blinded national trial in which I was the principal investigator. It showed that you were able to control the disease in a higher number of patients. A couple of years later, we showed that patients who received the newer therapy, they lived longer compared to the patients who were on the previous. So that was another evidence which was in disseminated cancer patients. Subsequently, there was a 9,000-women trial, which I was the North American principal investigator from the U.S. and Canada, where we showed that in 9,000-patient population, the standard was tamoxifen. So either women were given tamoxifen or this new drugs, aromatase inhibitor anastrozole, or a third of the patients were given both pills, but neither the patient or the doctor knew what the patient is receiving. There was a matching placebo, so every patient took two pills. After only 33 months follow-up of this 9,000 patient study, it became very clear that the women who were getting the newer drug, after surgery, had much lower risk of cancer coming back, compared to the patients who were receiving the previous FDA approved drug, tamoxifen.
Tacey A. Rosolowski, PhD:
Wow, amazing.
Aman Buzdar, MD:
FDA approved the drug based on that data, and that pivotal study, which was a global effort, resulted in approval of that drug globally, in all the European countries and some of the Asian countries.
Tacey A. Rosolowski, PhD:
The name of that drug again?
Aman Buzdar, MD:
Anastrozole.
Tacey A. Rosolowski, PhD:
Anastrozole. Wow.
Aman Buzdar, MD:
Subsequently, there was two other drugs, which are now very similar efficacy. One is called letrozole, one is called exemestane. Anastrozole was the first one to show these things.
Tacey A. Rosolowski, PhD:
Now, what was the rationale when, in Breast Medical Oncology, when you're deciding, you know what are the drugs we're going to put together, what are the drugs we're going to try, how did you make those decisions?
Aman Buzdar, MD:
Well, I think drug development is a very complex process, so first you have to understand what is the mechanism of cancer cell growths. Like how the anastrozole, are these drugs hormonal therapies? Because it was almost observed, more than 110 years ago, by a surgeon who was actually a medical student working in the farms, that at that time in the sheep in the UK, they used to remove the ovaries, [and] after they will continue to lactate for a long period of time. He became a surgeon and when looking at the lactating breast and the beast cancer, they looked to some degree similar. The cells are growing, there's dying, and then it becomes milk. This is looking under a crude microscope. So he was intrigued. He wrote a paper in Lancet more than 110 years ago, he says --at that point-- the whole concept was that there are infectious agents which cause disease and kill the patient. But at that point there was no concept of endocrine agents or the hormones. He wrote, in that paper, testes in the male and the ovaries in the female, send signals which are very potent, and we don't understand how they work. He was convinced, after seeing that in the farm, that --when he became a surgeon-- that women, a handful of women who had disseminated breast cancer, that undergo ovarian ablation, remove the ovaries and when the ovaries were removed, some of the patients, the cancer dramatically improved.
Tacey A. Rosolowski, PhD:
So there was the parallel.
Aman Buzdar, MD:
This is how, I mean there is pre-clinical data, then you want to do clinical studies.
Tacey A. Rosolowski, PhD:
That was 110 years, with 60 years before you began exploring this, so pharmaceutical companies were picking up and sort of exploring hormones at that time?
Aman Buzdar, MD:
Exploring, they were exploring, because it was explored, unfortunately, the ovarian ablation which we just talked about it. In metastatic disease it was thought that it works. But then, because we were unable to identify why certain patients respond and why a lot of patients don't respond, it became then looking at these cancer cells. We were able to identify that these tumors which respond, they are hormone-dependent. They have receptors, and these cells require estrogens for growth, so depriving the estrogen will cause regression. Otherwise, that observation, which was observed by a surgeon --his name was Beatson, more than 100-plus years ago-- almost became not a major finding, until it became clear that you could identify who are the women who will benefit from these hormonal changes. We have to have a hormone-dependent tumor. That's how these subsequently --estrogens, progestins, androgens, and a whole bunch of the drugs and aromatase inhibitors came [about]. [And] why aromatase inhibitors are better than the tamoxifen. Because aromatase, if you look at it postmenopausal women, they produce estrogen still, in the muscle, in the fat tissue, and even some of the cancer cells, stromal, the cells which are around there, able to produce estrogen. So these aromatase inhibitors selectively block that pathway of estrogen production. So in a postmenopausal woman, you measure the estrogen --it may be ten to fifteen, or twenty pica moles-- when you give this one pill per week, the estrogen level drops to less than detectable level, less than two to three pica moles.
Tacey A. Rosolowski, PhD:
Now did you have basic scientists that you worked with as well?
Aman Buzdar, MD:
Yes, because a lot of -- not specifically me, but we have basic scientists in the industry and within our own institutions-- that a lot of this is data developed pre-clinically. Then you do animal experiments, then you have to do the phase one clinical studies.
Tacey A. Rosolowski, PhD:
There's all the machinery and translational research, yeah. I was curious if there were specific basic scientists within the institution that you worked with, collaborated with.
Aman Buzdar, MD:
Yes, there was one person, who actually, he is deceased, Dr. Samaan, Nagjib Samaan. He used to run the endocrine. He was the chief of the [Section of] Endocrinology.
Tacey A. Rosolowski, PhD:
And how do you spell his last name?
Aman Buzdar, MD:
I think S-A-M-A-A-N. Najib Samaan.
Tacey A. Rosolowski, PhD:
I'm sorry, he was head of the department of…?
Aman Buzdar, MD:
He was not head of the department. He was the section chief of endocrinology, and we published some of the first papers from MD Anderson, describing those receptors and the patients. Of course, it was done long before by somebody else too, but we showed it on our patients that yes, it is a -- the thing was again, the technology evolves gradually. In the beginning, to measure these cells, breast cancer cells, hormone-dependent or not, you needed a fresh tissue removed from the cancer. Assays have to be either run right away at that point, or it has to be put in minus-70 degrees, frozen, and run the assay when you have the time. If you let the specimen sit at room temperature for a while, these measurements were nothing. There was a lot of controversy for a long time. They would say, Oh, in the -- especially in England, they will say that, Oh, these hormone receptors mean nothing, this is just… But, because the technology was not there until subsequent assays were developed --that it was not dependent-- that you have to immediately either have the assays fresh, or you needed frozen specimens.
Tacey A. Rosolowski, PhD:
What were the assays testing, that they needed the tissues?
Aman Buzdar, MD:
The receptors.
Tacey A. Rosolowski, PhD:
Just the receptors. So the receptors, something happens to the receptors with time.
Aman Buzdar, MD:
Yeah, they degrade very quickly.
Tacey A. Rosolowski, PhD:
They degrade, okay, okay.
Aman Buzdar, MD:
So subsequently, these immunohistochemistry assays were developed, which even could look at-- even the paraffin fixed tissues, that, yes it is positive or no, it is not. Then everybody started to believe. Otherwise, offering these endocrine therapies to unselected patients, you will get a very small noise, not a signal, and people will say that, Oh, these agents don't work.
Tacey A. Rosolowski, PhD:
They don't work.
Aman Buzdar, MD:
But once you identify those patients whose tumor is hormone-dependent, these agents work in 50 to 60 percent of the time.
Tacey A. Rosolowski, PhD:
That's amazing.
Aman Buzdar, MD:
So, Najib Saaman was the one who, working with our surgeons, will collect the specimens at the time of surgery. He kept this data because it was a research thing he was doing. Subsequently, once this knowledge became a little more available, he was able to share that here, in this patient, I had done these assays, and this was hormone-dependent tumor, and we then published our experience. I was with Dr. Saaman.
Tacey A. Rosolowski, PhD:
Wow, that's amazing. Does Breast Medical Oncology have a tumor bank or a tumor registry at all?  
Recommended Citation
Buzdar, Aman U. MD and Rosolowski, Tacey A. PhD, "Chapter 11: Endocrine Treatments for Breast Cancer" (2017). Interview Chapters. 572.
https://openworks.mdanderson.org/mchv_interviewchapters/572
Conditions Governing Access
Open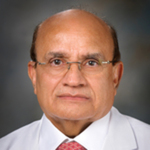 COinS