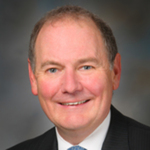 Title
Chapter 04: Coming to MD Anderson
Description
Dr. Buchholz begins by observing that he came to MD Anderson [in 1997] as a seasoned clinician, then explains that he was hired at the institution because he approached Dr. Kian Ang at a conference to ask for advice. He mentioned several people who were important in his early years at the institution, including James Cox, MD [oral history interview], who was instrumental in connecting him with the group involved in breast cancer research.
Identifier
BuchholzT_01_20180110_C04
Publication Date
1-8-2018
Publisher
The Making Cancer History® Voices Oral History Collection, The University of Texas MD Anderson Cancer Center
Topics Covered
The Interview Subject's Story - Professional Path; Professional Path; Joining MD Anderson/Coming to Texas; Research; MD Anderson Culture
Transcript
Thomas Buchholz, MD:
And so I think it was really a truly fantastic four-year prep to come to MD Anderson, because I came to MD Anderson not just day one out of my residency training. I came four years as a seasoned clinical practitioner, someone who's done research completely on their own, created the story and followed it through all the way to publication. So I had a lot of self-confidence to come into this place. And I could see various opportunities within MD Anderson that were unparalleled. I had enough maturity that I wouldn't have been able to see coming here as a graduating resident. And so when I came here, I interviewed, and I was blown away with all the resources here, and all the patients here, and it's such a special place. My preconceived notion when my brother was here doing residency was, oh, those MD Anderson guys are so rigid. And then I came back with a greater appreciation for why that is, and the benefits of that, and how you could learn from that, and how you could treat one way and analyze your data and figure out if something needs to change. Let's change it, and do it in a methodical way, where you're actually learning.
Tacey Ann Rosolowski, PhD:
So were you—was there a job opening? Did someone contact you? How did that opportunity come about?
Thomas Buchholz, MD:
I knew a lot of the faculty here, because of my brother. And a lot of them paid attention to me. It was kind of fun. If I were in Chicago presenting, there'd be some MD Anderson faculty who'd come up to me and say, "Oh, yeah, you're Dan's brother." And Dan stayed on faculty here at MD Anderson for a couple years when I was in the Air Force in San Antonio. And subsequently he went to MD Anderson Orlando, and that's where he still practices now, in Orlando. So we were never in Houston at the same time together as faculty members. So one day, I—MD Anderson had—has a lot of really famous people in our field, right? Some of the true thought leaders in the field, much more so than Seattle. And so one of those thought leaders was a professor named Kian Ang. And Kian really is a role model in many respects. Unfortunately—I don't know if you know Kian's story. He was a truly leading radiation oncologist who, unfortunately, died while on faculty here, just two, three years ago, of cancer, himself. So that was kind of a sad moment for our history. But so I met Kian at a Marriott. I got upgraded somehow to one of those concierge floors, which --when you're in the military you never have such perks-- so that was a complete fluke. So I went in to breakfast, and there Kian Ang was sitting, having breakfast. And I sat down with him, and I asked if he knew of any academic job openings coming, thinking that I could call a chair and say, "Oh, I was having breakfast with Kian Ang and he mentioned you might be..." Networking, right? And he said, "Oh, you should come. You should come to MD Anderson." And I said, Oh, no, not MD Anderson, you know? (laughter) My wife and I had spent four years in Texas, and I was thinking of probably going back to Seattle, or... It was like getting out of college, getting—the whole world was open to us. I thought I knew MD Anderson, and I didn't really have a great appeal to even apply to MD Anderson, but now Kian was insisting that I come visit. And so I said, Well, let me make the best of it. I can't say no. Kian worked in Head and Neck Radiation Oncology, and he wanted me to apply for a job in Head and Neck Radiation Oncology. And I had done some research during that last year in the lab in an area known as apoptosis, which it's kind of a common word now. At that time it was just being described. And the leading researcher in that space with cancer was here at MD Anderson. (laughter) That's a little sad. I'm sorry. Because—
Tacey Ann Rosolowski, PhD:
Yeah. Oh, no.
Thomas Buchholz, MD:
Yeah. Sorry. (laughs)
Tacey Ann Rosolowski, PhD:
No, that's all right. You want me to pause for a second?
Thomas Buchholz, MD:
No, no, I'm good, but I have to give his eulogy on Saturday.
Tacey Ann Rosolowski, PhD:
Oh, oh, yeah.
Thomas Buchholz, MD:
He was a great guy. I hope I do better on Saturday. (laughs) Yeah, Ray Meyn. So he just died a couple weeks ago, and he was faculty here for four years, and a great guy. So when I came here, I asked to meet this Dr. Meyn, who I had never met before, and he was so welcoming, and said, "Oh, yeah, we could do all this great stuff together." And he was fantastic. So I got so jazzed during my interview, and I thought, wow, this is perfect. And I didn't want to work in head and neck cancer, though, and I said to Jim Cox [oral history interview], who was our chair at the time, "Hey, can you get me a job in the breast cancer section." And he said yeah. And so I joined the breast cancer section, which was in need of an academic boost, per se. Kian and the head/neck group, they were presenting papers at every conference. The breast cancer section was really outstanding clinically, but from the radiation side was not as robust as some of the other things.
Recommended Citation
Buchholz, Thomas A. MD and Rosolowski, Tacey A. PhD, "Chapter 04: Coming to MD Anderson" (2018). Interview Chapters. 581.
https://openworks.mdanderson.org/mchv_interviewchapters/581
Conditions Governing Access
Open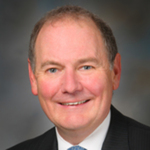 COinS