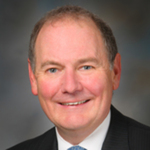 Title
Chapter 06: Chair of Radiation Oncology and Views on Leadership
Description
Dr. Buchholz begins this chapter by noting that it took only ten years for him to become Chair of the Department of Radiology. He explains that he earned the role by being a well-liked and respected leader. Next he discusses how he based his strategy for developing the department on the what he had already accomplished for the residency program.


Next, Dr. Buchholz talks about his views of leadership. CLIP He shares an anecdote about how he interacted with colleagues from Harvard and Yale to defuse competition and form meaningful relationships.
Identifier
BuchholzT_01_20180110_C06
Publication Date
1-8-2018
Publisher
The Making Cancer History® Voices Oral History Collection, The University of Texas MD Anderson Cancer Center
Topics Covered
The University of Texas MD Anderson Cancer Center - Building the Institution; Leadership; Professional Path; Professional Values, Ethics, Purpose
Transcript
Tacey Ann Rosolowski, PhD:
Now, I wanted to kind of look at some of the moments when you were in positions of—where you were talking about people that you'd hired, and people that you'd mentored. And it was in 2007 that you became Department Chair. And I think you were interim before there, or no? No, no, I guess not.
Thomas Buchholz, MD:
No, I wasn't.
Tacey Ann Rosolowski, PhD:
I would've put it down if you had.
Thomas Buchholz, MD:
Yeah, so it probably, I think, in... So I came in 1997, right? As an assistant professor, yeah. And in ten years I became Department Chair. That was amazing in some respects. I'm still mind-boggled. When I walked in here, there was four or five gold medalists, iconic figures, and I'm coming out of the Air Force with seven publications, looking at the thought leaders in the same clinic, and ten years later I'm their boss as their chair. Yeah, it's still kind of a remarkable story. And how did...? It didn't happen because I'd planned it that way. It just...
Tacey Ann Rosolowski, PhD:
So tell me that story. (laughs)
Thomas Buchholz, MD:
How do you even get promoted to professor in ten years? And so it was with, I don't know, a great degree of support. And as I started to get going—again, I hit the ground running here, because I was ready to go. I didn't have... I had the courage, I was going for it, and I formed these collaborations, and things just kind of fell into place. We were publishing a lot, and everybody in the nation noted, wow, what's going on at MD Anderson. We were at every meeting. Everything we're publishing is new. Everything's got to be unique. Everything's coming with very important, referenceable material, and tumor boards, etc. And so I was—my boss appreciated that, and put me up for promotions, etc. And I had great support. I was involved in so many things. I kept saying yes to everything. I was just—I got—and when you say yes and you do a good job, then it creates more opportunities. So I was just involved in everything at MD Anderson, every committee they'd ask me to be on, and I joined the IRB, and had to sit through those three-and-a-half-hour meetings every Wednesday afternoon. (laughter) But then I became the Vice Chair of the IRB, and so I was just really involved in the institution. I remember distinctly going to one meeting and presenting, and feeling like, oh, look at all these important radiation oncologists around, and you could see them whispering and stuff, and then Jim said, "Oh, Tom, you might be getting a call to be a chairman." And I was still an associate professor, and I probably had been here five or six years. And it was like, what? And I did. I got a call from Wash U of all places, right? A really top-knot program. So I excitedly submitted my CV, and never really heard from them. And then eventually they called me, but that didn't really work out. But then I got started—then they started coming in waves, and mostly lesser programs. But for me, I was just like, wow. I could be chair of a department. (laughter) And...
Tacey Ann Rosolowski, PhD:
Were you ever tempted?
Thomas Buchholz, MD:
Well, I got to the point where one summer—I was talking to Jim—I decided to check out two of them, UCLA and Emory. And I went to UCLA, and I clearly thought they were a dysfunctional group, and it just was not my scene, and I knew it immediately, from the cab ride. (laughter) And I went to Emory, and I loved it, kind of. And they had such great resources within the department. They had a lot of money within the department, which—to build. They had a lot of laboratory space within the department. I thought, I could come here. I could recruit. We have all these brilliant people in residency training with the MD/PhDs who have got skillsets, like Wendy, that I don't have, that would be great. I could build a program. I'd be—it'd be really awesome. And, not surprisingly, it was a competitive job to get, and I became one of four finalists, two of whom were already department chairs at other academic programs. And then I became one of the two finalists, and then I became—they offered me the job. And that that time, I went out to coffee with my boss, Jim. And he said, "You're my friend. I'm happy for you. It's a great place. It's got great potential. But it's never going to be MD Anderson." And it's true: to this day, Emory Radiation Oncology, despite eventually finding a really great chair, has nowhere near the size and scope and impact of MD Anderson. So in the end, I just said no, which, by the way, if you ever want to negotiate, saying no (laughter) is the best way, because I think I could've negotiated any salary I wanted, because a lot of the resources in their system were just your own resources, right? So that was the one true time where I almost left MD Anderson. And I think it sent kind of a message to Jim that this might be a time, too, where we should see if there are opportunities for me just to do the division head—by our growth within the faculty, after I got here, was staggering, just staggering how fast MD Anderson grew.
Tacey Ann Rosolowski, PhD:
Well, that was the early John Mendelsohn years, and it was really explosive.
Thomas Buchholz, MD:
Yeah. And so Jim decided to do that. There, of course, was a national search. I was a candidate, and eventually I was selected, which was quite an honor. In some respects, it was a new position at MD Anderson, right? So if you were the chair at Stanford, you would kind of look at this position and say, well, this reports to another radiation oncologist. Jim Cox is kind of the face of radiation oncology at MD Anderson, and if I came as chair, hmm, I'm the face of radiation oncology at Stanford, so why would I give that up to...? It sounds almost like a lesser position. And so I think it was great for me in terms of being a competitively national candidate, because it fit—that was a non-issue for me, because Jim and I had a very synergistic working relationship, and I was confident that I could... I didn't have any remarkably different direction that I wanted to bring from the way our department was already heading. So it was a real natural fit for me, and I was thankful to have been given that opportunity.
Tacey Ann Rosolowski, PhD:
What was the transition like from being a faculty foot soldier, even though a very active one, to being suddenly a leader, in a real major leadership role?
Thomas Buchholz, MD:
Yeah. That's a great question, because there are some—even before that, for me to become the section leader of Breast Radiation Oncology over these more tenured people, that's not without its [low?]... But I think, again, it was much less awkward than you'd anticipate, because I had earned the respect of my colleagues, and I had—I think they saw that I had achieved these things without stepping on people along the way, and that I was—I couldn't help but my enthusiasm just kind of spread, even beyond my boundaries. So I convinced our GYN group to start doing serial biopsies in cervical cancer. I said, "Here's the platform; let's do this," and created other opportunities in that area. And I was involved with our Head and Neck group, and doing fibroblast normal tissue reactions, and getting them involved. And so I was a well-liked leader. And I think when there were candidates for the chairs, I think most of the people in our department really wanted me to become the chair, rather than saying, "Oh, how come Tom's becoming the chair?" And so I had had that relationship with our group that—again, and they were trusting that my agenda was consistent with their own personal agendas, and they were trusting that, hey, this could be a good fit. I don't dismiss that I'm sure that wasn't 100% universal, but it was a remarkably easy transition for that kind of awkwardness type of... Again, because I had some objectivity about—people could look at publications. People could look at who's getting grants. People could look at how many patients I was treating. People could look at your RVUs. People could look and say, oh, yeah, he's active. He's doing a good job. And I had really good relationships with most of my faculty colleagues. We hadn't been through some political drag-out war, so... So then, yeah, Department Chair was really fun, too, because then I got the responsibility of taking that mentorship that I had done with our residency program—and I really had changed our residency program quite a bit to be very educationally focused. And, again, our—Jim was very supportive of residencies, so we wrote a mission statement. We said, "Why are we taking these people into our program? Is it to do these trivial tasks, or do we want them to become the next leaders of our profession? And if that's our goal, then we're going to focus on getting that goal. And it's going to put a burden on all of us to reach that goal." But everybody was onboard, and we had—and that made our program (makes whooshing sound), you know?
Tacey Ann Rosolowski, PhD:
What were some of the—you used the word "burdens." What were some of the new responsibilities that were placed on people in stepping up to that goal?
Thomas Buchholz, MD:
If there's a noon lecture, they're leaving and going to the noon lecture. If we have an opportunity, like we do today, that there's a visiting professor from Sloan Kettering, I'm sorry, you're going to be on your own in clinic, right? Because this is going to be a priority. We're going to teach them how to do biostatistics, and we're going to pull them out to educate. We're going to equip them with the tools that go beyond just having them at your side, making your life better. If you want to do research with them, you're accountable to actually mentoring them, and making sure this is completed, to giving them appropriate credit. We're going to make this the best residency program in the country, where everybody wants to come here, because they could see it. And it has now; it's the number one US News & World Report residency in radiation oncology, so... And it—there's that cultural change, but once the culture's established, once it's in the norm, then there's no longer any politics associated with it.
Tacey Ann Rosolowski, PhD:
Yeah, I was going to note that, I mean, a lot of the things you're talking about sound about—sound like they're about changing culture, to cultural collaboration, mentoring... Yeah, very powerful. And sometimes hard to do.
Thomas Buchholz, MD:
Sometimes hard to do, right. But I think that's... And we were able to do that when I became department chair. My goal was to do the same type of thing on the faculty. And I think Jim really paid a lot of time, attention to the residency program. But I could see that our assistant professors were saying, "Wait, I want to take that course," and "I want to get that training, I want to visit. Why don't you bring in the leading breast cancer radiation oncologist from Harvard and let me spend time with them? Because they're someone who's going to help my career more than a first-year resident." And so I could see those types of opportunities. And so I started to have that same sort of mentorship attitude focus now on our faculty in career development on faculty, and just like our residency program, that it became so easy to recruit. And I think I, over my—I don't know how many—I think I recruited 35 faculty members in my time as chair. And, again, that helps to—that's a sure way of generating that culture, right? And you kind of lay down some principles. And most of these principles sometimes aren't radical changes, and they're hard to argue against. Like, "We're going to treat each other professionally," something like that. It's kind of hard to say no. "Do you think we'll do better if we're all collaborative or, like, arguing with one another?" (laughter) You could articulate these things in a way that this is where it seems, to me, why isn't everybody doing this as a leader? You don't have to go to take a leadership course to learn some of these things. They should just be in part of what we've learned as our human relationships building. But I kind of get—one of the—I'll tell you a little story that struck me. I think I was Department Chair at the time, and we were sitting down to interview residents, and I mentioned they're unbelievable. They're some of the most comical meetings you have, because they're so interesting people. You're graduating, "Oh, I see you're graduating first in your class at Harvard, and I see you're getting your PhD at Harvard, too, and I see you've published two papers in Cell and Science, and you took some time off to study English literature as a Rhodes Scholar in Oxford. How interesting. What are you going to do this weekend for fun?" "Oh, well, I'm donating my kidney to a homeless man." (laughter) It was just kind of over the top all the time. And so they are kind of funny, because these are really good people, right? They're not just brilliant. They're just unbelievable. So we were meeting this person who's graduating number one from U Penn with an MD, and he's graduating number one from the Wharton Business School. He's got an MD MBA. I think if you graduate top from Wharton Business School, you could get a million-dollar Wall Street job like that. So we're listening to all this saga, and it gets to the end, and he says—and someone asked, "Well, what book are you reading? What's your favorite book?" Kind of lighthearted. And he says, "Oh, I just read this great leadership book, and it's by one of my professors. He's the youngest tenured professor at Wharton, and he's just a really dynamic guy." And I said... And he says, "It's a book called Give and Take. And, I don't know, it's just something that struck me," he says. "It was really neat." So I, of course, write it down, and I said, okay, I'm going to finally read a leadership book, right? I read this book, and it just kind of described my journey. It just articulated me perfectly, and it was just like, uh-huh, okay. Maybe everybody doesn't... It made it seem like maybe this just wasn't innately, like, everybody should be doing this, that there is, for whatever reason, some sort of science about how people view the world, and how we choose to make decisions. And so I think that's... That's the leadership book that I give my kids now, because... So you have to read that book.
Tacey Ann Rosolowski, PhD:
I will.
Thomas Buchholz, MD:
Yeah.
Tacey Ann Rosolowski, PhD:
I will. Well, many years ago I learned that phrase from Carl Jung that you are your own instrument, which I really liked, and I thought for a long time, like, huh, what kind of instrument am I? And I think everyone is so different, because they not only have their—the nature, what are their particular gifts, but how those are formed. I mean, who knows if you would have been as comfortable taking on challenges if you hadn't had that amazing experience moving around and going overseas.
Thomas Buchholz, MD:
Yeah, exactly.
Tacey Ann Rosolowski, PhD:
You get forged in the fires of your own life, as it were, and...
Thomas Buchholz, MD:
But this relationship, too, it's so... I'll give you another example that was immensely helpful. So as MD Anderson's having success in breast cancer—I used to sit in the back row at our national meeting, and the breast cancer section would come up, and the leader of Harvard, U Penn, Michigan, Yale, they'd all congregate and kind of give these "Ha, ha, ha, how you doin'" kind of... And it was kind of off-putting to me. They kind of—they didn't seem to really be enjoying each other, and then they'd get up and criticize each other's work during the presentation, and there was a lot of jockeying and competitiveness of, "Hmm, you guys are saying that at Harvard, but at Michigan we want to say..." And I was kind of like, whoa, why do we have to compete? There's a breast cancer chair of Harvard program who is an iconic figure, breast radiation oncologist. He was iconic when I was at medical school.
Tacey Ann Rosolowski, PhD:
Who is this person?
Thomas Buchholz, MD:
Jay Harris. And he was the figure in our profession. And he personally ran the residency program at Harvard, so we kind of got to know each other, because I was an assistant professor of publishing in breast cancer, and I ran the one residency program that competed for Harvard students, even. Sometimes Harvard students would leave Harvard and come. (laughter) And that was—Jay was a competitive guy at that time. Then there was a really noncompetitive, kind of really laid back, very productive breast cancer radiation oncologist at Yale, Bruce Haffty, and Bruce was the one guy that I could kind of connect with, even as a young person, and somewhat collaborate. So the three of us get invited to a surgical meeting, breast surgical meeting, so we're the three token radiation oncologists. So we each have our talk to give, and then there's multidisciplinary panels that we're on. And both of them are much more senior than I. So I called him up, and I said, "Hey, Jay, we're going to be here together. You've been such a great, iconic figure." I used a... "Let's go to dinner." And so I bought these two guys dinner. And then, afterwards, I was on a panel where it was me against four surgeons, and they were kind of watching, and I did fine and everything. But then I was invited to write an editorial from a surgical journal about this panel. They wanted to get the surgeon's perspective, because they thought it was such a great panel. So I reached out to Jay and Bruce. I said, "Hey, why don't we write this together? Eh? Why don't we do this together? I'm basing some of my data on your work." Well, nobody had written a paper that crossed Harvard, MD Anderson, and Yale. In the end, we formed this relationship. Jay became such an important friend and mentor. Bruce today is one of my best friends. We write papers together all the time. We started writing papers with—I started mentoring people at the University of Michigan. And we just kind of nationally put a kibosh to all this and formed a real collaborative group. So when ASCO started their first breast cancer multidisciplinary meeting—I was invited, Jay was invited, Bruce was invited, and Michigan was—all the kind of thought leaders in our little space. And I arranged a dinner, and my father-in-law taught me the art of toasting, of saying genuinely nice things about each of the people, and how this is a great community to be involved in, and these... And it's fun, right? And you form meaningful relationships in a way that just elevated the same type of thing that on a national level just... It was remarkable how close we all became. And in so doing, we support each other's junior faculties, give them opportunity. It's not just all about... Now if one of my residents wants to get a job at Michigan, I'm happy for them. I'm not disappointed. It's the way the world should work, right? (laughs) So it's been a great, fun run. I got to, as a radiation oncologist, just serve for two elected terms as the NCI Steering Committee Co-Chair in breast cancer, which I'm the only radiation oncologist ever to have been elected. And that's because I crossed out of radiation and get along with the surgeons, and get along with the national medical oncologists. They don't think that, oh, I'm rigid, and I have to defend my turf because it's my turf, right? Instead, you could disarm people, make them feel inclusive, be collaborative, add some intelligence to the conversation, but do it in a way that people are approaching it with open mind and open dialogue.
Tacey Ann Rosolowski, PhD:
And that's a really important way of modeling that behavior so that it kind of gathers this momentum and eventually will change the culture. That's a wonderful story about your interaction with Jay Harris, and... Yeah, I mean, that's terrific.
Thomas Buchholz, MD:
You know—
Tacey Ann Rosolowski, PhD:
I mean, that's changing culture.
Thomas Buchholz, MD:
Well, I remember one day Jay won the gold medal at ASTRO, a very appropriate... But sometimes in the old days you could say, like, "Oh, how come they're winning it and we're not winning it?" Instead, I wrote a handwritten congratulation note to him, and as he's walking from downstage and out the aisle in the ceremony where they gave the gold medal, I slipped him this thing. Things like that are really touching, you know? And, of course, he's nominated me to be, then, a fellow, or he's going that extra way to kind of... And I didn't give him that note in an effort to get that back from him, right? That's what give and take is. There are people who just genuinely want to do that. There are people who do it for the sake of, okay, I'll do it for you, you do it for me type of thing.
Tacey Ann Rosolowski, PhD:
And people do know the difference.
Thomas Buchholz, MD:
Yeah.
Tacey Ann Rosolowski, PhD:
Yeah, that authenticity comes through.
Thomas Buchholz, MD:
Yeah, so...
Tacey Ann Rosolowski, PhD:
Well, thank you for telling those stories, and we're at 11:00, and I know you have something else you need to do next, so...
Thomas Buchholz, MD:
Yeah, I've got to bring my daughter to the airport. (laughter) Really important.
Tacey Ann Rosolowski, PhD:
Very important. All right, well, listen, thank you for this morning. Really interesting conversation, and I look forward to our next one next week.
Thomas Buchholz, MD:
Okay. Okay, super.
Tacey Ann Rosolowski, PhD:
Well, let me just say for the record I'm turning off the recorder at about two minutes after 11:00.
Recommended Citation
Buchholz, Thomas A. MD and Rosolowski, Tacey A. PhD, "Chapter 06: Chair of Radiation Oncology and Views on Leadership" (2018). Interview Chapters. 583.
https://openworks.mdanderson.org/mchv_interviewchapters/583
Conditions Governing Access
Open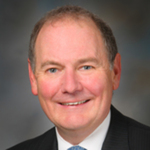 COinS