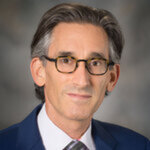 Title
Chapter 10: Integrative Medicine at MD Anderson: Challenges and the Future
Description
Dr. Cohen talks about the impact that executive leadership had on Integrative Medicine at the institution by insisting that the program "start small," but nonetheless has supported recruitments. Dr. Cohen talks about how John Mendelsohn has served as a mentor for him. He also talks about his shift in perspective, accepting that serving patients is more of a goal for him than transforming the Center into a department. He offers observations about the hierarchical organization at MD Anderson and how this influences getting things done. Next he talks about obstacles to building integrative medicine into the standard of care.
Identifier
CohenL_02_20160706_C10
Publication Date
7-6-2016
Publisher
The Making Cancer History® Voices Oral History Collection, The University of Texas MD Anderson Cancer Center
Interview Session
Topics Covered
The University of Texas MD Anderson Cancer Center - Building the Institution; Mentoring; On Mentoring; Understanding Cancer, the History of Science, Cancer Research; Professional Path; Leadership; On Leadership; MD Anderson Culture; Building/Transforming the Institution; MD Anderson History; The History of Health Care, Patient Care; On Research and Researchers; MD Anderson Culture; Critical Perspectives on MD Anderson; Understanding the Institution; The Institution and Finances; Ethics
Transcript
Lorenzo Cohen, PhD:
Let me just go back to the start of integrative medicine, because it's a very important piece that to this day still pisses me off, which is -- so what did I say the date was? It was 2001 when I submitted that document.
Tacey A. Rosolowski, PhD:
Yeah, 2001 when you submitted that report. Or submitted the vision.
Lorenzo Cohen, PhD:
Yeah, so we had the meeting in 2001. It was 2001 when I put the proposal together, went through all of the formal channels. And I get this resounding letter from the president, Dr. Mendelsohn, who I didn't really know very well at that point, that I support this, including the budget. Year one was $1 million and then it slowly went up as we grew, and it was a slow growth. So I thought I'm golden, this is going to be great. So it's August 30th, and David Callender calls me and says, "We're struggling with our budget. Are you willing to start it grassroots, small, no expectations? We'll give you $50,000 for the first year and another $50,000 in the next year. And it's like really. But John said. And then I learned that John said yes to everybody and just left it for others to figure out how to make it happen because he liked seeding people's visions and encouraging vision. And then other people have to figure out how to pay for it. And a lot of people were told, "Sorry, we don't have the money,like me. So what am I going to do? I'm going to say, "No, screw you, I'm not going to jeopardize my career to try and grow something from nothing, you're essentially saying, "˜I'm going to give you nothing except a promise that it will grow'"? And of course I said yes. I was going to be a good soldier. I liked the idea of, of course, a leadership role. As you know that's why I left Pittsburgh. And I said, "You need to make it very clear that this is not little Lorenzo Cohen, assistant professor saying, "˜I want to have my own center,' growing something that nobody even understands how to pronounce, and that this is top-down, this is sanctioned by Dr. Mendelsohn and Dr. Callender, and they want to have this, and Ki Hong wants to have this. So they agreed to those terms, because it's just language and it didn't mean anything as long as I agreed to do it for nothing.
Tacey A. Rosolowski, PhD:
So you really got nothing for it even though it was an administrative role?
Lorenzo Cohen, PhD:
Oh, yeah, I got nothing. And for a while I got like the supplement that a center medical director would get. But then they actually just folded that into my salary because there was a center medical director who got the supplement, and then they're like, "Well, we can't have two. And yes, of course you can. But they just wanted to have clean bookkeeping. But to their word, they over the years essentially approved every position we asked for as it was appropriate and we had the appropriate justifications and everything lined up. John, he was probably my most important mentor here. He had an open-door policy, although most people didn't necessarily have the courage necessarily to walk through that door. But I met with him regularly. Any time we asked him to come and open an event or speak at an event, speak to the public, he was the spokesperson for integrative medicine, an incredible champion for what we did, and why we continue to be successful today was John's vision. Ki didn't quite understand what we were to the same degree that John did. But he knew how important integrative medicine was. So both of these super powerful leaders who for most of their time together here saw eye to eye, they played tennis together, having the two of them on either side of my shoulder, I felt super supported.
Tacey A. Rosolowski, PhD:
When you said John Mendelsohn was a mentor, did you mean otherwise than being supportive of integrative medicine?
Lorenzo Cohen, PhD:
Oh yeah, no, I would meet with him with career choices, decisions when I was exploring other opportunities, talked to John. When I was trying to decide -- because he essentially left it up to me -- when I was struggling with our home and our identity. John to some degree -- maybe I'm being overly kind in my support of John, because ultimately he's the one who could have made us a department before he resigned, and he didn't, and he said, "It's not quite right, the time is not quite right. And essentially he didn't want to have to do that, because Ki would have had to fight for it, and Ki ultimately had to be the one who would fight for it. John ultimately would have had to sanction it, and he wasn't quite ready to do that. So did he really prioritize me? Well, at the end of the day, the story is no. But still I don't totally hold it against him, because it probably wasn't quite right. But when I knew the fit wasn't right with Palliative and the question was do we change divisions, do we go under Ernie Hawk in Cancer Prevention and have this whole other place to be, or do I stay with Ki Hong, John was the one I went to for the advice. When I was frustrated and looking at other institutions, John was the one I went to to seek advice on big career decisions. So I probably met with him three, four times a year where we would get into the issues, as well as a regular meeting with Ki Hong. But Ki Hong, I'm sure you've interviewed him, is a little harder to understand. Not a language issue. It's more of a delivery issue. You had to cogitate on things he said and then read between a lot of the lines. John was a lot more straightforward.
Tacey A. Rosolowski, PhD:
Different communicative style.
Lorenzo Cohen, PhD:
Yeah, I think we would be in a better place today if we'd become a department under John's reign. Now I'm not sure if we ever will. And I've realized that that's not my mission, that's not my goal, that's not the end place to be. Becoming a department is not the goal. It's being able to serve our patients and to do what we want to do. And that's what John said ultimately when I was trying to make a decision of staying or leaving. Are you able to fulfill what you want to do in your career here? And if your answer is yes, why would you go anywhere else? Don't get overly caught up in that concept of ego and needing -- the structure doesn't matter and the reporting doesn't matter. And are you paid fairly and are you able to do what you need to do? And if you're not able to do what you need to do because of structure, then that's a problem.
Tacey A. Rosolowski, PhD:
That's interesting. Doing a paradigm shift in terms of where do you place yourself.
Lorenzo Cohen, PhD:
Yeah, because we live in hierarchies. Because I'm a section chief and not a department chair, do I get a voice at the table? No. Do I get -- well, none of that really ultimately matters. In some sense it's more of a headache. I let Eduardo go and sit around with the department chairs and have to deal with all the administrative nightmares.
Tacey A. Rosolowski, PhD:
How long did it take you to really make that paradigm shift? I'm using those words, but to embrace that idea that being a department wasn't what really mattered.
Lorenzo Cohen, PhD:
I'm still struggling with it. But it was probably at the time when I agreed to move out of General Oncology and back to Palliative Care where we've been now for two years. I essentially went in to [Ethan] Dmitrovsky [oral history interview] and said, "The situation in General Oncology wasn't working and we need to become our own department,and he essentially said in so many words, "Line up. There's all these other groups that believe they need to become a department first. It's like whatever. You're on notice. I'll give you two to three years. And he said, "OK. Please be patient. I said, "OK. Actually after then now being in Palliative Care and thinking well, do I really care about that, it was maybe six months after being in Palliative Care, it's like am I able to achieve what -- and that's where John was really really influential. He actually helped me write my whole retention package. He read my letter and he was not president then, so he could do anything to help me. And it wasn't a conflict. But he essentially said, "What is it that you need? And tell them what you need. And you can get everything that you need that you would get being a department but just without that title and without the responsibility as well as the prestige that goes with it. The responsibility is a negative. The prestige, what is that? That's ego. I'm still in this painfully hierarchical institution that's more hierarchical than ever. So you always have that hovering out there. I report to Eduardo. He ultimately makes the decisions. But he's a great chair and very supportive and he understands what integrative medicine is better now than he certainly did before. And I think we're in a good place. Historically integrative medicine is still probably where palliative care was 10 years ago. But we are at a huge change in medicine. We haven't really talked about what the definitions are, and I don't think that's that important, of integrative oncology. But at one point it was really just focused on complementary medicine, acupuncture, herbs, mind-body stuff, weird diets. But now it's really embraced all the concepts and components of what you could call conventional cancer prevention, lifestyle. And the reason is because the area of lifestyle, diet, exercise, and psychosocial support, are not the standard of care. Yes, there's a dietitian in every center here. But the dietitians are doing feeding tubes, and they're spouting the food pyramid, and there's not a continuity of care in terms of counseling. Breast cancer patients with a BMI of 30, if they're lucky they're told that they need to lose weight, and they're not given the supports to lose weight. And it's not paid for. So John said to me early on, because he was a huge believer, because he read the evidence, and he saw what the data was, "Are we able to get dietitian, exercise coach, and behavioral counselors reimbursed? And I said no. And he said, "Well, how am I going to support it then? We have to pay for this stuff somehow. And I understood that of course. And we're a medical model. Now we are changing dramatically because the evidence is just insanely overwhelming that unhealthy lifestyle not only leads to cancer but leads to worse prognosis after a cancer diagnosis. Literally every week in lay publications stemming from top peer-reviewed publications like JAMA and JAMA Oncology and Lancet Oncology it's showing that diet and exercise and weight are responsible for a minimum of 30% of cancers and in some cases 70%, 50% of colorectal, just those three areas, let alone some of these other factors. So it's going to become part of the standard of care. And we as a country need to figure out how to make it reimbursable and we need to figure out how to prioritize prevention. And even though if somebody has cancer we don't typically think of using the word prevention, but it's the same prescription that you would give to a cancer patient to improve their outcomes as you do somebody without cancer to decrease the probability of developing cancer in the first place. We as a country, not only are we going to save billions of dollars, but we're going to improve lives, decrease suffering, and as a side effect decrease heart disease, diabetes, Alzheimer's. There was just an article two days ago in the New York Times essentially saying with this great moon shot that we heard about on Monday -- and I'm sure DePinho was there and everyone's hugging and shaking hands. Nobody's talking about prevention. And that's where all the money is ultimately. Now can you make money from preventing a disease? No. Can you save money? Yeah. No one's interested in saving money. So we're not quite there. But everyone knows. I don't know if I'll be alive in the day that it becomes the standard of care. But what we're doing in integrative medicine today, which is focusing on the whole patient, assessing their lifestyle, modifying their lifestyle, so we have dietitians, we have exercise coaches, we have behavioral psychologists, and then we have massage and acupuncture, it's not going to cure cancer or keep it at bay but it's going to help improve symptoms. But the lifestyle area will help to control their disease. And ultimately this will become the standard of care. It's unconscionable and probably ethically questionable to not provide the appropriate tools for obese cancer patients to modify their lifestyles.
Tacey A. Rosolowski, PhD:
Want to leave it there for today?
Lorenzo Cohen, PhD:
Yeah, I think that's my story.
Tacey A. Rosolowski, PhD:
Oh, you don't want to tell me more? I want to ask you more. Just let me close this off for today. I'm turning off the recorder at about 3:58. Thank you.
Lorenzo Cohen, PhD:
Yeah, pleasure.
Recommended Citation
Cohen, Lorenzo PhD and Rosolowski, Tacey A. PhD, "Chapter 10: Integrative Medicine at MD Anderson: Challenges and the Future" (2016). Interview Chapters. 629.
https://openworks.mdanderson.org/mchv_interviewchapters/629
Conditions Governing Access
Open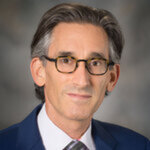 COinS