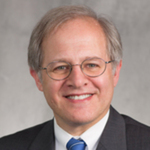 Title
Chapter 07: Coming to MD Anderson to Have a Broader Impact on Health
Description
In this chapter, Dr. Dmitrovsky outlines the factors that led to him leaving Dartmouth and taking a position at MD Anderson. He begins by sketching the faculty positions he held and mentions that he was appointed to the Board of Scientific Counselors at the NCI, serving as Chair of the Board. Next he explains that a family member was diagnosed with cancer and this gave him a different perspective on what cancer could do to an individual and family and opened his mind to what he might next do with his career. When his term as Chair of the Board of Scientific Counselors ended and his five clinical trials came to an end, he decided to do more with his administrative experience. At this point he was approached by MD Anderson as the institution conducted a search for a new Provost and Executive Vice President. He notes that he feels a deep sense of commitment to MD Anderson's mission.
Next, Dr. Dmitrovsky describes his acquaintance with Dr. Ronald DePinho and explains that his conversations about the Provost's position were mainly conducted with executive leadership.
Identifier
DmitrovskyE_01_20150303_C07
Publication Date
3-3-2015
Interview Session
Topics Covered
The Interview Subject's Story - Joining MD Anderson/Coming to Texas; Joining MD Anderson; Professional Path; Influences from People and Life Experiences; Career and Accomplishments; Institutional Mission and Values; Patients, Treatment, Survivors
Transcript
Ethan Dmitrovsky, MD:
So I was at Dartmouth for fifteen years. I was at Sloan Kettering on the faculty for nearly twelve years, and I've been a practicing cancer doc for my whole doctor for my whole career, and an NIH-funded scientist for my career. And I've had the great fortune of being able to run a lab and also be a practicing doctor. And because I think, in part, because I trained at the National Cancer Institute, I was invited to because I was familiar with the community to become a member of the Board of Scientific Counselors at the National Cancer Institute. So these are five-year terms, and shortly after my first year, they asked me to chair the board, which I did for, I guess, three or three and a half years. As I was finishing my term, I had the experience of family members diagnosed with cancer and was very involved in their care, as you would not be surprised to learn. That was an experience that was very different than my years as a practicing cancer doc or my years as a researcher, and I saw firsthand how devastating a cancer diagnosis is. I finished my term on the Board of Scientific Counselors at the NCI, and these are very demanding responsibilities, so I was going to the NCI, on occasion, several times a month. So when I finished my term and then had this experience, I was open-minded to consider the next phase of my career, trying to take what I learned and sadly learned from this personal experience to apply to the next phase of my career. The science projects that I described to you, they sound they're very quick to tell, but they each take about a decade, so I had just finished these five clinical trials. I was ready to launch a new program that might take another decade, and I had this life experience, and I thought that I had had administrative experience on a board and as an interim dean of the medical school at Dartmouth. I thought that I might be able to make contributions more broadly, by serving a whole community, and that's when I was approached by MD Anderson, by coincidence. And it seemed like that was a good goal, to develop this theme that I've had in my career of trying to do whatever I can to devote my energies in service and to do meaningful work meaningful for communities that really need to have their needs addressed, like the cancer population. So I decided to come to MD Anderson.
Tacey A. Rosolowski, PhD:
Who was it that first contact you, and how did those conversations evolve?
Ethan Dmitrovsky, MD:
Well, Dr. DePinho and I have known each other for many years. By chance, we've never been collaborators, but we by chance, we served on many committees together over, probably, more than a decade. And we also served on the Abbott Scientific Advisory Board together, for a number of years. So we served on the program committee for AACR. We had a number of interactions that we all very positive over the years, and so we knew each other pretty well. I really admired what Ron DePinho had sought to do in this position, as our president, to tangibly improve the lot of cancer sufferers, to really do what is our mission, to one day, hopefully, confine cancer to history. Knowing Ron, I thought that he would make great strides in that domain, that area. So the institution had charged a search firm to reach out to people, and that was the first contact I had, but then quickly, Dr. DePinho and I had professional interactions. We knew each other very well, so it was just the initial reach out, but then after that, most of the interactions were directly with the leadership here. And I feel a deep sense of commitment to try to advance the mission of MD Anderson, to, as we say, "Make cancer history,or to state it another way, to confine cancer to history. And the idea of waking up every day and using your energies, your skills, your experiences to bear, to try to reduce the cancer burden is a worthy way to spend your time. And this idea, encapsulated in the moon shots initiative, has, as its goal, to tangibly improve the care of cancer, to bring tomorrow's treatments to patients today, and to expedite the progress, making strides against the cancer problem, and that's surely a worth goal. And to be part of that
Tacey A. Rosolowski, PhD:
Would you like me to pause for just a moment?
Ethan Dmitrovsky, MD:
Just for a second.
Tacey A. Rosolowski, PhD:
Sure. [The recorder is paused]
Recommended Citation
Dmitrovsky, Ethan MD and Rosolowski, Tacey A. PhD, "Chapter 07: Coming to MD Anderson to Have a Broader Impact on Health" (2015). Interview Chapters. 642.
https://openworks.mdanderson.org/mchv_interviewchapters/642
Conditions Governing Access
Open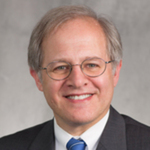 COinS