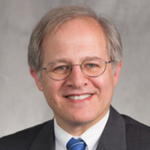 Title
Chapter 21: The Next Ten Years: Goals for MD Anderson Research and Faculty
Description
Dr. Dmitrovsky sketches his plans for MD Anderson research and faculty in the next ten years. He begins by discussing mechanisms for supporting the institution's research portfolio, given decreasing federal support.
Identifier
DmitrovskyE_04_20150707_C21
Publication Date
7-7-2015
Interview Session
Topics Covered
The University of Texas MD Anderson Cancer Center - Building the Institution; MD Anderson History; Business of Research; On Research and Researchers; Understanding Cancer, the History of Science, Cancer Research; The Institution and Finances; Research, Care, and Education
Transcript
Tacey A. Rosolowski, PhD:
Well, I know that I really didn't want to take the entire hour this morning, because I know how busy you are, but I wanted to ask you just a final question, really
Ethan Dmitrovsky, MD:
Yeah.
Tacey A. Rosolowski, PhD:
about your vision for developing the faculty in the next, say, five to ten years, and perhaps the research portfolio, as well, of the institution.
Ethan Dmitrovsky, MD:
Right, so let me touch on the second aspect of your question first, which is the research portfolio. We very much want to see the NIH budget increased to find all scholarship for all diseases, including cancer. And the NIH budget, as you know, has been flat for a number of years, hence the purchasing power of federal dollars has decreased, such that many faculty at MD Anderson and our peer institutions feel under real pressure to support their scholarship. So as we will continue to do all we can to advocate for more federal funding for the NIH and NSF and all of the agencies that support science in America, we do need to appreciate that, given the economic realities of government with decisions made regarding sequestration, that we cannot solely depend on the federal government, so that, reality in hand, we must redouble our efforts to obtain other sources of funding. Now, we're most fortunate to have the strong support of the UT system and the state of Texas to provide innovative sources of support for faculty members already here or recruited here. As examples, the CPRIT Program or the UT Stars Program, and we're incredibly grateful and fortunate to have that support. And that support has allowed us to continue to recruit the best faculty and retain the best faculty and provide those faculty members already here a way to complement their federal funding. But at the same time, we need to go even beyond that, and I spend time meeting with strong supporters of the missions of MD Anderson to advocate for them to consider, in their philanthropic thoughts, to endow programs that will support our faculty. And we've had a fair amount of success in the last few years of gifts that have been focused on our faculty. And at the same time, we're having conversations with donors who could endow training programs, who could endow fellowships. And because we're fortunate to be so strongly supported by many stakeholders, who either they themselves have been touched by cancer or their family remember, I said this is a problem for all humanity, and that's true whether you're a donor or not that our community of stakeholders and supporters seems really receptive. So we have announced a number of wonderful gifts that donors have made possible for our faculty. We hope to announce others. So that would be a source of support that I see as crucial in growing. The Moon Shots program is another source of support scholarship of our faculty, and that program is really on accelerating discoveries from the bench to the bedside, and we're trying to focus on those discoveries that would change practice. When you change practice that becomes a wonderful engine to apply for grants from foundations and federal sources. And so what we're hoping is that although seeded with philanthropy, it would provide the credible data needed to compete [for federal funding]. And I guess the other aspect that I wanted to talk about is that if we do commercialize some of our intellectual property, that a portion of it would be returned as a source of support for faculty. We need to have a more holistic approach. We cannot only expect the federal funds to support our scholarships. We can't only expect philanthropic funds to support our faculty. We need to have a multi-pronged approach, and this multi-pronged approach is one that will lead to a diverse and vibrant source of funding for faculty in years ahead, because we oftentimes try to make these endowed funds, and so because the corpus of an endowed fund can't be touched, only the [distribution from the endowment] that over time, these sources will become ever more useful tools to support our faculty. So I'm pretty hopeful that this multi-pronged approach will be helpful to our faculty, and I think that would also attract many new faculty to come here, because very few institutions are taking such a holistic approach to support their faculty.
Recommended Citation
Dmitrovsky, Ethan MD and Rosolowski, Tacey A. PhD, "Chapter 21: The Next Ten Years: Goals for MD Anderson Research and Faculty" (2015). Interview Chapters. 656.
https://openworks.mdanderson.org/mchv_interviewchapters/656
Conditions Governing Access
Open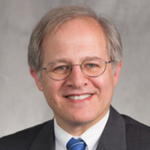 COinS