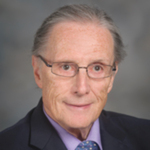 Title
Chapter 04: Private Practice and an Opportunity to Develop a Radiology Department
Description
Dr. Podoloff begins this segment by noting that his dual focus in internal medicine and diagnostic imaging would be very important to the evolution of his career. He then talks about his years in private practice at the Diagnostic Clinic of Houston, Houston, TX, where he served as Director of the Department of Nuclear Medicine with responsibilities for building a new program (8/1975-5/1986). He then explains why internal medicine enhanced the diagnostic imaging perspective, enabling him both to work with patients and understand the science of disease from a physiological perspective.
Next Dr. Podoloff explains how he built a nuclear medicine program at the Diagnostic Clinic. He also explains how nuclear medicine differs from radiology. He notes that he built a very successful department.
Identifier
PodoloffD_01_20150402_C04
Publication Date
4-2-2015
Topics Covered
The Interview Subject's Story - Professional Path; Professional Path; Overview; Definitions, Explanations, Translations; The Researcher
Transcript
Donald A. Podoloff, MD:
Yeah. So I was like three pages ahead of the residents in the book. That will come to be very important later on, that fact that I am both an internist and a radiologist. So anyhow that was it. We planned—so it's now, let's see, it's now 1975. I've finished my residency, I am now an attending at Wilford Hall. I'm about to get out of the service. And I don't have a job. So I said to my wife, "Well, why don't we just stay in the service a while? It's not a bad life. We like it. We'll go to England." So that's what we were going to do. And I guess it was my destiny to do something else, because I walked into an office, and the guy was on the phone. He said, "No, I'm not a nuke, but one of them just walked into my office, you want to talk to him?" So I spoke to this guy named Dave Lawrence, who was also from the air force, and was practicing in Houston at the Diagnostic Clinic of Houston. The Diagnostic Clinic of Houston was composed of two pathologists, a whole bunch of internists, and about ten radiologists. And they decided in 1973, 4, 5 that they wanted to get into the nuclear medicine business. Well, the internists wanted an internist to do it and the radiologists wanted a radiologist to do it. I was both.
Tacey A. Rosolowski, PhD:
Interesting.
Donald A. Podoloff, MD:
Yeah. My grandmother used to say that man plans and God decides. So God decided well for me. That's how I got the job.
Tacey A. Rosolowski, PhD:
Cool. So this is obviously one of those moments when being both a radiologist and an internist was very important. So tell me what is it that dovetails for those two specialties.
Donald A. Podoloff, MD:
Well, in the case of the Diagnostic Clinic you had two warring factions. The radiologists, "No, he's got to be a radiologist," and the internists, "No, he's got to be an internist." They were at an impasse and there aren't that many people who have dual boards like that. There are more now than there were in the 1970s.
Tacey A. Rosolowski, PhD:
But what does it give to you as a practitioner to have both boards?
Donald A. Podoloff, MD:
Oh, you understand patient care because you're not spending your whole life looking at films. You've actually treated some diseases. And you understand the science of the disease through the nuclear medicine, because nuclear medicine makes its images by taking advantage of some physiologic property. You label something with a tracer that doesn't have physiologic effect but mimics some function of the body. You want to study the heart, you label the blood cells so that they stay inside the heart labeled, and you can see the heart pumping. You want to look at the brain, you give glucose. Brain uses glucose all the time. So if you give it an analogue of glucose, you can light the brain up. If you want to do a liver scan, liver is composed of hepatocytes and Kupffer cells. You can give it something that the Kupffer cells eat, sulfur colloid. You can see the liver that way. If you want to see the hepatocytes you give them an agent that is like bilirubin, bile. So you can see it that way. Bone scanning looks at the remodeling of bone, the destruction and remodeling that goes on all the time. So it's a very—it's not anatomic, they're blobs. But it's very physiologic. So the internist in me liked that. And the radiologist in me liked it even better when they combined CT, which is radiology, with PET, which is nuclear medicine, and developed PET/CT, which is the standard of how we look at that. And that's why you get an image like that, because that orange image is a merger of these two images.
Tacey A. Rosolowski, PhD:
Yeah, I was reading.
Donald A. Podoloff, MD:
And if I hadn't been an internist first or second, I mean the order doesn't matter, I wouldn't have had that appreciation.
Tacey A. Rosolowski, PhD:
Interesting. So tell me about your role in the Diagnostic Clinic of Houston. So you started with them in 1975 and actually were with them until 1986 as I understand.
Donald A. Podoloff, MD:
Correct.
Tacey A. Rosolowski, PhD:
Yeah. And you were director of the department of nuclear medicine.
Donald A. Podoloff, MD:
That is correct. And that was my role. My instructions were within reason we'll give you all the money that you need. You build us a nuclear medicine department. And that's what I did, with help, with support. There were two really big parts of the nuclear medicine department at that time. One was the imaging, and the other was radioimmunoassay. Again each of them are using small amounts of radioactive materials. And that's what the nuke does. Nuclear medicine is different from radiation oncology in that radiation oncology uses sealed sources. Nuclear medicine uses open nonsealed sources, liquids, things of that sort. So you need special training to handle them for safety purposes. Radiology doesn't use anything radioactive. It takes radiation energy and passes it through your body and by the differential absorption of those X-rays makes pictures, because bone comes out white and air comes out black. And everything else in between is gray, and that's why an X-ray looks like that. The white stuff is the bones, the black stuff is the lungs, that's air, and then all this gray stuff is the soft tissue between them.
Tacey A. Rosolowski, PhD:
I was going to say with that blob, it looked like you're an interpreter of shadows. (laughter)
Donald A. Podoloff, MD:
To some degree, yeah. That's right.
Tacey A. Rosolowski, PhD:
Yeah, interesting. Well, tell me about that time. I mean that's a long period of time that you were with that clinic. What did you feel you accomplished during that period? What did you learn?
Donald A. Podoloff, MD:
I built them a huge successful nuclear medicine department. When I came there the term was that I'd be a senior partner in seven years. I made it in two and a half.
Tacey A. Rosolowski, PhD:
Wow. What was your formula for doing that?
Donald A. Podoloff, MD:
I made a lot of money for them. And I was personable and people like me. One of the docs when I had announced that I was coming over here, they said, "How long is it going to take for you to be in charge of something at MD Anderson?" And I laughed and said, "I don't know." Well, it took till I got to be the division head, took eight years.
Tacey A. Rosolowski, PhD:
Interesting.
Donald A. Podoloff, MD:
And that's just me going from place to place, and they're very different places. So there's something about me that people respond to in a positive way.
Tacey A. Rosolowski, PhD:
So I mean obviously you came in when there were warring factions at that clinic and were able to get people to work together. And that's your personable nature in action I'm sure.
Recommended Citation
Podoloff, Donald A. PhD and Rosolowski, Tacey A. PhD, "Chapter 04: Private Practice and an Opportunity to Develop a Radiology Department" (2015). Interview Chapters. 732.
https://openworks.mdanderson.org/mchv_interviewchapters/732
Conditions Governing Access
Open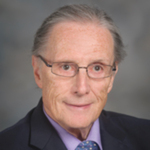 COinS