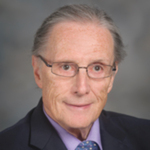 Title
Chapter 05: Discovering How to Image a Beating Heart; Reflections on Radiology's Shift in Focus from Form to Function
Description
Dr. Podoloff first notes that the Diagnostic Clinic conducted more cardiac scans than MD Anderson at the time he joined the institution. In the remainder of this segment, Dr. Podoloff explains how he conducted a bone scan on a patient and then a brain scan shortly after, and this led him to discover a process to image a beating heart. The brain scan showed not the brain tissue, but the vessels. Researchers at Harvard University published this technique –the MUGA labeling technique-- however he was recognized as an innovator.
Dr. Podoloff then comments on his academic connections while he was in private practice: he served as Clinical Associate Professor of Nuclear Medicine and Radiology at the University of Texas Health Science Center in Houston from 1976-1985. He comments on how advances such as the MUGA technique have shifted radiology's focus from the form of organs to physiological processes.
Identifier
PodoloffD_01_20150402_C05
Publication Date
4-2-2015
Topics Covered
The Interview Subject's Story - The Researcher; The Researcher; Discovery and Success; Understanding Cancer, the History of Science, Cancer Research; The History of Health Care, Patient Care
Transcript
Tacey A. Rosolowski, PhD:
What were some of the other measures? I'm just interested like how much did the department grow, what was the increase in patient volume.
Donald A. Podoloff, MD:
It went from zero to one of the busiest nuclear medicine departments in the country.
Tacey A. Rosolowski, PhD:
Really. Wow.
Donald A. Podoloff, MD:
I was doing more cardiac scans at my place than MD Anderson was doing when I came over here. I think. I didn't do as many bone scans, because they were doing like sixty or eighty a day. But at that particular moment in time cardiac nuclear medicine was just taking off. I actually did the first MUGA scan in Houston.
Tacey A. Rosolowski, PhD:
What's a MUGA scan?
Donald A. Podoloff, MD:
Stands for multiple-gated acquisitions. Basically you label red cells with a detectable tracer and you hook the patient up to an EKG and you gate the camera so that during different phases of the EKG it's either on or off. And you can make a picture of the beating heart doing that.
Tacey A. Rosolowski, PhD:
Wow, that's exciting.
Donald A. Podoloff, MD:
Yeah, it's an interesting story how I actually discovered that.
Tacey A. Rosolowski, PhD:
So this was your process.
Donald A. Podoloff, MD:
Yeah.
Tacey A. Rosolowski, PhD:
Wow. Well, tell me how did you discover that?
Donald A. Podoloff, MD:
Well, the traditional way to label red cells was to use albumin to do it. And it required an electrolytic process whereby you exposed the albumin to the blood cells and it formed a bond and then the blood got labeled that way. They weren't very good pictures. Quite accidentally we did a bone scan on a patient one day and the next day they ordered a brain scan, which you used a particular radiopharmaceutical for that. It was called naked or free sodium pertechnetate. When I looked at that scan 24 hours after the bone scan, I didn't see the brain. All I saw were the vascular structures. I saw the heart, I saw all the vessels in the head. But I didn't see brain. And it occurred to me oh my goodness, this is like albumin only it's a much better picture. Let's look at the heart. So we took the camera down, looked at the heart. Yay, there it was. Well, for about a year and a half I was injecting people with the unlabeled bone agent the night before, because that's how this worked, right? Well, then an article comes out in the Nuclear Medicine Journal. And it basically says, "We found a new way of labeling technetium and making it into a blood pool agent. There's some guys up at Harvard that were doing this. Well, that's what I did. You don't have to wait twenty-four hours though, so you can give them the cold stuff, wait thirty minutes. I didn't know that.
Tacey A. Rosolowski, PhD:
OK.
Donald A. Podoloff, MD:
But somebody recognized that I did that, a very famous radiologist here in town, and he must have been very complimentary to somebody, because that's how I ended up eventually getting interviewed over here. So again it's like do I plan my life, no, I just wait and see what happens.
Tacey A. Rosolowski, PhD:
(laughter) I'm writing that quote down because that's just such a good one.
Recommended Citation
Podoloff, Donald A. PhD and Rosolowski, Tacey A. PhD, "Chapter 05: Discovering How to Image a Beating Heart; Reflections on Radiology's Shift in Focus from Form to Function" (2015). Interview Chapters. 733.
https://openworks.mdanderson.org/mchv_interviewchapters/733
Conditions Governing Access
Open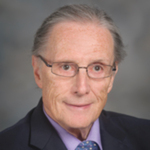 COinS