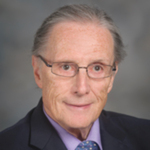 Title
Chapter 20: Administrative Roles, Views on the Multi-disciplinary Environment of Centers and Institutes, and A Radiologist's Contribution to a Care Team
Description
Dr. Podoloff first talks about his role as Chair of the Department of Nuclear Medicine and his related work as Chair of the Executive Committee of the Medical Staff. He explains that as Head of the Division of Radiology he was helped plan occupancy of the Alkek Hospital and the Mays Ambulatory Clinic. He was helped develop strategies to structurally integrate the Centers and Institutes in the Cancer Care System.
He then explains that the basic sciences are still organized around departments but the clinical functions are organized in multi-disciplinary care centers and environments. He explains the implications of this structure for Radiology, which does not operate in a multi-disciplinary environment. He sketches the pros and cons of this and talks about the importance of having a radiologist on a clinical team.
Identifier
PodoloffD_02_20150423_C20
Publication Date
4-23-2015
Topics Covered
The Interview Subject's Story - The Administrator; The Administrator; Overview; The Clinician; Building/Transforming the Institution; Multi-disciplinary Approaches; Growth and/or Change; MD Anderson Culture; Professional Practice; The Professional at Work
Transcript
Donald A. Podoloff, MD:
I have two titles, one is medical director of CABI, and the other one is translational/clinical research director.
Tacey A. Rosolowski, PhD:
Now when did you take that on? I'm looking at your—
Donald A. Podoloff, MD:
In September of 2010.
Tacey A. Rosolowski, PhD:
Twenty ten, OK.
Donald A. Podoloff, MD:
Both the medical director role and the translational role were taken on September 1st, 2010 when I stepped down from being the division head.
Tacey A. Rosolowski, PhD:
Division head. OK. Now why did you choose to take on that translational role?
Donald A. Podoloff, MD:
It seemed like somebody needed to do it, and as the division head I had been working with Sujaya. So it just seemed like a natural—I wasn't recommending to Marshall that he go out and hire somebody else because we were trying to be conservative with institutional resource funds.
Tacey A. Rosolowski, PhD:
Right. OK. Now I've asked a number of people that I've interviewed to define how they see translational research. And I've gotten an amazing variety of answers. So I'm going to ask you what your view is.
Donald A. Podoloff, MD:
Well, my view of it is it's a two-way street. You can translate backwards or forwards. You can take a research basic science concept and move it into the clinic. And once you're in the clinic you may discover some things and say, "We really ought to go back to the basics to study this phenomenon a little bit more." That transition, translation if you will, between basic science and clinical research is what translational research is in my mind. I don't know what comes up if you do Google. It's a good idea.
Tacey A. Rosolowski, PhD:
(laughter) Oh my gosh. At least you didn't pull out your phone to do it.
Donald A. Podoloff, MD:
Well, I could have. Let's see what Google has to say.
Tacey A. Rosolowski, PhD:
That's funny. I'm beginning to think that it's impossible to have dinner at a restaurant without people checking things on their phones.
Donald A. Podoloff, MD:
It is. It's totally impossible. Yeah, I often wonder what we used to do before we had all these devices.
Tacey A. Rosolowski, PhD:
Well, I ask because I usually ask an interview subject whose work is oriented in that way. And there are a variety of different perspectives. And I guess as a follow-up to that, there have been some different perspectives too on how Ronald DePinho's new focus or focus on genomics in particular, some people believe it's changed the emphasis of translational research. And I'm wondering what your view is of that. What's translational research now?
Donald A. Podoloff, MD:
I need one second.
Tacey A. Rosolowski, PhD:
Sure.
Donald A. Podoloff, MD:
Interview subject reads from an Internet site.] "Clinical and translational research. Clinical research is medical research that involves people. Translational research means research that applies discoveries generated in the laboratory to studies in humans." I defined it pretty well.
Tacey A. Rosolowski, PhD:
There you go.
Donald A. Podoloff, MD:
And I've never read that on Google before.
Tacey A. Rosolowski, PhD:
That's funny. (laughter)
Donald A. Podoloff, MD:
So that's what it is.
Tacey A. Rosolowski, PhD:
That's what it is.
Donald A. Podoloff, MD:
Anybody else tells you anything different, they're wrong. It's not in Google.
Tacey A. Rosolowski, PhD:
They're wrong. (laughter) That's good. So what is your view? I mean is there a different flavor now to translational research under Dr. DePinho? I mean some people at the institution who've lived through the administrative shift have said, "Yeah, translational research looks different now under Dr. DePinho." What is your view of that?
Donald A. Podoloff, MD:
I haven't noticed that it looks different. What I have noticed that Dr. DePinho brought here that we didn't have before is the Moon Shots. The notion that he wanted to identify a small but important number of cancers and define an impact within five years. I hadn't heard that before in quite that way. And there's been a lot of criticism both for it and against it based on the fact that the Moon Shots was an engineering problem, it wasn't a biological problem. We knew by the laws of physics how we could get a rocket ship off the earth to the moon. We don't have that kind of certainty about cancer, although the analogy is an inspirational one. And I think that's what Ron means when he talks about that. I don't think he's dumb enough to think that cancer is engineering. So to me it's a very inspirational message. He's a very very powerful speaker. I wrote him a note not so long ago because I have listened to twenty-eight annual messages from the president. The one he gave last year was the first time I ever cried.
Tacey A. Rosolowski, PhD:
Wow. That says a lot. Yeah, to touch people in that way.
Donald A. Podoloff, MD:
He showed this kid who basically had half his pelvis removed who's now out playing football or something. Yeah, it was very moving. He knows how to do that. That's part of I think why he's such a good leader, that he can inspire people to do things. Yeah, we'll treat it like a Moon Shots.
Tacey A. Rosolowski, PhD:
It is an inspiring image. Yeah, I hadn't heard that address. On the Moon Shotss, what's different about the way Moon Shots leverage the translational perspective from the way—what's your view of how they differ from the usual way of conducting research?
Donald A. Podoloff, MD:
I think it has to do with the fact that it's a very well-defined collaborative effort. So the Moon Shots that I know the most about, and I don't know that much about any of them, is the one for lung cancer, early detection of lung cancer, because we're the ones who are doing the noncontrast low dose CT. And those patients are having blood drawn. They're having saliva collected. And they're having pulmonary function studies as well as their CT. That's the big data that's going to be churned and put in a superbrain. And I don't know if it's going to be Watson, but it'll be put somewhere. And it's going to be analyzed. That's a somewhat different approach. If each of the Moon Shots is doing it, and I suspect they are. So you're getting a multidisciplinary diagnostic group of studies that will in the future be interpreted in some way that will be useful in the management of the early detection and treatment of these diseases. One of the things, if you think about cancer care from the point of time when it was no longer a surgical disease but became a medical disease, we cut it out first, then we burned it out, and now we're poisoning it out. And when you poison it out you sometimes poison normal cells. Well, the hope is that these tailored therapies will address the cancer and leave everything else alone. I say hope, because cells are not stupid either. And they develop resistance. And pathways change. You block one pathway, they use another. There's a brilliant diagram in one issue of Science from I think 2005 that shows the cell as an integrated circuit.
Tacey A. Rosolowski, PhD:
Oh. Interesting. Huh.
Donald A. Podoloff, MD:
Yeah. And that's an interesting way to think about it. So I don't know that the Moon Shots will be successful. I don't know that personalized cancer medicine will be successful. But I do remember medically historically that there was a time when people got diseases when we used to bleed them. We don't do that anymore. Maybe 200 years from now people will look back at us and go, "How could they give them all those poisons? What was wrong with those people?" Possibly. Another funny aside about this is one of my mentors told me a story when I first got here. He took a donor up to—I guess the Clark Clinic had just been built. So it was 1988. And they're looking out over what was then MD Anderson. And the guy says to him, "Tom, you know what? I think there's a lot more people making a living off of cancer than dying from it." And at that time that's probably true because heart disease was killing more people. But the point of that story is that if you are in fact making a lot of money off of cancer, you sure don't want to end it, do you? We have one of these self-defeating missions. We want to eliminate cancer. OK. Then what are you going to do? Fortunately I'm not going to have to worry about that.
Tacey A. Rosolowski, PhD:
(laughter) Yeah. Yeah. Well, there'll always be a new research problem to put your mind to.
Donald A. Podoloff, MD:
I suspect there will be.
Tacey A. Rosolowski, PhD:
Yes. I can't imagine that anyone will ever run out of research problems. (laughter)
Donald A. Podoloff, MD:
Real or imagined.
Tacey A. Rosolowski, PhD:
Real or imagined, that's it.
Donald A. Podoloff, MD:
Let's see how we're doing here. I got about another fifteen minutes if you need it.
Recommended Citation
Podoloff, Donald A. PhD and Rosolowski, Tacey A. PhD, "Chapter 20: Administrative Roles, Views on the Multi-disciplinary Environment of Centers and Institutes, and A Radiologist's Contribution to a Care Team" (2015). Interview Chapters. 748.
https://openworks.mdanderson.org/mchv_interviewchapters/748
Conditions Governing Access
Open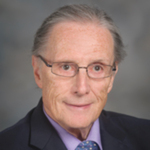 COinS