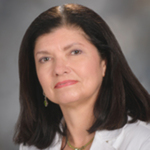 Title
Chapter 06: The New Section of General Internal Medicine in the Late Eighties
Description
Dr. Escalante talks about MD Anderson's section of General Internal Medicine (GIM), the first to open in the country. She explains the roles that GIM physicians serve in treating oncology patients and the supporters of GIM at MD Anderson, though it was novel for internists to be on staff at a cancer center. Dr. Escalante explains her daily routine and notes the increasing for services. She talks about the role of GIM in Station 19 (the Emergency Service). She traces changes in how internists' services were tracked and charged for.
She notes that her appointment at that time was 100% clinical, with no protected time and no discussion with her superiors of how to move to promotion. (She notes that GIM faculty were considered "help.")
Identifier
EscalanteCP_01_20140603_C05
Publication Date
3-6-2014
Topics Covered
The University of Texas MD Anderson Cancer Center - An Institutional Unit; MD Anderson History; MD Anderson Snapshot; MD Anderson Impact; Building/Transforming the Institution; Multi-disciplinary Approaches; Research, Care, and Education in Transition; The History of Health Care, Patient Care; Patients; Cancer and Disease; The Clinician; Professional Values, Ethics, Purpose, Commitment to Work; Character, Values, Beliefs, Talents; The MD Anderson Ethos; Institutional Mission and Values
Transcript
Tacey Ann Rosolowski, PhD:
And also I don't want to lose the piece of the story that you came here not being sure you wanted to stay.
Carmen Escalante, MD:
Yeah.
Tacey Ann Rosolowski, PhD:
]So when did you know that, yes, you wanted to stay here?
Carmen Escalante, MD:
I really—after I got here, because I thought, "Oh, god, it's going to be like when I was an intern." But I really enjoyed it. I mean, I really liked it. It was a new program, so there were a lot of wide-open spaces to opportunities. I liked the people. I was working with the surgeons, the head-and-neck surgeons, the urologists, oh, and the gynecologists, they were all so nice to us and we got along really well. They appreciated what we were doing for them, and, I mean, it makes you feel good. And then the patients, I mean, you know, I learned how not to get attached, because you had to to survive, but, I mean, just treating somebody's constipation, I remember one time this poor patient, they were kind of towards the end, and, you know, they knew it, I knew it, and, you know, you don't know what to offer. I helped them with their constipation, and they were so appreciative.And, I mean, one thing I learned early on, it made you reset what you think are issues in your life. You prioritize your life differently. They've taught me. The patients have taught me so much. When I think I have a problem, I just remember some of the stories I've heard from some of our patients, not only that they have cancer, but their husband just died of cancer or their daughter has cancer, or they have some other horrible social situation on top of the cancer. And so, you know, you walk out of here feeling like, "Look, my life is great. I have nothing to worry about here. I shouldn't be complaining about anything," because when I look at these people and what they have to deal with.And the patients were just so appreciative and nice and, I mean, that made it all worthwhile. You know, after about—very early on, three to six months after I started, I realized, "Oh, this is a lot different than my first experience here," and I just really liked it. So look at me now, almost twenty-six years later when I—and my first year, did I ever plan an academic career? Oh, god, no. Did I ever picture that I would be here all of my career or even be in academic medicine? I mean, back when I was in medical school or residency, I would have said, "No, I'm not smart enough to do that," or, "Why would I want to go into academics? I'm not the brightest kid on the block."And I look back now, and a lot of it is opportunity. I mean, you know, sometimes you don't know. It doesn't go as planned. So sometimes, although I'm a planner and I like everything to be A, B, C order, it was good that I didn't know what I wanted to do after I finished my residency. That was one time when happenstance and Tati calling me and me coming here worked out beautifully for me, into an area that I never thought I would end up in, never.
Tacey Ann Rosolowski, PhD:
That's a great story.
Carmen Escalante, MD:
Yeah.
Tacey Ann Rosolowski, PhD:
And how you don't really know yourself.
Carmen Escalante, MD:
Right.
Tacey Ann Rosolowski, PhD:
And that's okay. (laughter)
Carmen Escalante, MD:
Because I'm always a planner, and that was one big thing that I had not planned out and was very unsure of, and I just kind of went with it, which is not my style, and it worked out really well, and I had lot of really good sponsors here early on that helped me. Von Eschenbach, Goepfert. Ed Rubenstein helped me early on. I mean, Ed is a unique character, but, I mean, he would say, "Star. You're the star," you know. I was seeing ten or twelve consults a day. That's why he was saying I was a star. I was running back and forth to all these clinics, and he would tease me and say—you know, like the football—"What if I trade you?"I said, "Well, you're going to have to trade big if you trade me." (laughter)
Tacey Ann Rosolowski, PhD:
That's funny.
Recommended Citation
Escalante, Carmen MD and Rosolowski, Tacey A. PhD, "Chapter 06: The New Section of General Internal Medicine in the Late Eighties" (2014). Interview Chapters. 764.
https://openworks.mdanderson.org/mchv_interviewchapters/764
Conditions Governing Access
Open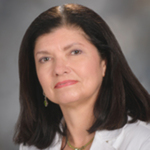 COinS