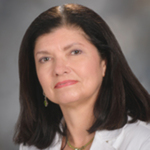 Title
Chapter 22: Changes at MD Anderson Under a New President: for the Institution and General Internal Medicine
Description
Dr. Escalante offers observations about changes that Dr. Ronald DePinho has brought to the institution after assuming the role of president in 2011.
She first discusses Dr. John Mendelsohn's contributions to the institution, recalling times of uncertainty. Today, she explains, there are shifts in leadership at the senior level and a lack of information from senior administration about budgets and institutional directions has made it difficult for her, as a Division Head, to communicate effectively with her faculty and staff.
Next, Dr. Escalante talks about the uncertain future of the Division and Department of General Internal Medicine, given that "we're not the group that's going to cure cancer." She also notes that the balance between clinical and basic research is shifting, with clinical functions pressured to become much more efficient and funds for research shrinking. She explains that these shifts raise questions about faculty responsibilities, requirements for promotion.
Identifier
EscalanteCP_03_20140523_C22
Publication Date
5-23-2014
Interview Session
Topics Covered
The University of Texas MD Anderson Cancer Center - Institutional Change; Growth and/or Change; The Administrator; MD Anderson Culture; Institutional Politics; Critical Perspectives; Institutional Mission and Values; Leadership
Transcript
Tacey Ann Rosolowski, PhD:
Well, I wanted to ask you a few kind of more focused questions. When we finished up last time—it seems like we're kind of going backwards. We started out with some big general issues, and now we're kind of going back a little bit to something a little bit more specific. But you had wanted to speak about your work on the Executive Committee of the Medical Staff. You had talked about how different committee work it had basically increased in prominence and complexity in your understanding of the institution, and I'm sure also in the way in which that committee work enhanced your own leadership skills. And I'd never heard of this committee before, so tell me about this particular—
Carmen Escalante, MD:
Well, the Executive Committee of the Medical Staff is the highest level of medical staff committee, and I think we talked about it somewhere along the line, but I had started on a very low-level medical staff committee and over the years had been very involved in multiple medical staff committees, Medical Practice, Credentialing, which were excellent experiences in networking with lots of people that I likely would never have even met because I don't see pathology because I'm not a surgeon or an oncologist, and met people in that area and other areas that, you know, would never have crossed paths with and made some excellent connections, friends, through that work.And then the highest level is the Executive Committee of the Medical Staff, and I had been elected as a member at some point in my career and then I was selected as vice president and served that and then—vice chair; it was not vice president, it was vice chair—and then chair. So I think I spent like a total of—and it was three years as vice chair, three years as chair, and three years as past chair, and then I was a member before, so I spent probably at least a decade on that committee in various roles.But as chair, I mean, you have division heads that come and other people, and I worked closed with Dr. Alma Rodriguez, and I really learned, I think, between Credentialing and the ECMS, how to run a meeting, how to keep it on task. You know, no one wants to stay late, so they're going to start leaving if you're not on time. But also understanding policy, how do you make—because this was all having to do with the medical staff.
Tacey Ann Rosolowski, PhD:
Yeah, I was going to ask you, what were the scope of issues that this committee took on?
Carmen Escalante, MD:
Oh, from clinical care, because all the medical staff committees report up to the ECMS, the Executive Committee of the Medical Staff, so Infection Control, Medical Practice, Medical Records, and all the policies and issues that are in all those various committees come up through the ECMS, who has the final vote on these policies. And many of these policies in practice, the committees recommend, and then the ECMS would accept the policy or not accept the policy.All institutions are required to have an Executive Committee of the Medical Staff. They also interact when we go through Joint Commission. In developing policies, it was an excellent experience. I mean, we revamped when Dr. Rodriguez became vice president of—I think it's patient affairs [Office of Medical Affairs]. I can't remember the exact title. But she took a very active interest in the committee and was basically the sponsor and the backbone, so she helped us in driving issues through and getting the support we needed from Dr. Burke or others on significant issues.
Tacey Ann Rosolowski, PhD:
I'm sorry. What were some of the kind of memorable policies that you worked on that had an impact on the institution?
Carmen Escalante, MD:
Well, you know, all the quality initiatives, the changing the credentialing metrics and developing specific metrics, starting some of the subcommittees to the ECMS, like—and I can't remember the exact title, but where all the algorithms for different care for work, that was set up—
Tacey Ann Rosolowski, PhD:
I think you mentioned it—
Carmen Escalante, MD:
—talked about it before.
Tacey Ann Rosolowski, PhD:
—last time. Yeah.
Carmen Escalante, MD:
We talked about it before. And Aman Buzdar [oral history interview] was appointed as chair. That was totally new. That had never existed before. And re-setting up all the credentialing metrics, like we talked about. I mean, before, we didn't have objective metrics. They've done a lot since, but that was the beginning during that time phase of changing all those things, which I think is a good thing because now it's an expectation that we do those. Before, you would re-credential or credential and appoint someone without any specific metric. Every two years, departments have to be re-credentialed. There was no metrics to determine whether all the faculty were meeting expectations. It was kind of a check every—you know, an automatic check. Okay, they re-credentialed. You never not re-credential. Now there's more teeth in it. There is specific metrics. Individuals can be looked at specifically. There's an expectation that if a department or an individual doesn't meet certain criteria, there has to be a plan. There has to be counseling. It has to come back. So I think those are all good things to show that we're doing good things, that we're not ignoring issues.
Tacey Ann Rosolowski, PhD:
Right. And it sounds like there's something in place to intervene if problems arise, yeah.
Carmen Escalante, MD:
Right, right, exactly. So a lot of those things started back then. But I think it gave me insight into the institution and how it's run and understanding what is credentialing, understanding the functions of the Executive Committee and the impact those policies have on the day-to-day operation and the day-to-day practice of physicians. It was a good thing for me, very good.
Tacey Ann Rosolowski, PhD:
And it sounds like it had a real impact on the institution, too, in a very positive way. Is there anything else that you would like to tell me about the institution, its transformation?
Carmen Escalante, MD:
I think I'm talked out. (laughs) I don't know what—I'll probably think of it later, "Oh, I should have told her that one."
Tacey Ann Rosolowski, PhD:
[unclear] but we covered a lot of ground, we really have.
Carmen Escalante, MD:
Yeah.
Recommended Citation
Escalante, Carmen MD and Rosolowski, Tacey A. PhD, "Chapter 22: Changes at MD Anderson Under a New President: for the Institution and General Internal Medicine" (2014). Interview Chapters. 780.
https://openworks.mdanderson.org/mchv_interviewchapters/780
Conditions Governing Access
Open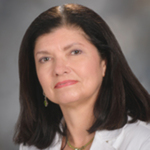 COinS