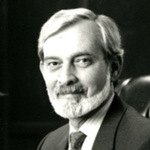 Title
Chapter 12: Multidisciplinary Conferences at MD Anderson Lead to More Effective Treatment Plans
Description
Dr. Cox notes that proton therapy treatment focuses heavily on lung cancer and lists other cancers being studied, explaining that the study of esophageal cancer puts all the modalities together. This leads Dr. Cox to talk about the Tumor Board and Thoracic Conference –weekly multi-disciplinary meetings where specialists from different disciplines discuss cases and treatment options for patients. He explains that surgical techniques have improved so much that surgery is now also being integrated into the treatment modalities. He then describes the history of the conferences, which go back to the earliest years of MD Anderson and have proliferated through the entire institution. Dr. Cox describes how these meetings educated everyone, e.g. by having specialists from a wide range of fields talk to a radiologist, a pathologist, or someone conducting research on molecular markers. (He acknowledges that attendees are self-selected).
Dr. Cox affirms that the multi-disciplinary meetings have affected the culture of MD Anderson: Multi-disciplinary care is a hallmark of MD Anderson care. He explains that that the salary pool on which compensation is based at the institution insures that there is no economic incentive behind treatment decisions. "We function as a team" for all patients.
Dr. Cox explains that not everyone embraces multi-disciplinarity and that, in the past, MD Anderson faculty who worked on the disease sites tended to talk only to one another. When he brought in the RTOG, the multi-disciplinary focus has a definite impact on the institution. Dr. Cox closes this section by noting some other multi-disciplinary organizations and by explaining that MD Anderson may not be helped by some of the NCI's recent decisions on how to restructure cooperative groups.
Identifier
CoxJ_02_20130412_C12
Publication Date
4-12-2013
Interview Session
Topics Covered
The Interview Subject's Story - The Researcher; Building/Transforming the Institution; Multi-disciplinary Approaches; Institutional Mission and Values; Institutional Processes; MD Anderson Culture; The Clinician; Patients; On Care; On Care
Transcript
Tacey Ann Rosolowski, PhD:
What were the discussions like with your collaborators in figuring out how to do this?
James D. Cox, MD:
Well, we have a tumor board that's—we can call it a tumor board. We have a thoracic conference every Tuesday afternoon, and then they have a separate conference on cancer of the esophagus at noon on Tuesday, and discussions in those groups with the interested parties and the people who are actually treating the patients. Those kind of interchanges led to the efforts in that direction—and some efforts that were done really didn't make it very much effect. For example, induction chemotherapy turned out not to be very valuable. Chemoradiation is very valuable prior to surgery. But it's so effective, some have argued, "Well, do you need the surgery at all?" And in the past I would have argued, "Probably not." But the surgeons have become so good, and they can do that surgery, which is really, really big surgery, in a very sophisticated way and avoid most major complications—that having surgery, to me, as part of the equation is very compelling.
Tacey Ann Rosolowski, PhD:
When did these weekly conferences start? Maybe I should ask, how did they start?
James D. Cox, MD:
Well no, the very earliest ones started in the early years of MD Anderson treatment. There were two groups—the gynecologic oncologist and the radiation oncologist. That was one. And the head and neck surgeons and the radiation oncologist, that was another. In both cases, the medical oncologist didn't play very much of a role. The thoracic conference started right around the time that we arrived, and it started—it was a joint effort between Dr. Hong, Dr. Roth, and Dr. Komaki.
Tacey Ann Rosolowski, PhD:
And what was the logic for them?
James D. Cox, MD:
There were two pieces that—many patients required at least two, if not all three disciplines involved. And secondly, and this was Dr. Roth's and Hong's strong push, that every patient ought to be on protocol; every possible patient should be on a study.
Tacey Ann Rosolowski, PhD:
Did some people disagree with that?
James D. Cox, MD:
There were some people who didn't care. They wouldn't object, but they weren't going to go out of their way to do it, but they were influenced by that conference. And whether it was Dr. Roth in surgery who—very, very highly respected person. The other surgeons in the department then, they couldn't really object to it very easily. The same thing is true with Dr. Hong. And the same thing is true with Dr. Komaki. Now, since that time, those kind of conferences have proliferated throughout the whole institution. There are ones dealing with brain and spine and sarcoma. The various GI sites—colon.
Tacey Ann Rosolowski, PhD:
And what do they add to patient care and then also to the intellectual drivers of research?
James D. Cox, MD:
They add a lot. To patient care, sometimes they help make a determination of the best way to treat the patient. And it evolves in a discussion. It's not obvious. We were, I guess, trying to figure out where to go next. Is that right?
Tacey Ann Rosolowski, PhD:
Well, I actually was hoping you would say a bit more about these conferences and what they added.
James D. Cox, MD:
Oh the conferences, yeah.
Tacey Ann Rosolowski, PhD:
Because you said that first of all it helped make a determination about the best way to treat patients.
James D. Cox, MD:
And plus it helped support the clinical research activities of enrolling the patients on treatment. Plus, it was educational for everyone when we had some of the people who are expert—including the pathologist—who are expert in these molecular markers, in the biomarkers. That's something that is not discussed very much in the radiation oncology community here or nationally. But it was an ongoing education, and pretty much all—the medical oncologist, some more than others—Dr. Tsao, Anne Tsao, Vassiliki Papadimitrakopoulou, Merrill Kies—all of these people in the discussions about molecular abnormalities, and are there drugs that can be used that are directed toward them. All of that was a great education for the rest of us that attended the conference. So it had an educational, a patient care advantage, and then it had a clinical research advantage. So all of the conferences go in those directions.
Tacey Ann Rosolowski, PhD:
Now is it self-selecting who attends those?
James D. Cox, MD:
Yes.
Tacey Ann Rosolowski, PhD:
Because I'm just—
James D. Cox, MD:
It is.
Tacey Ann Rosolowski, PhD:
Yeah, as you were describing it, I'm thinking you really have to have an openness to be there. And would you say that those conferences attract a certain type?
James D. Cox, MD:
Yes.
Tacey Ann Rosolowski, PhD:
And how would you characterize that person?
James D. Cox, MD:
Well they attract a certain type, and if you have an hour in the middle of the day or at the end of the day, somebody has to ask themselves, "Is it valuable to go to the conference or should I stay at my desk and get caught up on all the things that I have to do?" So there are a lot of people who never come, and there are some people who come most of the time, and there are a handful of people who are there all the time unless they're out of town. And the other advantage is that there's usually a pathologist and somebody from diagnostic imaging at each one of those conferences. So it's not just the treatment side, but it's also the path and the diagnostic imaging side. And all of that's educational too. I think I get a great deal out of going to those conferences. And I really encourage our residents to go to them, but they are now pretty much all over the institution and all of the major disease-site areas.
Tacey Ann Rosolowski, PhD:
Do you think they've affected the culture of MD Anderson at all?
James D. Cox, MD:
Yes.
Tacey Ann Rosolowski, PhD:
How so?
James D. Cox, MD:
Well I think multidisciplinary care of the cancer patient is a hallmark of MD Anderson. It's not that it's not done other places, but it's not done as readily and willingly—it's not embraced with the same degree of commitment at other places than it is here. Now part of that is also the financial structure of MD Anderson, where all of the positions are salaried. So at these conferences, there's no economic incentive for somebody to recommend something other than that which is best for the patient. So doing something which is best for the patient, that has not only benefits for the patient, but it has benefits for the institution because then—I don't know how many thousands of times I've heard people want to go to MD Anderson because it's the best and they know that they're going to get the best care. And in many cases, they know they're going to have input from anybody that can help. I very frequently tell patients when I see them first, "We function as a team. We're a multidisciplinary team and we're going to call upon anybody at the institution to consult that would be an advantage for you as a patient." And they've come to—so that has become the culture. And that's a big change over the time when I first came here. Now the thing that's missing is that there's some groups—and we probably ought to talk about some of this off the record—(laughs)
Tacey Ann Rosolowski, PhD:
Let me know when you want me to—
James D. Cox, MD:
—but there are some groups that talk to themselves and have convinced themselves of something, but they're ignored nationally because they're just not considered—the work that they're doing is not considered cutting edge or broadly relevant or suitable for export into the community. And I can give you examples of that—but later. (laughs)
Tacey Ann Rosolowski, PhD:
Understood. So I'm trying to get a sense of the balance or the evolution. When you arrived, how was the culture different from what you see now?
James D. Cox, MD:
More frequently than today, the people in a discipline or in a disease-site area were talking just to each other. They were not even talking to the people outside the institution. Now with my coming, I brought the institution into the RTOG. That included the surgeons and the medical oncologist and, of course, colleagues in radiation oncology. I think that had a favorable effect on the institution. It really got the discussion of what they were doing much more broadly throughout the cancer world outside of MD Anderson.
Tacey Ann Rosolowski, PhD:
I can see why you see the RTOG and the work at MD Anderson as being part—
James D. Cox, MD:
They're linked.
Tacey Ann Rosolowski, PhD:
Yeah, they're very linked.
James D. Cox, MD:
—very strongly linked. Now there are groups—there are a handful of positions that are involved with the Southwest Oncology Group. I think that's the only—oh, of course, the Gynecologic Oncology Group, the GOG. But now they're restructuring the cooperative groups at the National Cancer Institute level, and there are certain groups that are going to be forced to fit together. They don't necessarily include all of the groups that might be of greatest interest to the RTOG or MD Anderson. We'll have to see how that goes. It's in its early phase of development and it's very much a work in progress that it's hard to know if it's going to be at all successful.
Tacey Ann Rosolowski, PhD:
Uh-hunh (affirmative). We're almost at noon and earlier you said you need—
James D. Cox, MD:
Yeah, I'm going to have to go.
Tacey Ann Rosolowski, PhD:
Okay. All right. Well thank you for your time today.
James D. Cox, MD:
We're at a pretty good stopping point I think.
Tacey Ann Rosolowski, PhD:
Okay. And I'm turning off the recorder at 12:00 noon.
James D. Cox, MD:
Okay, great. (End of Audio 2)
Recommended Citation
Cox, James D. MD and Rosolowski, Tacey A. PhD, "Chapter 12: Multidisciplinary Conferences at MD Anderson Lead to More Effective Treatment Plans" (2013). Interview Chapters. 794.
https://openworks.mdanderson.org/mchv_interviewchapters/794
Conditions Governing Access
Open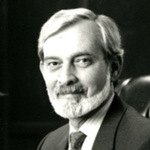 COinS