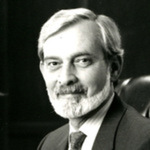 Title
Chapter 19: The MD Anderson Presidents
Description
Dr. Cox begins with observations about Charles LeMaistre, who recruited him to serve as Vice President of Patient Care, "a good title, bad job," as he says. Cr. Cox explains that he and Dr. LeMaistre had very different orientations toward MD Anderson administration. Dr. LeMaistre was interested in issues related to the UT System, Dr. Cox says, then explains why he believes that Dr. LeMaistre didn't fully understand what was going on at the institution. Dr. Cox says that during Dr. LeMaistre's tenure, the institution was on the verge of greatness, but couldn't take the next step because many faculty were "living in silos."
Dr. Cox next talks about John Mendelsohn, who was very aware of what was going on in the institution (at least during the first years). He then turns to Ronald DePinho, whom he admires for his grand aims and desire to change the institution in a major way. He offers his view of the Moon Shots Program, which he sees advancing team science, though he has no expectation that is will eliminate the cancers at which the various sub-programs are aimed.
Identifier
CoxJ_03_20130423_C19
Publication Date
4-23-2013
Interview Session
Topics Covered
The University of Texas MD Anderson Cancer Center - Key MD Anderson Figures; Critical Perspectives on MD Anderson; Portraits; Personal Background; MD Anderson in the Future
Transcript
Tacey Ann Rosolowski, PhD:
I wanted to ask you some questions about relationships with the different presidents since you have worked with three of them now, and I know you were brought in by Charles LeMaistre [Oral History Interview] and was wondering if you could talk about him as an administrator—a leader—your working relationship with him. I know you had some questions and issues.
James D. Cox, MD:
You know—in something like this I don't know what I should say because—
Tacey Ann Rosolowski, PhD:
Well—the way I look at it is not so much telling tales out of school, but really an evaluation. You know—like what could have been done better, what was done okay—that kind of thing.
James D. Cox, MD:
I think—as I have summarized it—and I think even to you—I came in with what seemed to be a great title that turned out to be a bad job. And the reason it was a bad job is that the division heads—the division heads felt I had a responsibility to them. I thought coming in that I had more of a responsibility to—that I was not limited by my responsibility to them.
Tacey Ann Rosolowski, PhD:
And just for the recorder (both speaking at once)—
James D. Cox, MD:
That it was more of a—that it was more of a leadership position than a management position, and it turned out to be purely a management position. And if the division heads did not like a decision that I would make, they would turn around and go to Dr. LeMaistre, and he did not dissuade them.
Tacey Ann Rosolowski, PhD:
And just for the recorder I will say you are speaking about your period as vice president of patient care.
James D. Cox, MD:
Yes.
Tacey Ann Rosolowski, PhD:
Yeah.
James D. Cox, MD:
Entirely. And then as time went on—you know—it became clear that we had a different orientation. He—actually LeMaistre was interested in issues that were related to the University of Texas system. I think he was proud to be president of MD Anderson. I think it served him from the point of view of posture within the community. I don't think that he really fully understood what was going on within the institution. Now, in fairness I will say that having come from the outside and having spent four years in that position of vice president for patient care, I did not fully understand what was happening throughout the institution until I went back to taking care of patients within MD Anderson and essentially was side-by-side with the people who were caring for patients in every division—pathology and diagnostic imaging—and only then did I understand what MD Anderson was all about.
Tacey Ann Rosolowski, PhD:
Why do you think it's that way, that you can't get that view from an administrative position?
James D. Cox, MD:
Dr. LeMaistre was not a cancer person. He did not come from a background where his primary specialization was with cancer. He was a pulmonary medicine physician. He had political clout in the arena of dangers of smoking. And the other people—you know—the other—the chief financial officer—the other people around Dr. LeMaistre were not physicians. And so—and the physicians that related to Dr. LeMaistre wanted something from him. The division heads wanted him to bless what they were doing. So it's hard to know within any institution if, in fact, you don't know what you don't know. Now, I mean, I can go anywhere and explain what is happening at MD Anderson, where its strengths and weaknesses are and what—and why I think it is a great place to work, and after I left that position of vice president for patient care I had many opportunities to go other places—sorry—it is partly—it's maybe talking and partly it is I have got allergies.
Tacey Ann Rosolowski, PhD:
It has been a rough season for them.
James D. Cox, MD:
But—so I think it is hard. So after I left the position of vice president for patient care and was taking care of patients and working with the residents and working with the faculty within our own division—you know—I just came to appreciate the institution very well. I think at that time the institution was on the verge of greatness but was not there, and one of the reasons why they were on the verge of greatness but had not arrived at it is they spent too much time talking to themselves. So if you are in a big place, especially with some specialization, and if people are talking to themselves all the time and convincing themselves that the conclusions that they have come to about how to care for patients, about what the research shows so on and so forth, convincing themselves that they are right but are ignoring the rest of the world of cancer treatment—cancer research and cancer treatment outside it is easy to become limited. It is easy to be living in a silo.
Tacey Ann Rosolowski, PhD:
Interesting.
James D. Cox, MD:
And what I said to others during the time I was in that VP position was—well, and of course I was involved in the RTOG at the same time. I said you have got—you really have got people in other places, and I got some of them to come to the RTOG meetings and they became involved. I got some of them to come to the RTOG meetings, and they had a terrible time, and I think we talked about that, but I think the interplay between what was going on here and what was going on nationally became expanded quite a lot, and as it became expanded the institution became appreciated more and more and more. And then of course there were some high-profile people who came here or were benefactors, and that was good, and there were a lot of people who came here having gone either to Johns Hopkins or Mayo Clinic or Memorial in New York and then came here and said—you know—this is just a different place. The whole atmosphere is different. The whole approach to taking care of patients is different.
Tacey Ann Rosolowski, PhD:
What were they identifying as being so unique?
James D. Cox, MD:
The feelings of support of everybody within the institution for them and what they needed. So if they were wandering down the hall looking a little bit lost, somebody would come up to them and say, "Can I help you?" and in some cases would take them to where they needed to be, and that just did not happen in those other places. And that—to some degree that is a bit of Texas or Houston or southern hospitality, but it is a mindset that is very favorable in terms of caring for patients, and people are very impressed with that, and they should be.
Tacey Ann Rosolowski, PhD:
What about John Mendelsohn [Oral History Interview] and your relationship with him?
James D. Cox, MD:
I have always had an excellent relationship with John. I mean—he is a good, outstanding scientist, a real student of what is going on within the institution, or at least he was in the first many years. And I think because of that he had a great deal of credibility with most people within the institution. As I said in a meeting the other day, there are always within the faculty or the alumni or let's say the retirees—there are always a certain number of bomb throwers, and there always will be. So I think, notwithstanding the problems that he had with the bomb throwers, I think most people viewed him and continue to view him with great respect and an appreciation for him as a scientist. Maybe—maybe listening a little too closely to certain elements of people within the institution, and thereby not getting a broad enough view. And I think he was open to the broader view, but I think just on a personal basis he would get input from some people who gave him the view that served them well, which is not surprising—I mean—it happens to the President of the United States I am sure.
Tacey Ann Rosolowski, PhD:
Right. Sure. What about Dr. [Ronald] DePinho?
James D. Cox, MD:
Well I have not had nearly as much interaction with him. I mean he is an—I think he is an outstanding scientist. I think he is a visionary. I think he looks to change things in a major way, and I admire that. I appreciate a little bit the problems of working in the same institution with your spouse who is strong-willed, but I think she is a terrific scientist too. And I think—you know—they are a very good—wonderful addition to the institution.
Tacey Ann Rosolowski, PhD:
What are some of the issues that have come up for you with a spouse being employed at the same institution?
James D. Cox, MD:
Oh—there have not been very many because actually I remember one time we were in clinic several years ago and somebody said to me, "I just learned that you are married to Dr. Komaki." I said, "Yes." They said, "Is that—we have been working together for five years, and I never knew that." So I think the majority of people have had that experience. There were—there was at least one person who really was anxious to do harm to us, but eventually that element disappeared, and so generally we have not had any difficulties. We have not been in the same kind of limelight that Dr. DePinho has and Lynda Chin.
Tacey Ann Rosolowski, PhD:
What is your prognosis for the Moon Shots Program?
James D. Cox, MD:
Well—on a positive note they are bringing together people and galvanizing them to try to arrive at creative solutions that have not previously been fully considered. Do I have any expectation that it's going to eliminate any of the forms of cancer at which it is aimed? No. It's not. So it will do—it will have a lot of benefit for interdisciplinary science, and that is good—team science—that is good. It will not achieve a grand goal. I remember it was Andy von Eschenbach—he first went into the position as head of the National Cancer Institute many years ago and had said we are going to cure cancer by 2015, and obviously we are not, and so I think the prognosis for the Moon Shots Program in that regard is pretty much the same. Cancer is too complicated, and it's too many diseases, and it's too fundamental, and I don't think we are going to do away with it. It is like doing away with inflammation. I don't think we will ever do away with inflammation or doing away with the degenerative diseases. You just cannot, but will we be able to help and do positive things? Yes.
Recommended Citation
Cox, James D. MD and Rosolowski, Tacey A. PhD, "Chapter 19: The MD Anderson Presidents" (2013). Interview Chapters. 801.
https://openworks.mdanderson.org/mchv_interviewchapters/801
Conditions Governing Access
Open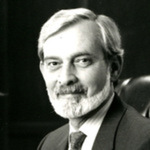 COinS