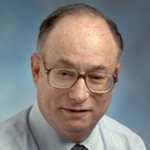 Title
Chapter 13: Research on Cardiology
Description
In this chapter, Dr. Ewer sketches his research on the cardio-toxic effects of chemotherapy. He tells the story of one set of trials focused on Herceptin. He talks about formulating a controversial theory of Type 1 and Type 2 cardiotoxicity. At the end of the chapter, he sketches his formal retirement in 2013 and changes to his partial appointment thereafter.
Identifier
EwerMS_02_20180725_C13
Publication Date
7-25-2018
Topics Covered
The Researcher; The Researcher; Definitions, Explanations, Translations; Overview; Discovery and Success
Transcript
Tacey A. Rosolowski, PhD:
He hasn't knocked on your door. So tell me what are your hot projects right now? What are you working on now?
Michael S. Ewer, MD, MPH, JD, LLM, MBA:
I still am active in cardiology. I read I'd guess about half of all of the cardiograms that are done in the institution. There are some years I think I've read as many as 20,000 cardiograms--
Tacey A. Rosolowski, PhD:
That's amazing.
Michael S. Ewer, MD, MPH, JD, LLM, MBA:
In the course of a year. I don't know how many I've read this year. I still try to get a couple of good papers out. I do reviews, peer reviews, for journals. I write editorials. I have... The third edition of our book, Cancer and the Heart, is coming out now, so that'll be hopefully out by the end of the year.
Tacey A. Rosolowski, PhD:
We never talked about the arc of your research in cardiology. What are some of the high points in that that you'd like to share?
Michael S. Ewer, MD, MPH, JD, LLM, MBA:
I was asked to be on the Cardiac Advisory Panel for one of the major breast cancer trials, and worked there with a clinician who later became the President of ASCO. That was Dr. Sandra Swain. And at that time there was a feeling that a wonderful new breast cancer drug was causing tremendous cardiotoxicity. That drug was Herceptin. And I looked at what information we had, and I said, this doesn't make sense. Second trial came out, and that was the famous BCIRG-006 trial. And that was to explore the role of this new drug, Trastuzumab, Herceptin, and also to look at the cardiac effects. There was a third trial, and that trial had been partially shut down because of the cardiac effects. And we had a meeting to decide whether or not to shut our trial down. And by that point I had formulated in my mind the concept of Type 1 and Type 2 cardiotoxicity. And we were clearly dealing with something very, very different with this new drug. And I said no, don't shut it down. And so Dr. Swain, who was the head of the data monitoring committee, said, "You know, we have members on this committee who want to shut it down. How certain are you?" And I said, "I'm very certain." She said, "You know, this can be a career-breaker if you're wrong, because if we expose a thousand women to this, and there's a lot of cardiotoxicity, there's going to be huge questions." My answer to her was, "If we don't treat these women there are going to be a lot of dead women on our hands. I'm sure." And she said, "I'm going to make you the Head of the Cardiac Advisory Panel. You will have the veto over the other two, and I'll keep it open. But I'm worried." End of story was we published Type 1 and Type 2. It's now been cited nearly 500 times. It's become a huge controversy because some people think it's nonsense, but it really isn't. Because we kept the trial open, we could complete it. Because we completed it, the Food and Drug Administration approved Trastuzumab. And in that respect, I indirectly helped get a drug approved perhaps a year or two earlier than might have otherwise taken place, and saved thousands of women's lives. That is my legacy.
Tacey A. Rosolowski, PhD:
That's something to be very proud of, of course. Tell me, what is the difference between Type 1 and 2?
Michael S. Ewer, MD, MPH, JD, LLM, MBA:
Type 1 is what we see with drugs that directly destroy heart muscle cells, and the anthracyclines, doxorumicin, and drugs like that, are the culprits there, and if you put cells in a petri dish and have them grow, and you add these drugs, they die. So this is directly toxic to the cells, and that's Type 1. Type 2 is something that may make those cells not function right but doesn't kill them, and they get better when you take the drug away, or they get used to the drug and they heal, and they may have other secondary influences but they're not directly killed, and those are the Type 2.
Tacey A. Rosolowski, PhD:
When was the study published?
Michael S. Ewer, MD, MPH, JD, LLM, MBA:
Two thousand five. It wasn't a study; it was a commentary. It was an editorial comment, almost, but it may well be one of the most cited comments that the Journal of Clinical Oncology has ever published.
Tacey A. Rosolowski, PhD:
Interesting. So is it the controversy comes from what?
Michael S. Ewer, MD, MPH, JD, LLM, MBA:
Some people who don't like it. Maybe they don't like me. I don't know.
Tacey A. Rosolowski, PhD:
(laughs) Anything else that you wanted to say about your research evolution at this point?
Michael S. Ewer, MD, MPH, JD, LLM, MBA:
I've done research on the anthracyclines. We did heart biopsies with those. We did research on newer drugs. We've done research on interactions of drugs. And then I've done some significant papers based on the critical care experience and resuscitation in the intensive care unit. One of the first outcomes papers, the outcome of lung cancer patients treated with mechanical ventilation, was published in JAMA years ago, probably 30 years ago, and got translated into their Japanese version of JAMA. Hugely important, but nobody follows it. The answer was, "Well, you know, if lung cancer patients don't do well on ventilators..." That was then, and we still put people with lung cancer on ventilators, and they still die. It hasn't changed. At some point we are still offering, perhaps, more care than is needed and appropriate in some settings, and while patients say, "I want to live every moment that I can possibly live," there's also a balance in the quality of life, and what are we compromising. And there are instances where we have kept people alive, in many instances because they've requested it, but where it didn't make any sense. And that's a Dr. Gallagher question. (laughter) It used to be my question, and the answer at that time was absolutely, but now it's a Gallagher question.
Tacey A. Rosolowski, PhD:
Now it's a Gallagher question.
Recommended Citation
Ewer, Michael S. MD and Rosolowski, Tacey A. PhD, "Chapter 13: Research on Cardiology" (2018). Interview Chapters. 815.
https://openworks.mdanderson.org/mchv_interviewchapters/815
Conditions Governing Access
Open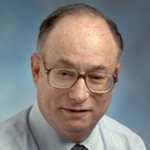 COinS