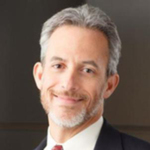 Title
Chapter 20: The PREDICT Trial: A Unique Study of Biomarkers for Cardiotoxicity
Description
In this segment, Dr. Fisch talks about the PREDICT trial, a landmark study he conducted in the late 2000s on predictors for cardiotoxicity in patients treated with anthracyclines. He explains the effects that anthracyclines can have on the heart and notes that this is a survivorship treatment issue. The study asked Can you use point-of-care biomarker testing to assess cardiac toxicity of chemo regimens. Dr. Fisch notes that when this project began around 2007, cardiac studies were very new. He describes some challenges enrolling patients (eventually enrolling over five hundred) and reports the outcomes. He says that it was a good descriptive study, unique in the realm of oncology. His role, he explains, was facilitating set up and implementation of the project and executing the trial as part of a team effort.
Identifier
FischMJ_03_20150218_C20
Publication Date
2-18-2015
Topics Covered
The Researcher; The Clinician; The Administrator; The Leader; Career and Accomplishments; Overview; Definitions, Explanations, Translations; Discovery and Success; Multi-disciplinary Approaches; Understanding Cancer, the History of Science, Cancer Research; The History of Health Care, Patient Care
Transcript
Tacey Ann Rosolowski, PhD:
We had talked, too, about going through the story of the different areas in which you've done research since coming here. We kind of covered the period coming to MD Anderson, but really didn't explore how your research evolved. So I wonder if you want to take some time and do that this morning.
Michael Fisch, MD:
Sure. Yeah. So I think I covered some in the context of the Community Clinical Oncology Program, and some of what I've done has been doing facilitation of research, but also some of my own research has been important. I'd say a couple of the studies that have been most important that I've been directly involved in, one of them an MD Anderson study through our CCOP here, called the PREDICT trial, P-r-e-d-i-c-t, and that has been a collaboration with cardiologist Dan Lenihan, who is an MD Anderson faculty and really the brainchild of the study when he was a faculty here.
Tacey Ann Rosolowski, PhD:
I'm sorry. That's Dan—
Michael Fisch, MD:
Dan Lenihan, L-e-n-i-h-a-n. A terrific clinical cardiologist and clinical researcher, heart failure specialist. And then the study evolved collaborating with some other oncologists and others.
Tacey Ann Rosolowski, PhD:
When did that work start?
Michael Fisch, MD:
So that work started around 2007, and then it was probably 2009 or 2010 by the time we started to enroll patients. But the gist of the study was trying to predict cardiotoxicity in patients who were getting exposed to a certain type of chemotherapy called anthracyclines. Anthracyclines are a class of chemotherapy medicines such as Adriamycin or Doxorubicin and some other related drugs. These drugs are important in the management of breast cancer.
Tacey Ann Rosolowski, PhD:
Could I ask you just to pause for a sec. [recorder is paused]
Tacey Ann Rosolowski, PhD:
Okay. We're recording again. (laughs) I may have to pause again.
Michael Fisch, MD:
That's okay.
Tacey Ann Rosolowski, PhD:
You were saying—
Michael Fisch, MD:
So I was telling you about anthracycline chemotherapy and where those drugs that fall into that category have a role in the treatment of breast cancer and the treatment of certain kinds of lymphoma and leukemias and also sarcomas. So, kind of interesting for general oncologists, right? Sometimes when you're talking about the toxicity of a class of drugs, that class of drugs is used in several categories of diseases, and so the perspective of a sarcoma doctor or leukemia doctor or lymphoma specialist is of a certain kind of perspective with respect to this drug and its toxicities. But if you are seeing a broad mix of patients, you might be interested in the larger issue, and the issue is that these drugs can cause heart failure and that heart failure, when not managed quickly and recognized early, doesn't always get better. So sometimes you can cause heart failure that doesn't allow you to finish the treatments and doesn't allow you to accomplish the goals that you had when you started treatment, and then sometimes you can use these drugs and achieve the goals of treatment in terms of treating the cancer but render the patient debilitated with a cardiac problem, either as a sort of chronic effect of an effect of the treatment that got started during the treatment or what I call late effect, sort of a ticking time bomb, so that you develop problems that don't surface for a while, but down the road sometimes a few years and sometimes even ten or fifteen years later, the effects of the chemotherapy on your heart start to play out a very difficult hand for the survivor. So it's a survivorship issue but also a treatment issue. So anyway, we did this study called Predict, which is really a landmark study which hasn't yet been published. We were talking with the NCI yesterday about the study is completed and some of our plans moving forward to publish some of the main papers and various work products of the big study. The goal was to see if you could use point-of-care testing, like in the clinic, prick somebody's finger, take a little bit of blood, check for cardiac biomarkers, one called troponin, the other called BNP, which stands for brain natriuretic peptide. These are things that could be measured with a little bit of blood at the point of care and see if the values of those point-of-care tests could be then an indicator of cardiotoxicity during treatment that might trigger early recognition in appropriate cardiac-directed care to start prescribing cardiac medications to start to protect the heart, to get a cardiologist involved, and to ultimately see if you could complete the treatment and get safer and better outcomes.
Tacey Ann Rosolowski, PhD:
Can I ask you a quick question? You mentioned the different perspectives of, say, the person treating leukemia versus somebody who's more general. Am I assuming correctly that the person treating leukemia might be willing to accept that kind of heavy fallout from the use of a drug or not be quite as concerned as a generalist?
Michael Fisch, MD:
Yeah, well, let's see. So the different perspectives and what does that mean. I would not agree that it's exactly that, because leukemia doctors are trying to cure their patients in the safest way and have them have good survivorship too.
Tacey Ann Rosolowski, PhD:
Right. That's why I asked. (laughs)
Michael Fisch, MD:
So, for sure, that's not exactly the issue. But for some diseases where the results are not that good, then the late effects aren't there, right? You've got to have survivors to have late effects, so sometimes you're just trying to get a little bit of response and improve people's quality of life towards the end of life, and then late effects are generally a lesser concern. It also depends on how many other drugs you have that are effective. So what might happen, say, in the land of sarcoma treatment is a drug like Adriamycin is so important because there's so few effective drugs and it's sort of impossible to get the best results if you take that drug out of your armamentarium, and sometimes they want to keep going back to that drug and really push the dose, and they're sort of much more motivated to try to figure out how they can protect the heart and jack up the dose and exposure over time of Adriamycin, just because they're bereft of better choices. Not completely. I'm not trying to completely oversimplify it, but they're just more attached to it, say, compared to breast cancer doctors, who might think, "Well, we're trying to steer away from that category sometimes, and we do have some other options when we need them." It's still very important in breast cancer, but maybe breast cancer and sarcoma would have a different perspective. Leukemia has a different perspective. It depends on many different factors. But to even understand those factors, you've got to understand the natural history of the diseases, the treatment choices, where it fits in the role of therapy. So it's complicated. To understand cardiotoxicity, you need medical oncologists. It's very hard for cardiologists working by themselves to really figure out how to make this better. Likewise, you need cardiologists to do this stuff. This is truly an interdisciplinary realm. But, anyway, when we started this Predict study, this was very new, the idea of cardiologists and oncologists working on a study. We'd never had a cardiologist involve in the CCOP. Since 1987 till now, there's been no cardiac-related studies, and there've been no cardiac-related studies in the rest of the groups either. So we were amongst the very first. This wasn't really an interventional study as much as a descriptive study, to see if point-of-care biomarker testing would predict cardiotoxicity, and it had a little bit of an intervention component, to the extent that we didn't want to just find cardiotoxicity and watch it roll out on patients. So if we thought we found it, we certainly wanted to do something about it, and we didn't prescribe medicines or make that a strict part of the protocol, but we would certainly raise attention and then, per protocol, ask cardiologists to get involved when there were significant abnormalities. So that the reason for participating in the study for patients was not pure altruism, just so you people can learn about these scientific issues and clinical issues but also that it may be used to help me get better care. Even if it's a little bit nonspecific, we're not indifferent to your experience as a patient as we monitor your heart using this technique. Of course, if you're not sure if the technique is predicting cardiotoxicity or has utility, then the hazard of participating is it may draw attention to something that shouldn't have been tended to (laughs) and may subject you to consultations or procedures that, in hindsight, weren't necessary, right? So I suppose there's a risk component to this as well. Potential benefit as well as potential risk, mostly descriptive study. Our intention was to enroll 830 patients, and the way research is done, we felt we needed to have eighty-three cardiac events to assess the predictive value of these biomarkers. So we thought, from pilot research, that about 10 percent of patients exposed to anthracyclines would have an event within a year, by the way we defined it. Anyway, we ended up enrolling 597 patients, didn't finish the whole study in terms of the accrual goal, but that's because it turned out that we had troubles with the FDA approval of the point-of-care biomarkers. It was approved, but then the company had to change the way they were making their test cards, and the FDA's asking them to make different batches affected the pace of our trial. We had to slow the trial down. We had to amend our trial. We had to then use some blood testing rather than the point-of-care testing. And then a Data Safety Monitoring Board looking at our study said, "Based on the 597 patients you already have, you can draw some pretty strong conclusions about these markers, so the value of enrolling another 200 patients or more is not enough to justify finishing that." So, in a sense, it was disappointing that we didn't finish the study exactly the way we intended, but still this number of patients very well characterized for their cardiac risk factors, the cardiac medications they were taking, their physical exam findings with respect to cardiovascular things, and their echocardiograms that we did at baseline six months and twelve months, that very well-characterized prospective cohort looking at this issue of cardiotoxicity is very unique in the realm of oncology, and we've learned some things about it and presented them at ASCO already, and we have much more to learn and publish on that. So we're very proud of that. Again, this is, in a sense, an example of, I guess, my contributions, because I didn't invent the idea, this is Dan Lenihan's brain child, but trying to figure out how to work with Dan, see the value, seeing the uniqueness, build the trial, work with oncologists in the community setting, build a team here, sell it to the NCI, execute the trial, you know, that's my role. I became a part of a team science project and sort of had an eye for the unique value of it, importance of it, and tried to make it roll out.
Recommended Citation
Fisch, Michael J. MD, MPH and Rosolowski, Tacey A. PhD, "Chapter 20: The PREDICT Trial: A Unique Study of Biomarkers for Cardiotoxicity" (2015). Interview Chapters. 843.
https://openworks.mdanderson.org/mchv_interviewchapters/843
Conditions Governing Access
Open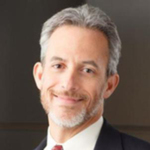 COinS