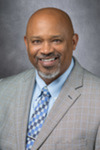 Title
Chapter 01: Early Professional Development Leads to a Career in Leadership and Diversity
Description
Lee Coffee begins the interview by talking about his personal and professional history - including early education and military service. Also discussed are the courses he implemented at MD Anderson related to LGBT Diversity and BIAS training. He concludes the chapter by discussing his thoughts on leadership and intersectionality.
From:
Lee Coffee Jr., M. Ed., Oral History Interview, June 30, 2021
Transcript
Nina Nevill


Want to get things in order. So, we are officially recording, by the way. Yeah, unfortunately, we had checked, last time we had checked in advance to make sure everything was set up and, apparently, just a few days before our interview was scheduled, they changed the policy removing the rights from all employees to record unless granted permission, so.
Lee Coffee Jr., M. Ed.
Sure. Well, I'm glad we got it straight and caught it in time.
Nina Nevill
Absolutely. So, how are you doing today?
Lee Coffee Jr., M. Ed.
I'm doing well. I'm on vacation today, PTO, and this was my second official active business for today, but I'm doing very well.
Nina Nevill
Well, hopefully you don't have too many more after this and can actually enjoy a little bit.
Lee Coffee Jr., M. Ed.
Yeah, this is it.
Nina Nevill
Good. I'm glad to hear it.
Lee Coffee Jr., M. Ed.
Yeah, me, too.
Nina Nevill
Well, for the sake of formality I have a few things to read here and then if you are okay with it, we can just get started with the questions? Okay.
Lee Coffee Jr., M. Ed.
I am.
Nina Nevill
Perfect. And if there's anything—do you have any questions at this time before we start?
Lee Coffee Jr., M. Ed.
I do not.
Nina Nevill
Okay. And at any point, if you want to take a break, I can, of course, pause, and we can go about this as if we were in person having a conversation.
Lee Coffee Jr., M. Ed.
We certainly can. Thank you.
Nina Nevill
All right. So, I'm Nina Nevill, interviewing Mr. Lee Coffee Jr., for an oral history project run by the Historical Resource Center at MD Anderson Cancer Center in Houston, Texas. Mr. Coffee was recruited to MD Anderson in the Leadership Institute as a leadership practitioner and is a Senior Diversity Trainer. This session is being held virtually over Zoom, and this is the first and only session that I have scheduled with Mr. Coffee, however, a second interview can be scheduled if needed. Today is June 30th, 2021, and the time is about 2:30 p.m. And again, thank you, so much for devoting your time today for this interview for our project.
Lee Coffee Jr., M. Ed.
You're very welcome.
Nina Nevill
Now, the first thing that I'd like to know about is, if you don't mind just walking me through your educational path a little bit and telling me how you got to where you are today.
Lee Coffee Jr., M. Ed.
Okay. Part of my career started shortly after high school. I joined the United States Army and spent 24 years in the Army in increasing levels of leadership and responsibility. Ten years after joining the Army, I was introduced to a course called The Equal Opportunity Course, which began my career as a social justice practitioner and a diversity practitioner. The course was two weeks in length, 80 hours, and I continued teaching that as an additional duty for the United States Army from 1987 to 1997. And then, I went to a school in Cocoa Beach, Florida, so-called The Defense Equal Opportunity Management Institute. It is a four month, or 16-week course in which we talk about the socialization process, the culture, and what culture is, and how culture is a system of learned and shared behaviors passed from one generation to the next through a shared symbol system, for the specific purpose of working for a two-star general on a military installation to assess the command climate and improve the command climate to eliminate discrimination, marginalize, minimize prejudice, and things of that nature. So, I've been doing that work some-odd 33 years now. I've got an undergraduate in the Psychology of Organizational Development from the University of Incarnate Word as well as a master's in education from that same institution in San Antonio. And I started at MD Anderson in March of '09 as a Diversity Equity and Inclusion Practitioner and the programs that I have integrated into the program in MD Anderson include such as Managing Beyond Classism, which was an eight-hour course, Spirituality in Healthcare, which was also an eight-hour course to help our staff be able to be aware of the fact that patients who come from across the globe bring different faith practices and if their faith provides them with hope, then our job is to help them through their cancer journey and not challenge them based on their belief system.
And another course I've implemented at MD Anderson was called LGBT Diversity and Inclusion so that we can, again, for our patients who comes here with cancer, we want to focus on their cancer and not their sexual orientation, and to remind our staff they're there to be treated with the same dignity and respect than any other cancer patient came with. I'll just give you a couple other courses. I started Unconscious Bias at MD Anderson, Unconscious Bias in Executive Recruiting, Unconscious Bias for Managers. I started our professionalism at MD Anderson back in 2014. Today, there is a Center for Professionalism to help address those behaviors that are counterproductive to good order and discipline, our core values, our code of conduct, our service excellence, and any other just reasonable person standards on treating people with dignity and respect. So, that kind of is a thumbnail. I am a professional coach. I'm a member of a board of directors for the Association for Coach Training Organizations, which is an international coaching organization, and at MD Anderson, I am one of the three primary facilitators in our CoachRICE Program, which is an international Coach Federation Producing and Credentials program that takes our staff members, and at the end of the process, they are certified coaches, eligible to compete for ICF Associate Coaching credentials. So, that's a thumbnail of Lee Coffee.
Nina Nevill
Wow, that's incredible. Your experience is incredible. It sounds like your journey to where you are now has been influenced by your time in the military. Can you talk a little bit more about what inspired your commitment to diversity, in particular?
Lee Coffee Jr., M. Ed.
Well, part of my experience is inspired by my parents. My mother who was a, before the term was coined, a servant leader, took care of people in our community, taught me the value of helping people and serving our community members. And as a young man, I marched in the Dr. Martin Luther King marches back in the '60s before he was killed. And so, I grew up with a social consciousness. As a Black male growing up in America in northeastern Ohio, I was jumped and beaten by four grown white men, so I knew that there was something that some people perceived as different, and then they took that difference and saw it as deviant. And so, I always believed treating people with dignity and respect. My military training put me through—I joined to be a medic, a soldier medic. That translated into me being not only a nurse, but the youngest nurse to manage the Surgical Intensive Care Unit at Walter Reed for the paraprofessional staff. And at the time, I was 23 managing 17 people. And the reason how that ties into diversity is, when you are a nurse, you take care of people. It doesn't matter the gender, the orientation, the age, it's not supposed to matter. For some people it does. But for me, nurses serve humanity. Soldiers are soldiers are also servants of society. And so, my life's work is built on, I think as a concept that says, I should go through this world but once, therefore any goodness I can do or any kindness I can show, let me do it now and let me not defer, for I shall not pass this way again. And that's how I approach my life's work.
Nina Nevill
Wow. That's really powerful. Thank you for sharing all of that.
Lee Coffee Jr., M. Ed.
You're welcome.
Nina Nevill
So, from my understanding, leadership and diversity are intimately connected. And so, I'd like to know a little bit more about what factors led you in the path of leadership.
Lee Coffee Jr., M. Ed.
Well, leaders take care of people. So, if you're going to be a leader, leadership is really about influencing an individual, or a group of individuals, to accomplish a task or achieve a goal by providing to that group or individual purpose, motivation, and direction. And if a person is a leader, whether they've gone through a military academy or a police academy or a work and school of business, if they're a leader, they're going to take care of the people that work for them, the people that surround them, the people that will support them. And Gandhi said, "I am your leader; therefore, I follow you." So, leaders understand that you take care of people. And so, the integration and intersectionality between diversity work and leadership is that leaders take care of people. And they are inclusive. They don't look down the line and say, "I want one left-handed Samoan, and two right-handed whatever, Native Americans, or Indians," they say, "I want two individuals to help me on this project," and then the two people that show up, if they need coaching or mentoring or development, that leader will either provide it to them, or send them to the place where they can get the coaching or the mentoring, and they take care of people. So, for me, that's the intersectionality, a person who is a leader will take care of their staff, regardless of the demographics. Does that answer your question?
Identifier
CoffeeL_01_20210603_C01
Publication Date
6-30-2021
Publisher
The Historical Resources Center, The Research Medical Library, The University of Texas MD Anderson Cancer Center
Recommended Citation
Coffee, Lee Jr., MEd and Nevill, Nina, "Chapter 01: Early Professional Development Leads to a Career in Leadership and Diversity" (2021). MD Anderson 2020 Interview Project. 12.
https://openworks.mdanderson.org/mda2020_interviewsessions/12
Conditions Governing Access
Open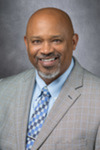 COinS