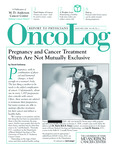 Contents
Pregnancy and Cancer Treatment Often Are Not Mutually Exclusive
Studies of the Viral Origins of Some Cancers Lead to New Prevention, Treatment Strategies
House Call: Cancer and Your Weight
DiaLog: Treating Breast Cancer during Pregnancy, by Karin M.E.H. Gwyn, MD, Assistant Professor, and Richard L. Theriault, DO, Professor, Department of Breast Medical Oncology
Creative Commons License


This work is licensed under a Creative Commons Attribution-Noncommercial-No Derivative Works 3.0 License.
Publisher
The University of Texas MD Anderson Cancer Center
Keywords
Theriault, Richard (Richard L.); Gwyn, Karin M.E.H.; Stavena, Lea M.; Middleton, Lavinia P.; Samaniego, Felipe; Pugh, Amira; Tortolero-Luna, Guillermo; Bresalier, R.S. (Robert S.); Pregnancy Complications, Neoplastic; Neoplasms -- therapy; Carcinogenesis; Human Papillomavirus Viruses; Stomach Neoplasms; Sarcoma, Kaposi; Liver Neoplasms; Breast Neoplasms; Uterine Cervical Neoplasms; Hepatitis B virus; Hepacivirus; Herpesvirus 4, Human; Simian virus 40; Herpesviridae Infections; Lymphoma, Non-Hodgkin; HIV Infections; Helicobacter Infections; Obesity; Body Mass Index; Exercise; Diet, Healthy; Antineoplastic Combined Chemotherapy Protocols; Fluorouracil; Doxorubicin; Cyclophosphamide; Fetal Death.
Disciplines
History of Science, Technology, and Medicine | Oncology
Recommended Citation
Galloway, David; Matias, Katie Prout; Gwyn, Karin M.E.H. MD; and Theriault, Richard L. DO, "OncoLog, Volume 49, Number 01, January 2004" (2004). OncoLog MD Anderson's Report to Physicians (All issues). 134.
https://openworks.mdanderson.org/oncolog/134
Conditions Governing Access
Open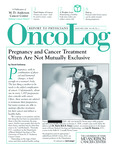 COinS