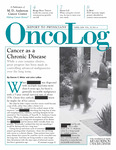 Contents
Cancer as a Chronic Disease
In Brief: Cancer-Promoting Protein in Ovarian Cancer May Be Stopped with RNA Liposome
House Call: Caring for the Caregiver
Barely Benign
Creative Commons License


This work is licensed under a Creative Commons Attribution-Noncommercial-No Derivative Works 3.0 License.
Publisher
The University of Texas MD Anderson Cancer Center
Keywords
Fisch, Michael J.; Tannir, Nizar M.; Esteva, Francisco J.; DeMonte, Franco; Gidley, Paul W.; Mahajan, Anita; Sood, Anil, M.D.; Lopez-Berestein, Gabriel; Cancer Survivors; Multiple Myeloma; Leukemia, Myeloid; Breast Neoplasms; Neoplasms -- therapy; Neoplasm Metastasis; Kidney Neoplasms; Carcinoma, Renal Cell; Brain Neoplasms; Meningeal Neoplasms; Neurilemmoma; Pituitary Neoplasms; Craniopharyngioma; Ovarian Neoplasms; Caregiver Burden; Cargivers; Interleukin-8; Receptors, Interleukin-8; RNA, Small Interfering; Receptor, EphA2; EPHA2 protein, human; Oncogene Proteins.
Disciplines
History of Science, Technology, and Medicine | Oncology
Recommended Citation
Witter, Diane; LeBas, John; and Hosemann, Sunni, "OncoLog Volume 53, Number 04, April 2008" (2008). OncoLog MD Anderson's Report to Physicians (All issues). 175.
https://openworks.mdanderson.org/oncolog/175
Conditions Governing Access
Open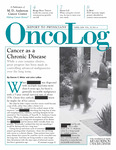 COinS