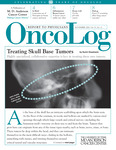 Contents
Treating Skull Base Tumors
Targeting Inflammatory Breast Cancer
House Call: On the Job with Cancer
DiaLog: Helical CT Screening: Does It Affect Lung Cancer Outcome? by Reginald F. Munden, MD, Professor, Department of Diagnostic Radiology
Creative Commons License


This work is licensed under a Creative Commons Attribution-Noncommercial-No Derivative Works 3.0 License.
Publisher
The University of Texas MD Anderson Cancer Center
Keywords
DeMonte, Franco; Hanna, Ehaby; Weber, Randal S.; Esteva, Francisco J.; Sood, Anil, M.D.; Lopez-Berestein, Gabriel; Kornblau, Steven; Woodward, Wendy; Cristofanilli, Massimo; Buchholz, Thomas; Henschke, Claudia I.; Skull Base Neoplasms; Skull Base; Robotic Surgical Procedures; Surgery, Computer-Assisted; Proton Therapy; Trastuzumab; Breast Neoplasms; Neoplasm Metastasis; Cardiotoxicity; RNA, Small Interfering; Liposomes; Nanoparticles; Ovarian Neoplasms; Focal Adhesion Protein-Tyrosine Kinases; Intracellular Space; Leukemia, Myeloid, Acute; PRKCA protein, human; Protein Kinase C-alpha; PAK protein, Paramecium tetraurelia; Survival Rate; Breast Neoplasms -- mortality; Black or African American; Women; Inflammatory Breast Neoplasms; Positron-Emission Tomography; Lapatinib; Genes, erbB-2; Trastuzumab; Lapatinib; Americans with Disabilities Act; Neoplasms; Tomography, Spiral Computed; Lung Neoplasms.
Disciplines
History of Science, Technology, and Medicine | Oncology
Recommended Citation
Hosemann, Sunni and Munden, Reginald F. MD, "OncoLog Volume 51, Number 11, November 2006" (2006). OncoLog MD Anderson's Report to Physicians (All issues). 189.
https://openworks.mdanderson.org/oncolog/189
Conditions Governing Access
Open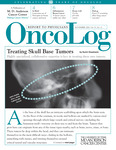 COinS