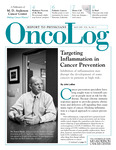 Contents
Targeting Inflammation in Cancer Prevention
Treating Radiation Necrosis of the Brain
Preclinical Studies Reveal Effectiveness of Therapies for Pediatric Cancers
House Call: Protect and Check Your Skin
Creative Commons License


This work is licensed under a Creative Commons Attribution-Noncommercial-No Derivative Works 3.0 License.
Publisher
The University of Texas MD Anderson Cancer Center
Keywords
Hawk, Ernest T.; Dubois, Raymond N.; Kim, Edward S.; Lynch, Patrick M.; Hursting, Stephen D.; Hung, Mien-chie; Levin, Victor A.; Zweidler-McKay, Patrick; Zage, Peter; Lewis, Valerae O.; plerixafor; Neuroblastoma; Isotretinoin; vandetanib; Leukemia, Myeloid, Acute; Neuroblastoma; Bevacizumab; Brain Neoplasms; Radiation Injuries; Clinical Trials as Topic; Tumor Necrosis Factor-alpha; Genes, Tumor Suppressor; Sirolimus; Pancreatic Neoplasms; Colorectal Neoplasms; Eflornithine; Sulindac; Lung Neoplasms; Celecoxib; Colectomy; Genes, APC; Adenomatous Polyposis Coli; Chemoprevention; Anti-Inflammatory Agents, Non-Steroidal; Skin Neoplasms; Carcinoma, Basal Cell; Carcinoma, Squamous Cell; Melanoma; Sunscreening Agents; Osteosarcoma; IL11RA protein, human; Interleukin-11 Receptor alpha Subunit.; Antineoplastic Agents; bone metastasis-targeting peptidomimetic-11; Peptides; Early Detection of Cancer.
Disciplines
History of Science, Technology, and Medicine | Oncology
Recommended Citation
LeBas, John, "OncoLog Volume 54, Number 05, May 2009" (2009). OncoLog MD Anderson's Report to Physicians (All issues). 193.
https://openworks.mdanderson.org/oncolog/193
Conditions Governing Access
Open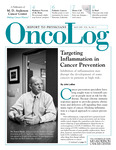 COinS