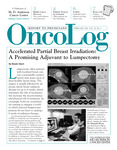 Contents
Accelerated Partial Breast Irradiation: A Promising Adjuvant to Lumpectomy Acute Lymphoblastic Leukemia: Pediatric Regimens for Adolescents and
House Call: Think About Your Medical Needs When Preparing for Natural Disasters
Young Adults Yield Survival Advantages
A New Biomarker for Bladder Cancer?
Creative Commons License


This work is licensed under a Creative Commons Attribution-Noncommercial-No Derivative Works 3.0 License.
Publisher
The University of Texas MD Anderson Cancer Center
Keywords
Bloom, Elizabeth; Kirsner, Steve; Czerniak, Bogdan; Natural Disasters; Rytting, Michael; Thomas, Deborah A.; Kim, Edward S.; Cortes, Jorge; Breast Neoplasms; Mastectomy, Segmental; Brachytherapy; Radiotherapy; Carcinoma, Ductal, Breast; Carcinoma, Intraductal, Noninfiltrating; Receptors, Estrogen; Antineoplastic Agents; Clinical Trials as Topic; Urinary Bladder Neoplasms; Aurora Kinase A; Aneuploidy; Biomarkers, Tumor; In Situ Hybridization, Fluorescence; Precursor Cell Lymphoblastic Leukemia-Lymphoma; Survival Rate; Clinical Trials, Phase II as Topic; Berlin-Frankfurt-Muenster protocol II; Antineoplastic Combined Chemotherapy Protocols; Philadelphia Chromosome; Precursor B-Cell Lymphoblastic Leukemia-Lymphoma; Precursor T-Cell Lymphoblastic Leukemia-Lymphoma; Adolescent; Young Adult; Lung Neoplasms; Gefitinib; Docetaxel; Clinical Trials, Phase III as Topic; Protein Kinase Inhibitors; Proto-Oncogene Proteins p21(ras); Leukemia, Myeloid, Chronic-Phase; nilotinib; Dasatinib; Imatinib Mesylate; Fusion Proteins, bcr-abl; Survival; Natural Disasters.
Disciplines
History of Science, Technology, and Medicine | Oncology
Recommended Citation
Veech, Maude; Munch, Joe; and Norwood, Don, "OncoLog Volume 54, Number 02, February 2009" (2009). OncoLog MD Anderson's Report to Physicians (All issues). 200.
https://openworks.mdanderson.org/oncolog/200
Conditions Governing Access
Open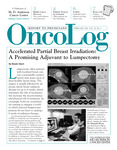 COinS