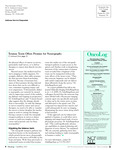 Contents
IMAGING NERVES: Tetnus Toxin Offers Promise for Neurography
INBRIEF: Fight-or-Flight Hormones Linked to Metastasis/Drug Combination Shows Promise for Colon Cancer Chemoprevention
Compass Spring 2010: Early Uterine Papillary Serous Carcinoma: Treatment Options Tailored to Patient and Disease Characteristcs
House Call: Addressing the Cosmetic Effects of Breast Cancer
Creative Commons License


This work is licensed under a Creative Commons Attribution-Noncommercial-No Derivative Works 3.0 License.
Publication Date
4-1-2010
Publisher
The University of Texas MD Anderson Cancer Center
Keywords
Schellingerhout, Dawid; Davis, John W. (Professor of urology); Sood, Ani, M.D.; Wu, Xiangwei; Lu, Karen H.; Ramondetta, Lois M.; Jhingran, Anuja; Tetanus Toxin; Peripheral Nervous System; Neural Pathways; Optical Imaging; Contrast Media; Neurons; Nervous System; Blood-Brain Barrier; Ovarian Neoplasms; Neoplasm Metastasis; Epinephrine; Norepinephrine; Extracellular Matrix; RNA, Small Interfering; Adrenergic beta-Antagonists; Endometrial Neoplasms; Adenoma; Receptors, TNF-Related Apoptosis-Inducing Ligand; Vitamin A; Chemoprevention; Adenomatous Polyposis Coli; Colonic Neoplasms; Carcinoma, Ovarian Epithelial; Hysterectomy; Watchful Waiting; Antineoplastic Agents; Radiotherapy; Combined Modality Therapy; Breast Neoplasms; Mammaplasty; Breast Implants; Breast Cancer Lymphedema; Alopecia; Free Tissue Flaps.
Recommended Citation
LeBas, John and Hoseman, Sunni, "OncoLog Volume 55, Number 04-05, April-May 2010" (2010). OncoLog MD Anderson's Report to Physicians (All issues). 204.
https://openworks.mdanderson.org/oncolog/204
Conditions Governing Access
Redacted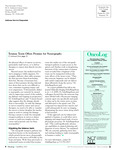 Included in
COinS