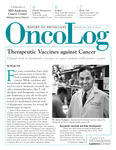 Contents
Therapeutic Vaccines against Cancer: Clinical trials of thrapeutic vaccines in cancer patients yield positive results
Findings Could Altere Chronic Myelogenous Leukemia Treatment: Phase III trials show newer drugs yield better responses than imatinib
INBRIEF: Vandetanib Shows Benefit When Combined with Docetaxel for Lung Cancer/ HPV-Positive Tumor Status Indicates Better Prognosis in Patients with Oropharyngeal Cancer
HOUSE CALL: Understanding the Benefits and Risks of Massage
Creative Commons License


This work is licensed under a Creative Commons Attribution-Noncommercial-No Derivative Works 3.0 License.
Publication Date
8-1-2010
Publisher
The University of Texas MD Anderson Cancer Center
Keywords
Kwak, Larry, 1959-; Hwu, Patrick; Neelapu, Sattva; Molldrem, Jeffrey; Cortes, Jorge; Sharma, Padmanee; Kantarjian, Hagop, 1952-; Herbst, Roy; Ang, K.K. (K. Kian); Shin, Ki Y.; Clinical Trials as Topic; Cancer Vaccines; Leukemia, Myeloid, Chronic-Phase; Leukemia, Myeloid, Acute; Interleukin-2; Melanoma; gp100 Melanoma Antigen; sipuleucel-T; Lymphoma, Follicular; Myeloblastin; T-Lymphocytes; HLA-A2 Antigen; Leukemia; Ipilimumab; Leukemia, Myeloid; Imatinib Mesylate; Dasatinib; nilotinib; Pyrimidines; Philadelphia Chromosome; Genes, abl; Fusion Proteins, bcr-abl; Carcinoma, Non-Small-Cell Lung; vandetanib; Docetaxel; ErbB Receptors; Receptors, Vascular Endothelial Growth Factor; Oropharyngeal Neoplasms; Human Papillomavirus Viruses; Survival Rate; Massage; NY-ESO-1-APH vaccine; Adenocarcinoma; Prostatic Neoplasms.
Recommended Citation
Tutt, Bryan and LeBas, John, "OncoLog Volume 55, Number 08, August 2010" (2010). OncoLog MD Anderson's Report to Physicians (All issues). 207.
https://openworks.mdanderson.org/oncolog/207
Conditions Governing Access
Redacted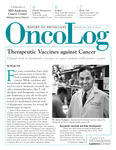 Included in
COinS