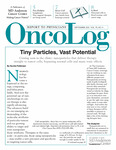 Contents
Tiny Particales, vast Potential-Coming soon to the clinic: nanoparticles that deliver therapy straight to tumor cells, bypassing normal cells and many toxic effects
Non-Hodgkin Lymphomas: Targeted Therapies Leading Treatment Advances
HOUSE CALL: Writing for Wellness: Keeping a Journal
INBRIEF: Study Shows Abnormal Cells in Blood Increase with Lung Cancer Stage
Creative Commons License


This work is licensed under a Creative Commons Attribution-Noncommercial-No Derivative Works 3.0 License.
Publication Date
9-1-2010
Publisher
The University of Texas MD Anderson Cancer Center
Keywords
Curley, Steven A.; Kanzius, John; Li, Chun, 1963-; Lu, Wei; Lopez-Berestein, Gabriel; Sood, Anil, M.D.; Ferrari, Mauro; Younes, Anas; Derenzini, Enrico; Katz, Ruth; Calin, George A. (George Adrian); Nanoparticles; Nanoparticle Drug Delivery System; Metal Nanoparticles; RNA, Small Interfering; Liposomes; Lymphoma, Non-Hodgkin; RNA, Untranslated; Doxorubicin; Paclitaxel; Breast Neoplasms; Uterine Cervical Neoplasms; Antineoplastic Agents; Receptor, EphA2; Clinical Trials as Topic; Molecular Targeted Therapy; Antibodies, Monoclonal; Rituximab; Maintenance Chemotherapy; ibrutinib; Lymphoma, B-Cell; Lymphoma; Writing; Carcinoma, Non-Small-Cell Lung; In Situ Hybridization, Fluorescence; DNA Probes; Leukocytes, Mononuclear.
Recommended Citation
Patterson, Sunita and LeBas, John, "OncoLog Volume 55, Number 09, September 2010" (2010). OncoLog MD Anderson's Report to Physicians (All issues). 208.
https://openworks.mdanderson.org/oncolog/208
Conditions Governing Access
Redacted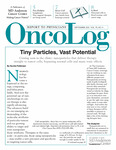 Included in
COinS