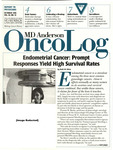 Contents
Endometrial cancer: prompt responses yield high survival rates
Celebrating the end of a destructive relationship: one smoker's story
Gene therapy for brain tumors moves from laboratory to clinic
Protocols: Trials Offer Treatment Options for Patients with Endometrial Cancer
Protocols: Brain Tumor Trials Encompass Radiation, Drug, Biological, and Gene Therapies
House Call: Using Antioxidants: Read the Road Signs and Yield to Caution
DiaLog: Protecting Hard-Won Surgical Cure: Surveillance for Recurrent Endometrial Cancer, by Fran Zandstra, RN, BSN, MBA, OCN, Center Administrative Director, Gynecology Oncology Center
Creative Commons License


This work is licensed under a Creative Commons Attribution-Noncommercial-No Derivative Works 3.0 License.
Publisher
The University of Texas MD Anderson Cancer Center
Keywords
Burke, Thomas W.; Wharton, J. Taylor (James Taylor), 1938-; Yung, W.K. Alfred; Lang, Frederick; Steck, Peter A.; Pershbouse, Mark; Cinciripini, Paul; Zandstra, Fran; Reddoch, Jana; DeJesus, Yvette; Endometrial Neoplasms; Survival Rate; Surgical Procedures, Operative; Antineoplastic Agents; Neoplasm Micrometastasis; Chemotherapy, Adjuvant; Radiotherapy; Hormone Replacement Therapy; Hysterectomy; Ovariectomy; Tamoxifen; Breast Neoplasms; Clinical Trials as Topic; Radiotherapy, Adjuvant; Mastectomy; Brain Neoplasms; Glioblastoma; Genes, p53; Epidermal Growth Factor; Receptors, Vascular Endothelial Growth Factor; Tobacco Smoking; Smoking Cessation; Nicotine; Antioxidants; Dietary Supplements; Fruit; Vegetables; Cytological Techniques; MUC16 protein, human.
Disciplines
History of Science, Technology, and Medicine | Oncology
Recommended Citation
Allen, Beth W.; Notzon, Beth; Ruffin, Alison; and Zandstra, Fran RN, BSN, MBA, OCN, "OncoLog, Volume 43, Number 10, October 1998" (1998). OncoLog MD Anderson's Report to Physicians (All issues). 67.
https://openworks.mdanderson.org/oncolog/67
Conditions Governing Access
Redacted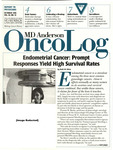 COinS