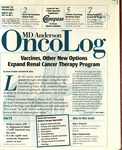 Contents
Vaccines, Other New Options Expand Renal Cancer Therapy Program
Thirteen-story Alkek Hospital Makes Debut
Training Takes Prevention and Early Detection Worldwide
Nephrectomy Before or After Systemic Therapy­--That Is the Question
House Call: Alcohol and Cancer: Making Sense of a Cocktail of Risks and Benefits
Protocols: Renal Cell Carcinoma Trials Offer Therapies for Treated and Untreated Patients
Compass: New Quarterly Supplement Offers Perspectives on Clinical Guidelines
Creative Commons License


This work is licensed under a Creative Commons Attribution-Noncommercial-No Derivative Works 3.0 License.
Publisher
The University of Texas MD Anderson Cancer Center
Keywords
Amato, Robert J.; Theriault, Richard (Richard L.); Singletary, S. Eva; McNeese, Marsha D.; Wood; Christopher G.; Schonfeld, Eugene P.; Ewert-Flanagan, Patricia; Nakamura, Miyu; Nakamura, Harue; Williams, Jane, M.S.N.; Hilton, Linda White; Wharton, J. Taylor (James Taylor), 1938-; McGovern, John P., 1921-2007; Kidney Neoplasms -- secondary; Nephrectomy; Heat-Shock Proteins; vitespin; T-Lymphocytes; Dendritic Cells; Clinical Trials as Topic; Gene Expression Profiling; Angiogenesis Inhibitors; Immunotoxins; Cetuximab; ErbB Receptors; Neoplasm Metastasis; Mortality; Survival Rate; Immunotherapy; Interferon-alpha; Interleukin-2; Cancer Vaccines; Carcinoma, Renal Cell; Kidney Neoplasms; Thalidomide; Angiogenesis Inhibitors; Granulocyte-Macrophage Colony-Stimulating Factor; Temozolomide; irofulven; Sesquiterpenes; ranpirnase; Ribonucleases; Antineoplastic Combined Chemotherapy Protocols; Drug Therapy, Combination; Liposomes; bis-neodecanoato-1,2-diaminocyclohexaneplatinum(II); Organoplatinum Compounds; Breast Neoplasms -- secondary; Mastectomy, Segmental; Mastectomy, Simple; Mastectomy, Radical; Radiotherapy; Mammaplasty; Alcohol Abstinence; Alcohol Drinking; Risk Factors; Margins of Excision; Biopsy, Needle; Watchful Waiting; Receptors, Estrogen; Tamoxifen; Lymph Nodes; Hormone Replacement Therapy; Neoadjuvant Therapy; Chemotherapy, Adjuvant; Mouth Neoplasms; Esophageal Neoplasms; Pharyngeal Neoplasms; Carcinoma, Renal Cell -- secondary; Biological Therapy; Randomized Controlled Trials as Topic; Fluorouracil; Mammography; Early Detection of Cancer; Albert B. and Margaret M. Alkek Hospital; Charles A. LeMaistre Clinic; Clinical Research Building.
Disciplines
History of Science, Technology, and Medicine | Oncology
Recommended Citation
Chalaire, Dawn; Allen, Beth W.; and Rufffin, Alison, "OncoLog, Volume 44, Number 03, March 1999" (1999). OncoLog MD Anderson's Report to Physicians (All issues). 77.
https://openworks.mdanderson.org/oncolog/77
Conditions Governing Access
Open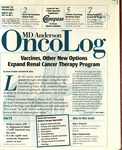 COinS