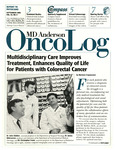 Contents
Multidisciplinary Care Improves Treatment, Enhances Quality of Life for Patients with Colorectal Cancer
DiaLog: Treating Cancer with a Team Approach, by David L. Callender, MD, Senior Vice President and Chief Medical Officer
Cervical Cancer Prevention: Could Spectroscopy Steal the Spot"light"?
Virtual Colonoscopy a Potential Screening Reality
Protocols: Clinical Trials for Colorectal Cancer
Compass: Clinical Practice Guidelines
House Call: Sharing Personal Stories: Books Written by People with Cancer
Creative Commons License


This work is licensed under a Creative Commons Attribution-Noncommercial-No Derivative Works 3.0 License.
Publisher
The University of Texas MD Anderson Cancer Center
Keywords
Skibber, John M.; Abbruzzese, James L.; Crane, Christopher H.; Janjan, N.A. (Nora A.); Lahot, Sandeep; Curley, Steven A.; Bisanz, Annette K.; Bruera, Eduardo; Levin, Bernard, 1942-; Sinicrope, Frank A.; DuBrow, Ronelle A.; Iyer, Revathy B.; Follen, Michele; Richards-Kortum, Rebecca, 1964-; Callender, David L.; Eton, Omar; Lee Jeffrey; Ross, Merrick J.; Zagars, Gunar; Patient Care Team; Colorectal Neoplasms; Quality of Life; Rectal Neoplasms; Colostomy; Proctectomy; Anastomosis, Surgical; Neoplasm Staging; Tomography, X-Ray Computed; Magnetic Resonance Imaging; Ultrasonography; Radiotherapy; Antineoplastic Agents; Neoadjuvant Therapy; Radiotherapy, Conformal; Radiofrequency Ablation; Clinical Trials as Topic; Palliative Care; Cancer Pain -- therapy; Celecoxib; Adenomatous Polyposis Coli; Polyps; Early Detection of Cancer; Colonography, Computed Tomographic; Uterine Cervical Neoplasms; Tomography, Spiral Computed; Spectrometry, Fluorescence; Colonoscopy; Colposcopy; Biopsy; Sentinel Lymph Node Biopsy; Thorax -- diagnostic imaging; Brain Neoplasms -- secondary; Radiosurgery; Interferon alpha-2; Interferons; Survival Rate; Interleukin-2; Immunotherapy; Cancer Survivors.
Disciplines
History of Science, Technology, and Medicine | Oncology
Recommended Citation
Crapanzano, Mariann; Wright, Kerry L.; and Callender, David L. MD, "OncoLog, Volume 45, Number 09, September 2000" (2000). OncoLog MD Anderson's Report to Physicians (All issues). 80.
https://openworks.mdanderson.org/oncolog/80
Conditions Governing Access
Open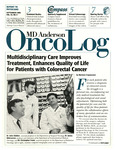 COinS